Rafale, jesteś niezwykle utalentowanym artystą, opowiedz, czym tworzenie muzyki jest dla Ciebie? Który gatunek muzyczny jest Ci najbliższy?
Muzyka była dla mnie pasją już od dzieciństwa, chociaż jeszcze wtedy nie wiedziałem na czym polega proces jej tworzenia. Ponieważ miałem do dyspozycji tylko prosty keyboard, jedyne co mogłem zrobić to odtwarzać zasłyszane utwory. W taki też sposób uczyłem się gry na klawiszu. Jeżeli chodzi o moje preferencje muzyczne to są na prawdę zróżnicowane i zależne od nastroju, jednakże najczęściej poruszam się w klimatach klubowych. Najbliższym mi gatunkiem jest Trance ponieważ jest to jedyny odłam muzyki klubowej, który jest za razem energiczny jak i pozwalający producentowi przekazać emocje, które trafiają do odbiorcy. A to cenię w muzyce najbardziej.
Czy pamiętasz swój pierwszy kawałek? Jakie emocje towarzyszą Ci kiedy oddajesz się swojej pasji?
Jedną z moich pierwszych melodii, która utkwiła mi w pamięci stworzyłem około roku 2003. Pokazałem ją wtedy mojemu przyjacielowi, z którym zaczynałem właśnie współpracę. I tak stworzyliśmy wspólny kawałek. Przez następne dwa lata eksperymentów z jego aranżacją powstało coś co generalnie nie wzbudziło większego zainteresowania. Ale początki, jak wiadomo bywają trudne.
Co czuję, gdy tworzę? Myślę, że staram się przekazywać własne emocje, czasem jest to radość, czasem smutek, ale przede wszystkim w to co robię wkładam cząstkę siebie.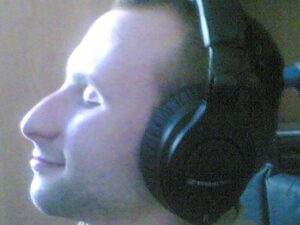 Opowiedz nam, proszę o swojej drodze do kariery, jak zaczynałeś, skąd pomysł na wytwórnię płytową?
Myślę, że "kariera" to trochę zbyt duże słowo, chciałem po prostu tworzyć i przekazywać innym pozytywną energię poprzez muzykę.
Swoją przygodę rozpoczynałem w szkolnym zespole, grając na klawiszu i perkusji elektronicznej. W tamtym okresie zaczęła mnie fascynować również DJ'ka. Pamiętam, że próbowałem łączyć że sobą utwory o podobnym tempie używając dwóch magnetofonów. Mój debiut miał miejsce na jednej że szkolnych dyskotek, chociaż ten prawdziwy odbył się kiedy miałem 17 lat i poprowadziłem swoją pierwszą dużą imprezę. Jakiś czas później poznałem osoby, które pokazały mi jak profesjonalnie tworzyć klubową muzykę. Wtedy też zrozumiałem, że jest to coś co stanie się moją pasją do końca życia. Chociaż bywały okresy, w których muzyka schodziła na dalszy plan, to jednak zawsze była mi bliska i powracałem do niej z nową energią, a od 2006 jest już ze mną na dobre. Tego roku wszystko się zaczęło. Został wydany pierwszy kawałek, który stworzyłem razem z moim przyjacielem, był to remiks dla innego producenta. Następnie wydaliśmy dwa kolejne single i były to już nasze autorskie produkcje.
W 2010 roku poznałem młodą i utalentowaną dziewczynę, która grała na klawiszu i śpiewała. Tak narodził się projekt SoundNation. Później dołączył do nas jeszcze jeden chłopak. W 2011 roku ukazał się nasz singiel. Nagraliśmy również utwór z wokalem, jednak jego wydanie odbyło się dopiero w 2014.
Przez ostatnich kilka lat zajmowałem się organizacją eventów muzycznych w lokalnych klubach, w których również brałem udział jako DJ. Jednak najważniejsze dla mnie było promowanie innych zdolnych artystów.
Pomysł na wytwórnię narodził się ponieważ chciałem być niezależny i sam wydawać własne utwory, nie martwiąc się o to czy inna wytwórnia odpowie na  moją wiadomość z linkiem do demówki. Drugim ważnym powodem powstania Blue Wings Records była chęć promocji młodych producentów sceny elektronicznej. Zwykle trudno jest im się przebić ponieważ większość wytwórni nie odpowiada na maile mało znanych artystów, nie przesłuchując nawet ich demówek. Dlatego też hasło przewodnie tego projektu brzmiało "Zawsze odpowiadamy na Twoje wiadomości". Niestety nie mogłem prowadzić wytwórni w pełnym tego słowa znaczeniu ponieważ stworzenie niewielkiego projektu który w dodatku jest niekomercyjny i praktycznie nic nie zarabia jest w Polsce niemożliwe do zrealizowania. Powodem są kolosalne koszty związane z prowadzeniem działalności gospodarczej. Tak wiec stery label'u przejął mój kolega (również producent muzyczny z zamiłowania). Cały czas jednak starałem się być obecny w życiu wytwórni. Przez ostatnie 2 lata wykonaliśmy kawał dobrej roboty, nie osiągnęliśmy być może sukcesu medialnego lecz nie pozostaliśmy w miejscu.
Jeżeli chodzi o UK, to dlaczego zdecydowałeś się na przyjazd właśnie tutaj?
Zdecydowaliśmy się zmienić miejsce zamieszkania wspólnie z narzeczoną ponieważ zrozumieliśmy, że w Polsce nie będziemy mogli dalej się rozwijać tak jak byśmy tego chcieli i realizować swoich marzeń. UK wybraliśmy ponieważ mieliśmy tutaj znajomych i zawsze podobał nam się język angielski więc porozumiewanie się w nim nie stanowiło dla nas dużego problemu.
Jakie plany masz na przyszłość, gdzie chciałbyś być za kilka lat?
Przede wszystkim chciałbym się skupić na założeniu rodziny i pracy nad debiutanckim albumem, który czeka już od kilku lat.
Gdzie chciałbym być? Myślę, że najważniejsze jest to aby mieć obok siebie bliską osobę, wtedy miejsce nie ma znaczenia, bo "tam jest dom twój, gdzie serce twoje".  Mam jeszcze kilka innych ciekawych planów, lecz wolałbym na razie o nich nie mówić żeby nie zapeszyć.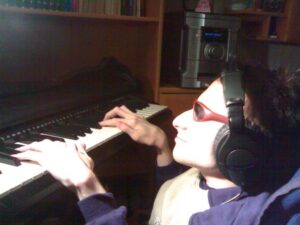 Pracowałeś jako DJ, opowiedz nam więcej o tym zajęciu, gdzie grałeś i czym granie jest dla Ciebie?
Praca DJ'a daje mi niesamowicie dużo satysfakcji. Jest to szczególny rodzaj uczucia kiedy możesz dzielić z publicznością własne emocje. Traktuję tę pracę bardzo poważnie i odpowiedzialnie, zarówno kiedy gram na imprezach okolicznościowych, jak i również kiedy występuję pod swoim pseudonimem artystycznym i układam własny program muzyczny.
Grywałem głównie w niszowych klubach, ponieważ w tym środowisku trudno jest zaistnieć, zwłaszcza gdy chcesz grać to co czujesz.
Jak uważasz, jaki jest Twój największy sukces?
To jest trudne pytanie. Myślę, że największym sukcesem w tym co robię, jest to iż zawsze mogłem tworzyć to co czułem i rozwijać się muzycznie, nie idąc za komercyjnym trendem, a podążając drogą swojego wnętrza.
Rafale, gdzie można Cię posłuchać?
Jak na razie tylko w internecie można mnie znaleźć pod takimi pseudonimami jak: High Above & Blue Wings, Aurifi, SoundNation i DeepUniverse & Blue Wings. Jeżeli chodzi o występy Live, to mam nadzieję, że niedługo się zobaczymy na jednej ze wspólnych imprez.
Na koniec chciałbym dodać od siebie ,,Pozdrawiam serdecznie całą załogę pozytywnych, bez was to miejsce nie byłoby tak niezwykle".
Dziękuję serdeczne za wywiad, życzę samych sukcesów.
Barbara Larysz.