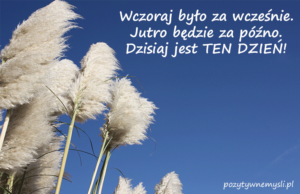 Żyć na 100% … ciekawe, czy każdy z nas jest w stanie przyznać się przed samym sobą, na ile tak na prwdę żyje?
Na 50%, 30%, może 80%?
Czy da się w ogóle żyć na 100%? Jakie jest Wasze zdanie?
Zapewne jest mnówstwo takich, co bez zastanowiena, banalnie odpowiedzą, że taaaak, oni w pełni wykorzystują swoje życie, ale czy oby na pewno?
Ilu posród nas jest takich, którzy boją się żyć…udają emocje, udają, że są szcześliwi, udają, że się bawią…
Jeżeli chcesz przeżyc swoje życie na 100%, musisz rzeczywiście się bawić, kiedy się bawisz, musisz rzeczywiście pracować, kiedy pracujesz, inaczej nigdy nie osiągniesz spełnienia i zadowolenia.
Pamiętaj, że życie polega na wiecznym podejmowaniu decyzji i nie zawsze bedą to proste i dobre dacyzje.
Larry Winget w swojej książce pt. "Zamknij się! Przestań narzekać i zacznij żyć!"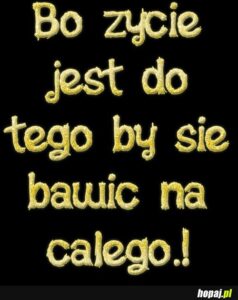 Mówi, że: "Dopóki będziesz robił to co robiłeś do tej pory, życie twoje nie ulegnie zmianie. Jeśli nie jesteś zadowolony ze swojego dotychczasowego życia, to
musisz zacząć postępować inaczej. Jeśli w twoim życiu nie dzieje się nic niewłaściwego, to znaczy, że w ogóle niewiele się w nim dzieje".
Te właśnie słowa sprawiły, że bardziej zainteresowałam się książką Wingeta, dlatego jeżeli nadal brakuje Wam dystansu do samych siebie, jak i otaczającego świata, przeczytajcie, jakie uniwersalne, choć przedstawione w całkiem odmienny sposób rady ma Larry Winget w swojej książce. Choć ostrzegam, iż język jakim posługuje się autor jest dość wstrząsający i szorstki, lecz  ma na celu dosadnie trafić do odbiorcy, który zagubił się gdzieś na ścieżce swojego życia.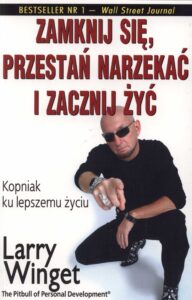 "Moim celem jest wyrwać Cię z komfortowego, miernego stylu życia i przesunąć bliżej krawędzi. Krawędź to miejsce, w którym ludzie ośmielają się przeciwstawić wychowaniu, wykształceniu i sytuacji, w jakiej się znaleźli, by osiągnąć szczęście, sukces i powodzenie mimo swoich ograniczeń. Krawędź to miejsce, w którym zaczniesz żyć, gdy wreszcie przestaniesz okłamywać siebie i wszystkich wokoło, trzeźwo spojrzysz na to, gdzie się w życiu znajdujesz, a następnie zdecydujesz się pójść w lepsze miejsce. Krawędź to miejsce, gdzie jest fajnie, gdzie są pieniądze oraz gdzie możesz osiągnąć prawdziwą satysfakcję. Najlepszym elementem życia na krawędzi jest to, że nie ma tam tłoku" – pisze Winget.
W ten szary dzień, polecam Barbara Larysz.
Larry Winget – jeden z najbardziej znanych w Ameryce mówców w zakresie rozwoju osobistego, autor bestsellerów i osobowość telewizyjna. Samego siebie nazywa "Pitbullem Rozwoju Osobistego" ('Pitbull of Personal Development') lub "Najbardziej Irracjonalnym Mówcą Świata" ('World's Only Irritational Speaker').