Właściwie podpis pod słonikiem i tym drugim "czymś" siedzącym tuż obok mówi sam za siebie. Niemniej jednak ten obrazek skłonił mnie do pewnych refleksji dotyczących ludzi, którymi otaczam się ja, którymi otaczają się moi bliscy. I faktycznie, doszłam do wniosku że jeszcze kilka lat temu  kiedy otaczałam się "wampirami energetycznymi", trudno było mi osiągnąć cokolwiek: od dobrego samopoczucia począwszy, na sukcesach zawodowych skończywszy.  Odbijałam się o ścianę.
Ktoś mądrzejszy ode mnie (wcale nie powiem, że mój brat) uświadomił mi wtedy, że – jeśli chodzi o zarobki – moje wynagrodzenie zawsze będzie średnią wynagrodzeń pięciu osób, z którymi spędzam najwięcej czasu i ponad tą średnią nigdy nie wyjdę. Zastanówcie się nad tym, przeliczcie i przyznajcie, że coś w tym jest. U mnie się sprawdziło. Pewnie tak jak z zarobkami – tak samo jest ze wszystkim innym – nie będę mądrzejsza, niż średnia 5 osób, nie będę szczęśliwsza niż średnia 5 osób, nie będę ani bardziej ani mniej cokolwiek, niż wyznaczy to moje 5 osób. 
Jaki z tego wniosek? Po co przebywać z osobami, które są "wampirami energetycznymi" i ich towarzystwo sprawia, że czujesz się źle? Po co przebywać z kimś, kto źle Cię traktuje? Po co spędzać czas z osobą, dla której nie masz wartości?
Niech wśród tej "złotej piątki", która ma być wyznacznikiem Twojego sukcesu będą ludzie, którzy Cię uszczęśliwiają, dają Ci poczucie bezpieczeństwa, z którymi dobrze się czujesz, przy których nie musisz udawać. Ty będziesz tym wszystkim, co mają w sobie najlepszego.
Wiem. Problem pojawia się wtedy, kiedy od tych swoich "wampirów" odciąć się nie możesz, bo więź jest zbyt silna. Znam człowieka, którego wampirami, każdego dnia sączącymi energię, była najbliższa rodzina  z matką na czele. Miała na niego tak destrukcyjny wpływ, że ów człowiek (na potrzeby tego tekstu nazwijmy go Zdzisiem) – do końca życia będzie społecznym inwalidą. Miałam to nieszczęście, że co kilka dni słyszałam, w jaki sposób rodzina motywuje Zdzisia do znalezienia pracy. Złożyło się bowiem tak, że nasz Zdzisio stracił pracę. Był wtedy jeszcze młodym człowiekiem, wiele potrafił zrobić. Miał przy swoim boku kobietę, która chciała mu pomóc. Wyszukiwała dla niego przeróżnego rodzaju oferty pracy – zarobki nie były szokująco wysokie, ale były "jakieś".  Zdzisio ambicją nigdy nie grzeszył, więc "jakieś" zarobki byłyby w pełni wystarczające.
– A może Zdzisio poszedłby do pracy jako kierowca? Szukają w jednej firmie – mówiła w obecności Mamusi.
– Chyba oszalałaś! – mówiła Mamusia. – Przecież on się do tego nie nadaje. Rozpije się tam. Kierowcy to pijaki i brudasy! – mówiła w obecności Zdzisia. Zdzisio milczał.
– To może zostałby przedstawicielem handlowym. Do takiej pracy jest mnóstwo ofert –   walczyła kobieta.
– Przedstawiciel? A co to za zawód? Będą mu kazali od domu do domu latać. To na pewno jakaś akwizycja – argumentowała Mamusia (w obecności milczącego Zdzisia oczywiście).
– A gdyby Zdzisio otworzył własną firmę i zajął się wykończeniem wnętrz. Przecież dobrze to potrafi. Cały dom sam wykończył – walczyła kobieta.
– A co Ty mówisz?! On się do tego nie nadaje! Tam trzeba jakieś ZUSy płacić. A jak klientów nie będzie miał, to z czego zapłaci? On sobie nie da rady – twierdziła Mamusia.
Zdzisio w milczeniu jadł kolejną łyżkę zupy pomidorowej – ugotowanej przez Mamusię, bo jej zupy najlepsze.
– To może po prostu do sklepu pójdzie, na sprzedawcę?
– Do sklepu? Tam trzeba mieć gadane, a Zdzisiu – sama widzisz – nie potrafi klientowi nic wcisnąć.  Jest na to za uczciwy. To nie jest praca dla niego. On się do tego nie nadaje.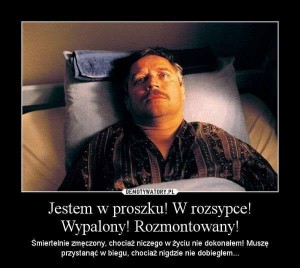 I tak przysłuchując się raz po raz takiej dyskusji, miałam ochotę krzyknąć: "To do czego, kurwa, ten Zdzisiu, się nadaje?". Jeżeli rodzona matka tak bardzo wierzy w swojego syna, to jak on sam ma w siebie uwierzyć?  Co dzisiaj robi Zdzisio? Pracuje na produkcji, dokręca jakieś śrubki – za najniższą krajową. Pracę oczywiście załatwiła mu Mamusia. Po znajomości. Zdzisio do końca życia nie odważy się stamtąd odejść – za dużo czasu spędza z Mamusią, która codziennie rano szykuje mu do pracy świeże kanapeczki.
– Co Ty chcesz? To przecież stabilna praca. Przynajmniej wie, co ma. Może nawet dostanie podwyżkę – dzisiaj powiedziałaby Mamusia.
A Zdzisio by się pewnie nie odezwał. Tylko trochę szkoda Zdzisia.
Zatem przesłanie na dzisiaj, drodzy Pozytywni: 
Nie bądźcie Zdzisiami, nie dajcie się stłamsić, uwierzcie w siebie, przyjrzyjcie się osobom, z którymi spędzacie najwięcej czasu i jeśli macie wśród najbliższych motywującą Mamusię czy inną babcię Krysię, wyjdźcie z domu i zróbcie coś ze swoim życiem. Może warto wyjechać tam, gdzie jes już mnóstwo Pozytywnych osiągających sukcesy z własnej nieprzymuszonej woli. I jeszcze jeden plus takiej sytuacji – Mamusia nie będzie siedzieć wam na głowie. Jest niestety i minus – Kto ugotuje pyszną pomidorową?
Wybór należy do Was. Chcesz być szczęśliwy czy nie?