Jakub Smolarek – biznesmen, autor, mówca, motywator, przedsiębiorca. Człowiek – instytucja, człowiek – petarda. Nasz człowiek. Kolejny z grona Polaków spełnionych w Wielkiej Brytanii. Rozmawiamy z nim o sukcesie i o tym, z jakiej jest bajki.
Realizuje Pan mnóstwo projektów. Jak Pan znajduje na to wszystko czas?
Znajdowanie czasu na wiele rzeczy to moja praca. Praca, którą jak najbardziej mogę nazwać pasją.  Uczę ludzi jak odpowiednio organizować sobie czas, a co za tym idzie organizować całe życie. Często przecież narzekamy, że brakuje nam czasu.  Czasu nie można zatrzymać, przyspieszyć, on po prostu jest. Każdy z nas dostaje codziennie do dyspozycji świeżutkie 1440 minut i to od nas zależy, co z tym zrobimy. Co robię, żeby lepiej się zorganizować i znajdywać czas na kolejne projekty?  Mam taką sztuczkę: nie oglądam w ogóle telewizji, nie czytam żadnych gazet oraz newsów (oprócz wybranych z mojej branży), a facebooka traktuję w sposób biznesowy.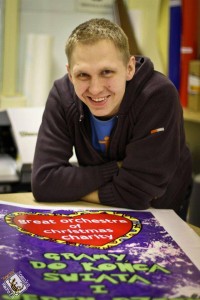 A czemu lepiej wykorzystywać czas w Anglii, a nie w Polsce? Z jakiego powodu wyjechał Pan z kraju?
Nie powiem w tym temacie nic szczególnego. Po prostu szara rzeczywistość Polski 10 lat temu była dość przytłaczająca, a do tego skostaniały system edukacji sprawił, że zacząłem szukać nowych dróg rozwoju. A z drugiej strony coś mi w środku mówiło, że w Polsce mój czas dopiero nadejdzie. Muszę się tylko lepiej przygotować i dać ludziom coś świeżego. Coś, czego dziś uczę się sam za granicą.
A jak wyglądały początki w UK? Co Pana ukształtowało?
Moje początki w UK były bardzo ciekawe. Trafiłem do małej włoskiej, ale najpopularniejszej restauracji w Walii, z gwiazdką Michelin. Poznałem tam jednego z najsłynniejszych kucharzy świata Franco Taruschio oraz Gordona Ramseya (osobiście uważam,  że Franco jest dużo lepszym kucharzem). Trochę podróżowałem po całych wyspach, aż w końcu, 8 lat temu, zadomowiłem się na dobre w Londynie i kontynuuję do dzisiaj moją przygodę z biznesem oraz rozwojem osobistym. To, co mnie ukształtowało i nadal kształtuje to życie, nowe wyzwania, wyciąganie wniosków z dobrych i złych sytuacji, które mi się przytrafiają.
W oczach wielu jest Pan człowiekiem sukcesu. A czym dla Pana jest sukces?
Jakie to jest ciekawe pytanie, prawda? Tak wiele osób chce odnieść sukces. Nie odnoszą go, bo nie wiedzą czego chcą, biegną na oślep przed siebie. Dla mnie sukces to robić to, na co ma się ochotę, spełniać marzenia swoje oraz innych, otaczać się niezwykłymi ludźmi, nie mieć limitów, cieszyć się z najmniejszych rzeczy i czasem zatrzymać się,  by podziwiać piękno świata.
Co Panu pomogło w osiągnięciu sukcesu?
Co pomaga w odniesieniu sukcesu?  – to pytanie jest od tysiącleci powtarzane. Analizując odpowiedzi dochodzimy do wniosku,  że czynniki sukcesu policzylibyśmy na palcach dwóch rąk. Jak to jest u mnie? Za każdym mężczyzną, osiągającym coś w życiu stoi mądra i silna kobieta. Ja taką mam. Upór i dążenie do celu to także istotne czynniki.  Jeśli do tego dorzucę wiarę w siebie oraz determinację to wiem, że nic mnie już nie zatrzyma.  W życiu jest tak, że jeśli mamy wystarczająco duże  "WHY" czyli powód dla którego mamy dążyć do naszego celu, to "HOW" czyli jak mamy go osiągnąć, przyjdzie samo. Ale nasz cel musi być wystarczająco duży, musi nakręcać nas, kierować i pchać do przodu. Tylko takie cele sobie stawiam.
Które z przedsięwzięć podejmowanych przez Pana mają dla Pana największe znaczenie?
Najistotniejszy w tym momencie jest dla mnie projekt "HOW SUCCEED". To projekt złożony z kilku elementów. Po pierwsze książki, którą piszę pod tym samym tytułem. Przeprowadzam wywiady z ludźmi sukcesu z całego świata, z celebrytami, miliarderami, sportowcami itd. Wszystkie zyski ze sprzedaży tej książki pójdą na budowę szkół przedsiębiorczości dla dzieci i młodzieży, których nie stać na lepszą edukację. Oczywiście idzie za tym fundacja "How Succeed" i wiele innych, dalszych projektów. Mam co robić.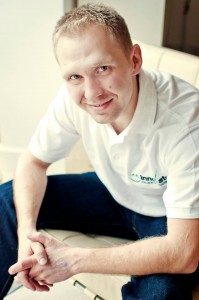 Jak osiągnąć cel na obcej ziemi? Co poradziłby Pan Polakom, którzy szukają swojej życiowej drogi?
Odpowiedź jest prosta: cel to cel – nie jest ważne gdzie wyznaczony. Jeżeli wyznaczyliśmy sobie cel, to rozpisujemy do niego plan działania i podejmujemy akcję. Jak jeden autor powiedział: nieważne skąd idziemy, ważne jest to, gdzie chcemy dojść. Nic innego się nie liczy. Cel jest ten sam, bez względu gdzie się znajdujemy. Jedyne, co się może zmienić, to plan działania.  Moja rada dla wszystkich, młodszych czy starszych jest taka: zapamiętać sobie do końca życia: sukcesy od zawsze budowało się na porażkach. Jeśli ponosisz porażkę za porażką, jedną za drugą, i kolejną, i kolejną, a mimo to ciągle masz przed oczami swój cel, umiesz się podnieść i iść dalej – wtedy odniesiesz prawdziwy sukces. Jest taki mądry cytat: "W drodze do sukcesu winda jest popsuta, musisz iść schodami", a w drodze na szczyt nigdy nie jest z górki.
Jakie plany na przyszłość?
Planów jest cała masa. Bardzo dużo projektów w wielu dziedzinach życia. Jeden z najważniejszych to rozpoczęcie w Polsce szkoleń i seminariów z rozwoju osobistego. Nareszcie jest czas na to, by móc podzielić się swoim doświadczeniem, przez lata wypracowanymi metodami w biznesie i życiu. Chcę pokazać innym, co znaczy porażka i ile z niej możemy się nauczyć, jak gospodarować swoim czasem oraz jak budować relacje z innymi.
Gdzie można Pana znaleźć i skorzystać z Pana oferty?
Najlepiej odwiedzić moją stronę internetową –  www.jakubsmolarek.com i napisać do mnie bezposrednio.  Zapraszam również na mojego niedawno powstalego facebookowego fanpagea: www.facebook.com/jakubsmolarekfanpage
Dziękuję i w imieniu Pozytywnych życzę powodzenia w realizacji projektów.
Dziękuję bardzo za możliwość udzielenia wywiadu dla tak pozytywnego portalu,