Pozytywna inicjatywa z  myślą o dzieciach z Newcastle i okolic –  jednodniowa wycieczka do ZOO w Edynburgu!
Wycieczka planowana jest na 6 lutego (sobota). Wyjazd ok.godz.8-ej z centrum Newcastle, powrót z Edynburga ok.17.00. Przejazd autokarem z pasami bezpieczeństwa i toaletami  ( co jak wiemy podróżując z małymi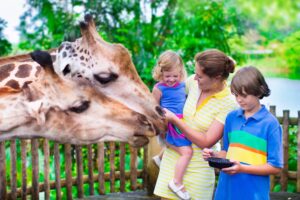 dziećmi bywa bardzo przydatne:) ) Autokar na 40 osób, z czego 10 miejsc jest już zajętych. Koszt przejazdu autokarem to ok £20 (małe dzieci do 3 lat siedzące na kolanach rodziców jadą za darmo) Ceny biletów grupowych do ZOO  to £14 za osobę dorosłą i £10.50 za dziecko w wieku od 3 do 16 lat. Dzieciaczki poniżej 3 roku życia mają wstęp za darmo. Wycieczka do ZOO to super sposób na spędzenie soboty i nawiązanie nowych znajomych, a dla dzieci szansa na spędzenie dnia na świeżym powietrzu w gronie nowo poznanych  kolegów i koleżanek.
Wszystkich zainteresowanych prosimy o kontakt z organizatorką wycieczki Panią Karoliną Taks  pod nr telefon: 07584560562
Serdecznie Zapraszamy
Karolina Taks i Pozytywni