Gorąca atmosfera  gorących serc! Co tu dużo mówić – było wspaniale!!! Frekwencja jak zwykle dopisała, w SCALI! Niezwykła energia, która wytworzyła się pomiędzy naszymi artystami a publicznością była przeżyciem jedynym w swoim rodzaju. Magia wspólnego doświadczania muzyki i radość z uczestnictwa w tym wyjątkowym wydarzeniu na długo pozostaną w pamięci uczestników. To co jest jednak najważniejsze – osiągnęliśmy zamierzony cel! Nasza pracowicie wykonująca swoje obowiązki komisja licząca ogłosiła, iż na tę chwilę udało nam się zebrać £36 000… i wciąż liczymy!!! Jesteśmy dumni i szczęśliwi, że owoce naszej pracy w sposób znaczący zasilą konto Fundacji, a dzieci i seniorzy skorzystają ze sprzętu kupionego między innymi dzięki naszym działaniom – usłyszeliśmy od Dagmary Chmielewskiej – konferansjerki i koordynatorki 24. Finału Wielkiej Orkiestry Świątecznej Pomocy w Londynie. Takie chwile dodają nam skrzydeł, dzięki nim wiemy, jak skuteczne są nasze akcje. Będziemy z  Orkiestrą do końca świata – i jeden dzień dłużej!!! – dodała.
Do sukcesu tegorocznego Finału na pewno przyczyniło się niezwykłe zaangażowanie naszych dzielnych wolontariuszy. Nie bez znaczenia była też ich słuszna liczba. W tym roku na londyńskie ulice wyszło kwestować aż 250 osób! Sukcesem okazały się też aukcje, najwyżej zlicytowana została koszulka Roberta Lewandowskiego za kwotę £450. Szczęśliwemu nabywcy życzymy przyjemnego użytkowania.
Ileż śmiechu i zabawy pojawiło się podczas eventu dziecięcego! Ewa Dobrowolska-Gmitrzuk i Jarosław Gmitrzuk z Agencji Prima zadbali o to, aby każde dziecko od początku do końca programu miało radosny uśmiech na twarzy. Niezwykła kreatywność naszych artystów i łatwość w nawiązywaniu kontaktu z dziećmi były zauważalne od chwili pojawienia się ich na scenie. Nasi najmłodsi mieli też okazje wysłuchać piosenek w wykonaniu Majki Jeżowskiej – królowej polskiej sceny dziecięcej. Wszyscy – mali i duzi bawili się wyśmienicie.
Wisienką na torcie naszej tegorocznej folkowej grafiki był występ Zespołu Pieśni i Tańca Tatry. Tradycyjne stroje i muzyka – poczuliśmy się bardzo blisko naszego kraju.
Podczas głównej części wydarzenia mieliśmy okazję zobaczyć wielu młodych utalentowanych artystów. Niezwykła energią i żywiołowością oczarowała nas formacja Daxx & Roxane, prezentująca utwory na pograniczu rocka i metalu. Grupa Nocny Kochanek  szybko zjednała sobie publiczność niezwykle ciekawym brzmieniem i dowcipnymi tekstami piosenek – warto było skupić się na treści, aby w pełni docenić ich kunszt. Zespół Czapa, od lat grający na londyńskich scenach, przywiódł do SCALI swoją stałą publiczność, która chętnie śpiewała do spółki z muzykami.
Odwiedzili nas też goście specjalni: Ewa Mielnicka – Miss Polski 2014, Kasia Madera – dziennikarka BBC NEWS, Jan Żyliński – polski książę, Mateusz Szymkowiak – dziennikarz TVP2  znany z programów Pytanie na Śniadanie oraz The Voice of Poland. Martin Fitch – piosenkarz.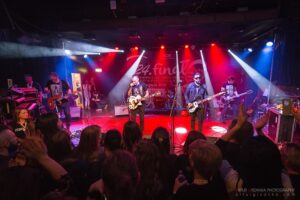 Powodzenie finałowych koncertów przerosło nasze oczekiwania.  Zespół Tabu, który wirtuozerią porwał  ubiegłoroczną Woodstockową publiczność, w podobnym stylu zdobył serca uczestników naszego Finału. Widownia rozszalała się pod sceną! Można było wyskakać się i wykrzyczeć do woli. To się nazywa granie!
I tak dotarliśmy do Wielkiego Finału, okraszonego występem gwiazdy wieczoru – zespołu Myslovitz. Wielu naszych widzów z niecierpliwością wyczekiwało właśnie tego koncertu. Główna sala pękała w szwach pod naporem podekscytowanych fanów zespołu. Już od pierwszych dźwięków słychać było, że muzycy są w świetnej formie. Piosenka za piosenką tworzyli wspaniałe widowisko, nawiązując coraz pełniejszy i głębszy kontakt z publicznością. W piękny sposób zakończyliśmy 24. Finał Wielkiej Orkiestry Świątecznej Pomocy w Londynie.
Do zobaczenia w przyszłym roku!
Sie ma!
Anna Ciecierska