Łukasz Jakóbiak – dziennikarz, mówca, motywator, twórca bardzo popularnego programu internetowego "20m2", człowiek który potrafi zrobić "coś" z niczego – to kolejny Pozytywny, który trafia do naszej Galerii. Już lada dzień Łukasz przyjeżdża do Wielkiej Brytanii, by wspólnie z Jakubem B. Bączkiem i Jakiem Smolarkiem motywować Polaków.
JAKÓBIAK: Uwierz, że można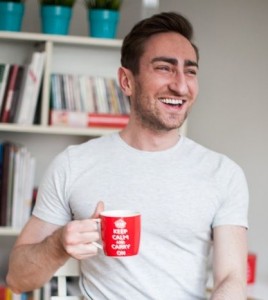 Co Łukasz Jakóbiak ma do przekazania brytyjskiej Polonii?
Nie będę udawał mądrzejszego niż jestem. Każdy ma inne problemy, każdy jest inny, ale każdy może być na swój sposób szczęśliwy. Kiedyś nie byłem, teraz jestem. Będąc po obu stronach mocy wiesz na ten temat więcej. Na własnym przykładzie, jakie to proste mówić o sobie, ale jednocześnie skuteczne, pokazuję, że to od nas zależy jak pokierujemy naszym życiem. Widzę olbrzymią przepaść między tymi co żyją, a tymi co mówią, że się nie da. Jest to smutne. Z jednej strony to ich wybór, ale nie do końca świadomy. Bo przecież nikt nie chce działać na swoją niekorzyść. Wracając do tematu, pokazuję, że można, przesuwam granicę wyobraźni i możliwości. Uczę jak wytworzyć motywację, co zrobić, gdy zanika.
Czy ludzie, którzy przychodzą na podobne jak Wasze seminaria, mają jakieś konkretne oczekiwania? Czego szukają podczas tego typu spotkań? Czy Polacy za granicą oczekują tego samego, co w kraju?
Chcą zmian, ale my im damy tylko wskazówki, rady, motywację, takiego kopniaka na dobry początek, nie wykonamy za nich telefonu. Jeżeli ktoś oczekuje, że siedząc i sprawdzając facebooka coś zmieni, to jest w błędzie. Dyscyplina i chęci to podstawa do zmian. Polacy za granicą są w innej sytuacji. Sam w takiej byłem, bo pracowałem w Londynie przez ponad pól roku. Będę mógł sobie ją przypomnieć podczas wykładu.
Jesteś najlepszym przykładem na to, że człowiek może wszystko – wystarczy tylko chęć i pasja.  Porozmawiajmy chwilę o początkach Twojej sławy. Jak narodziły się Twoje pomysły na najlepsze projekty?
Zawsze sytuacja generuje pomysł. Brak zainteresowanie moją osobą przez tv doprowadził do wymyślenia talk-show 20m2, dużo wcześniej brak pracy doprowadził do wywieszenia wielkiego cv, chęć bycia szczęśliwym do realizowania się.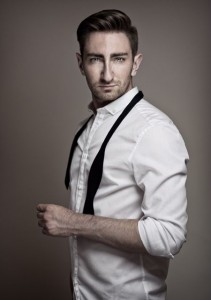 Jak to robisz, że te wszystkie gwiazdy i gwiazdki (mniejsze i większe) tylko czekają na spotkanie z Tobą? Jaki jest klucz do "otwarcia celebryty"?
Szczerość, pozytywne nastawienie. Nie jest moim celem skrzywdzenie osoby. Ja z nimi tylko rozmawiam, tak mało, a tak wiele. Dzisiaj już niewiele osób rozmawia. Dzisiaj posługujemy się 6 sekundowym video.
Dzisiaj jesteś osobą rozpoznawalną, osobą która osiągnęła już wiele i nie spoczywa na laurach – czy to szczyt Twoich możliwości? Czego jeszcze możemy się po Tobie spodziewać?
No nie 😉 To początek i ja to wiem. Jest tego dużo, ale wszystko to łączy jeden cel = pokazać, że można, przezwyciężyć swoje słabości, bo takie też są. Pracować nad najlepszą formą motywacji, odkrywać nowe sposoby, aby innym było łatwiej.
Co sądzisz o pozytywnych opiniach o Polakach za granicą i o portalu www.pozytywni.co.uk, który promuje wyłącznie sukcesy polskich ludzi na Wyspach?
Pozytywne opinie zawsze cieszą 
Jakimi cechami musi charakteryzować się człowiek, aby osiągnąć sukces?
Determinacją, systematycznością, samodyscypliną.
Co na zakończenie poradziłbyś Polakom, budującym swoją przyszłość w Wielkiej Brytanii?
Aby uwierzyli, że można! Każda przeszkoda jest po coś, jeżeli zrozumiemy, że tak jest, to będzie nam łatwiej żyć.
Jaśko
Wszytkim chętnym przypominamy, że jest jeszcze kilka miejsc na spotkanie z wyżej wymienionymi mówcami w Londynie, wejście bezpłatne, wystarczy szybka rejestracja:
https://www.eventbrite.com/e/pasja-biznes-i-zycie-event-w-londynie-tickets-15632651682