Tradycyjnie, na początku chciałabym zapytać o Pana przygodę z piłką nożną? Czy od wczesnego dzieciństwa piłka była Pana pasją?
Piłka zawsze była moją pasją, ale do pewnego momentu uprawiałem też łyżwiarstwo szybkie. Było to naturalną koleją rzeczy ze względu na moich rodziców, którzy oboje są trenerami łyżwiarstwa, tata kadry narodowej mężczyzn, a mama kadry juniorów. Ja wybrałem jednak piłkę nożną.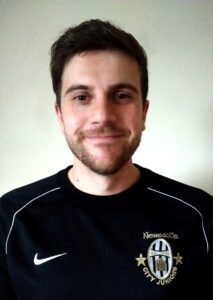 Jak to się stało, że mieszka Pan  w UK? I dlaczego akurat Newcastle upon Tyne? Proszę opowiedzieć jak rozwijała się Pana kariera trenerska?
Moje pierwsze trenerskie szlify zdobyłem w wymarzonym miejscu, oficjalnej szkółce FC Barcelony w Warszawie, FCB Escola Varsovia, gdzie miałem okazję poznać filozofię i metody pracy jednego z najlepszych klubów na świecie. Już podczas studiów planowałem wyjazd za granicę, aby kontynuować swój rozwój trenerski, początkowo myślałem o Erasmusie w Niemczech, ale ponieważ moja dziewczyna dostała się na studia w UK to wybrałem Anglię wiedząc, że i tu będę miał szerokie możliwości rozwoju. Swój pobyt rozpocząłem od Derby gdzie pracowałem w klubie z zaplecza Premier League, Derby County i ukończyłem dwa pierwsze angielskie kursy trenerskie. Następnie przez rok przebywałem w Londynie, pracując m.in. w klubie The Little Foxes, gdzie zdobyłem wyjątkowe doświadczenie w pracy z dziećmi od 2 roku życia. Miałem też niepowtarzalną okazję pracy w Arsenal Soccer Schools, oficjalnej szkółce Arsenalu Londyn oraz w Just Play, klubie prowadzonym przez Taffa Rahmana, który pracuje w akademii Tottenhamu.
Pracowałem też w kilku szkołach, jako nauczyciel wychowania fizycznego, co dało mi wizję jak wygląda tutejszy program nauczania, ale także, przed jakimi wyzwaniami stają nauczyciele w Anglii. Jeżeli ktoś narzeka na brak miejsca do nauczania WF-u w polskich szkołach to polecam zajrzeć do londyńskich J.
Do Newcastle ściągnęła mnie moja rodzina, którą przyjechałem odwiedzić w wakacje, ale kiedy poznałem Steve'a Chambers'a i zobaczyłem jak pracuje się w naszym klubie, postanowiłem zostać na dłużej.
Aktualnie pracuje Pan z grupą dzieci U8 i pomaga Pan przy grupie U15, dlaczego zdecydował się Pan założyć grupę dla polskich dzieci?
Wiem, że w Newcastle i okolicach jest wiele polskich dzieci i bardzo chciałbym zaszczepić w nich pasje do sportu i pomóc rozwinąć swoje talenty. Sport, a zwłaszcza piłka nożna, wpływa pozytywnie na dziecko na wielu płaszczyznach. Nie tylko pozwala na harmonijny rozwój fizyczny, ale uczy także odpowiednich postaw społecznych i umiejętności takich jak, szacunek do drugiej osoby, współpraca w grupie, umiejętność radzenia sobie ze stresem, pracowitość.
Zdaję sobie sprawę, że bariera językowa często powoduje, że dla wielu dzieci, a czasem także rodziców, przyjście na treningi może być pewnego rodzaju wyzwaniem. Z drugiej zaś strony wiem, że rodzice, którzy są w Anglii od dłuższego czasu chcieliby, aby dzieci nie straciły kontaktu z językiem. Chciałbym więc wyjść naprzeciw tym oczekiwaniom i stworzyć coś fajnego dla naszej społeczności.
Czy wszystkie dzieci, dla których piłka nożna jest pasją mogą grać pod Pana zwierzchnictwem?
Jak najbardziej, zapraszamy zarówno chłopców jak i dziewczynki w każdym wieku.
Proszę nam więcej opowiedzieć o tych zajęciach i klubie Newcastle City Juniors.
City Juniors to najlepszy klub w regionie, jeśli chodzi o szkolenie młodzieży. Liczby mówią same za siebie, 40 wychowanków w akademiach Premier League i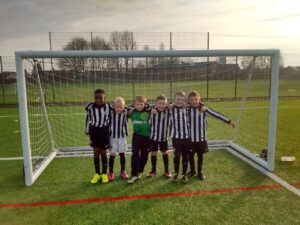 Championship w tym m.in. Adam Armstrong, który reprezentuje Anglię w drużynie U19, ma profesjonalny kontrakt z Newcastle United a aktualnie jest na jakże udanym (król strzelców League 1) wypożyczeniu w Coventry City. Jesteśmy przygotowani do pracy z dziećmi już od 4 roku życia, najstarsze grupy to obecnie U18. Zajęcia z najmłodszymi są nastawione na zbudowanie tzw. bazy, czyli podstawowych czynności potrzebnych nie tylko w piłce, ale w codziennym życiu i w prawidłowym ich rozwoju takich jak, poruszanie w różnych kierunkach, równowaga, koordynacja, prawidłowa postura.
Wiem, że może to wszystko brzmi dość poważnie, ale proszę nie zrozumieć mnie źle, profesjonalna piłka w najmłodszych latach ma być przede wszystkim dobrą zabawą, zaś profesjonalizm trenerów wyraża się w dbaniu o wszechstronny rozwój dzieci przy jednoczesnym zachowaniu uśmiechu na ich twarzach.
Nasz klub znajduje się na Benwell, Gibside Gardens, NE15 7PP, na byłym obiekcie treningowym Newcastle United. Zajęcia w okresie zimowym będą odbywały się w hali, w sobotę lub niedzielę w godzinach porannych. Zawodnicy mają do dyspozycji także 6 boisk trawiastych (w tym jedno z oświetleniem) gdzie będziemy trenować w cieplejsze dni.
Gdyby miał Pan udzielić jakiejś rady tym wszystkim dzieciom, którzy chcą zawodowo grać w piłkę nożną, to, co to by było? Co jest najważniejsze, aby zostać piłkarzem?
Namówić mamę i tatę żeby wysłali ich do dobrego klubu J.
Nie ma co się oszukiwać, żyjemy w dobie tabletów i playstation, a dziecko spędzające każdą wolną chwilę grając w piłkę na podwórku z kolegami to już niestety relikt przeszłości. Poziom aktywności fizycznej dzieci drastycznie spada, dlatego tak istotne jest, aby dzieci możliwie jak najwcześniej trafiały do odpowiednich ludzi, którzy atrakcyjnymi zajęciami ich do sportu zachęcą. Najważniejszym czasem dla rozwoju każdego młodego piłkarza jest okres do 12 roku życia, jest to tzw. Window of opportunity kiedy nauka nowych umiejętności ruchowych jest najłatwiejsza. To jest właśnie najważniejszy czas również dla nas, trenerów, aby zacząć szlifować ten diament w prawidłowym kierunku. Także im wcześniej tym lepiej.
Czy pamięta Pan swój pierwszy mecz, jakie wtedy towarzyszyły Panu emocje?
Pierwszego meczu nie pamiętam, było to zbyt dawno, ale moje pierwsze wspomnienia są z przyszkolnego betonowego boiska, na którym spędziłem wiele czasu po lekcjach. Czysta radość z gry z przyjaciółmi to coś, co stanowi o pięknie tej dyscypliny i do tej pory największą frajdę sprawia mi gra ze znajomymi.
A co sądzi Pan o naszych rodakach w kontekście piłki nożnej, czy Polacy potrafią grać w piłkę?
Oczywiście, mamy przecież tak wspaniałych zawodników jak Lewandowski, Krychowiak, Milik czy Szczęsny, mamy też historię wielkich sukcesów z lat 70 i mocno wierzę w to, że w niedalekiej przyszłości zapracujemy na kolejne.
Jakie ma Pan plany na przyszłość? Nowe projekty do realizacji?
Najważniejsze dla mnie w najbliższym czasie będzie wystartowanie z zajęciami dla polskich dzieci, do końca stycznia chciałbym ruszyć z nimi na dobre.
Zainteresowanych prosimy o kontakt pod numerem:
07550776190
lub email: info@newcastlecityjuniors.co.uk
tomaszkmiecik89@gmail.com
Dziękujemy bardzo za wywiad, życzymy samych sukcesów i gratulujemy nowej incicjatywy.
Barbara Larysz.