Miłość do motocykli – opowiedz nam proszę o Twojej największej pasji, jak to wszystko się zaczęło?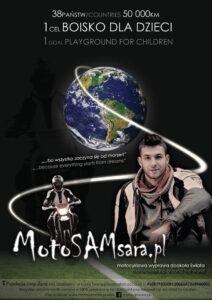 Witam, moja przygoda z jednośladami trwa już od niespełna dwunastu lat, dokładnie kiedy kończyłem szkołę podstawową brat na urodziny kupił mi legendarny motorower "komar", już po kilku dniach zacząłem sam szukać możliwości odłożenia kolejnych złotówek na własny motocykl. Z racji braku uprawnień moja przygoda zaczęła się od motocross'u. Nie jestem z tego dumny, ale już w wieku 16 lat zakupiłem pierwszy sportowy motocykl. I zaczęły się wyprawy…
Widać, że nie boisz się żyć! Co, Twoim zdaniem najbardziej się liczy, prędkość, wolność, czy może zdobywanie nowych przestrzeni, zwiedzanie, odkrywanie świata, po prostu życie?
Nie boisz się żyć – to właśnie życie nauczyło mnie, że dziś jest – jutra nie ma!  Nie jeden wypadek, nie jedna złamana kość…  Pasja pozostała.
Co najbardziej sie liczy ? Prędkość przyzwyczaja, wolność uzależnia… Tak szczerze, to nie wiem… Jak z miłością, po prostu czujesz, że to ta!
 Wyprawa dookoła Europy? Umieram z ciekawości, opowiedz nam więcej, proszę.
Po wyemigrowaniu do Anglii otworzyły się przede mną nowe horyzonty. To co widziałem w filmach na YouTube, stało się realnym planem. Długo nie trzeba było czekać…17 dni – 7822 km – 14 Państw.  Czas na następny krok!
Porozmawiajmy teraz o Twoich niesamowitych inicjatywach społecznych, 9 lat temu głośno było o "Mikołajach na Motocyklach", powiedz nam więcej o tym przedsięwzięciu.

Wraz z dwoma motocyklowymi koleżankami zorganizowaliŚmy pierwszą edycję "Mikołaje na Motocyklach – Ślask", obecnie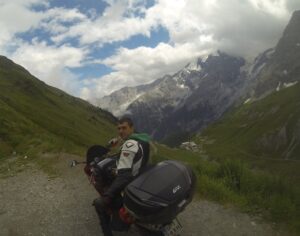 impreza ta nabrała takiego tempa i rozgłosu, że chyba nie ma osoby w Polsce, która nie widziała mikołaja na motocyklu. Większość motocyklistów jeździ we własnych grupach i teraz wspólnie organizują coś, co sprawia uśmiech nie tylko najmłodszym.
Na koniec, chciałabym porozmawiać o Twoim kolejnym niesamowitym projekcie, motosamsara.pl. Masz zamiar pokonać 38 krajów i ponad 50.000km. Skąd pomysł i na co tym razem będziesz zbierał fundusze?
38 Państw i 50.000 km to tylko założone liczby dodam, że gdy wybierałem się dookoła Europy planowałem 5 tysięcy kilometrów, a wyszło niespełna 8.  Pomysł na wyprawę dookoła świata to nic innego, jak mój kolejny krok na przód, kolejne wyzwanie, kolejna możliwość sprawdzenia siebie i odkrycia nowych horyzontów.
Projekt Motosamsara.pl to nie tylko moja wyprawa, wraz z fundacją Drogi Życia pragniemy poruszyć temat oraz zebrać fundusze na budowę boiska na terenie Miejskiej Szkoły Podstawowej nr. 5 w Piekarach Śląskich.
Zdecydowanie jesteś człowiekiem czynu, godnym naśladowania, skąd w Tobie tyle siły? Poradź, jak odkryć w sobie radość bezinteresownego pomagania innym, dzielenia się sobą… A Przede wszystkim jak można pomóc w projekcie Motosamsara.pl
Broń Boże ! Na pewno nie do naśladowania 🙂
A tak naprawdę, wierzę że wszystko, co dajemy do nas wraca. Może nie dzis, nie jutro, ale kiedyś na pewno! Warto pomagać !
Jeśli ktoś ma ochotę pomóc proszę o wsparcie na nr konta fundacji : 08195000012006547268940002
( Chciałbym również przypomnieć, że 100% zebranej gotówki trafia tylko i wyłącznie na budowę boiska dla dzieci ! )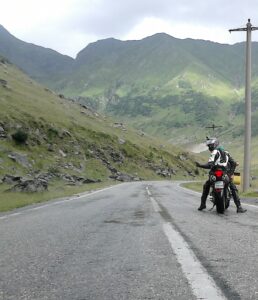 Nawet jeśli Twoja pomoc to tylko skromne pare złotych, to wciąż pomoc!  Jestem również otwarty na wszelkie propozycje współpracy.
Gdzie można dowiedzieć się więcej na temat wyprawy oraz całego projektu?
Wszelkie szczegóły na temat wyprawy, jak i zbierania funduszy dostępne są na stronie www.motosamsara.pl . Powstał również fanpage na Facebook'u www.facebook.pl/motosamsara .
Serdecznie zapraszam i dziękuję za wywiad.
My również dziękujemy, gratulujemy inicjatywy i życzymy powodzenia w wyprawie. 
Barbara Larysz.