Wiele lat temu, gdy tylko przestałem pracować na etacie, szybko musiałem nauczyć się pewnej umiejętności, której nieznajomość kosztować mnie mogła bardzo dużo. Szczególnie na początku mojej działalności. Dziś przyszedł taki czas, że chciałem się podzielić tym sekretem z Tobą.
Tylko pamiętaj – To od Ciebie zależy co zrobisz z tą umiejętnością.
Posłuchaj pewnej historii…
Pewien stary doświadczony profesor, miał spotkać się z grupą studentów, którym miał zrobić wykład na temat skutecznego planowania czasu. Studentami była grupa 12 właścicieli największych koncernów w państwie. Wykład ten, był jednym z serii pięciu modułów, zaplanowanych na całe szkolenie, zatem profesor miał do dyspozycji tylko jeden moduł i zaledwie godzinę na prezentację. Każdy bowiem moduł miała prowadzić inna osoba.
Ponieważ profesor ten cieszył się ogromnym zaufaniem w środowisku, jego studenci byli gotowi bardzo dokładnie zanotować, wszystko co tylko profesor miał powiedzieć. Profesor ten stojąc przed tak elitarną grupą słuchaczy, dłuższą chwilę przyglądał się każdemu z osobna, po czym powiedział:
– zamiast wykładu, pozwólcie, że coś wam pokażę…
Zapadła cisza. Stary profesor wyjął spod biurka, które go oddzielało od studentów, wielki dzban o pojemności 4 litrów i ostrożnie postawił go przed sobą. Następnie wyjął kilkanaście kamieni, które również położył na biurku i powoli zaczął wkładać kamienie, wielkości piłki tenisowej do tego dzbana. Gdy dzban był już wypełniony po brzegi i niemożliwe było dorzucenie choćby jeszcze jednego kamienia, podniósł wzrok na swoich słuchaczy i zapytał:
– Czy dzban jest już pełen? – Wszyscy odpowiedzieli: Tak
Poczekał jeszcze kilka sekund i dodał:
– Czy na pewno dzban jest już pełen?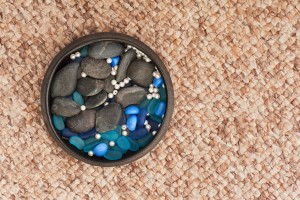 Następnie pochylił się ponownie i wyjął spod biurka kolejne naczynie, tym razem wypełnione żwirem. Delikatnie wysypał żwir na kamienie i potrząsnął lekko dzbanem. Żwir zajął miejsce miedzy kamieniami… aż do samego dna dzbana. Stary profesor znów podniósł wzrok na audytorium i ponownie zapytał:
– Czy dzban jest pełen?
Tym razem inteligentni studenci zaczynali powoli rozumieć, a jeden z nich odpowiedział:
– Prawdopodobnie nie
– Dobrze – odpowiedział stary profesor
Pochylił się jeszcze raz i wyjął spod biurka naczynie z piaskiem. Z uwagą wsypał piasek do dzbana. Piasek zajął wolną przestrzeń miedzy kamieniami i żwirem. Jeszcze raz zapytał:
– Czy dzban jest pełen?
Tym razem, bez zająknięcia, świetni studenci odpowiedzieli jednym chórem:
– Nie!
– Dobrze – odpowiedzial stary profesor
I tak, jak się spodziewali, wziął butelkę wody, która stała na biurku i wypełnił dzban aż po brzegi. Stary profesor podniósł wzrok na grupę studentów i zapytał:
– Jaką wielką prawdę pokazuje nam to doświadczenie?
Niegłupi, najbardziej odważny z szefów, biorąc pod uwagę przedmiot kursu, odpowiedział:
– To doświadczenie pokazuje, że nawet jeśli nasz kalendarz jest całkiem zapełniony, to jeśli naprawdę chcemy, możemy dorzucić więcej zadań, więcej rzeczy do zrobienia.
– Nie – odpowiedział stary profesor – To nie o to chodziło… Wielka prawda, która przedstawia to doświadczenie jest następująca:
– Jeśli nie włożymy kamieni, jako pierwszych do dzbana, później nie będzie to możliwe!!!
Zapanowało głębokie milczenie. Każdy uświadomił sobie oczywistość tego stwierdzenia. Stary profesor zapytał następnie: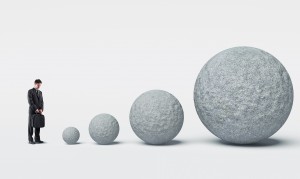 – Co stanowi kamienie w waszym życiu? Wasze zdrowie? Wasza rodzina? Przyjaciele? Zrealizowanie marzeń? Robienie tego, co jest waszą pasją? Uczenie się? Odpoczywanie? Dać sobie czas…? Albo jeszcze coś innego? Należy zapamiętać, że najważniejsze jest włożyć swoje KAMIENIE jako pierwsze do życia. W przeciwnym wypadku ryzykujemy przegrać… własne życie.
– Jeśli damy pierwszeństwo drobiazgom (żwir, piasek), wypełnimy życie drobiazgami i nie będziemy mieć wystarczająco dużo cennego czasu, by poświecić go na ważne elementy życia. Zatem nie zapomnijcie zadać sobie pytania:
– Co stanowi kamienie w moim życiu???? Następnie, włóżcie je na początku do waszego dzbana (życia)….
Przyjacielskim gestem dłoni, stary profesor pozdrowił audytorium i powoli opuścił salę …
Jako mój pierwszy post na stronie pozytywni.co.uk – "Pozytywni w UK – Myśl Jak stać się lepszym" , zdecydowałem się na przytoczenie tej historii. Być może część z Was ją zna, ponieważ pojawia się ona czasami w książkach motywacyjnych. Polecam osobiście tą metodę, jako podstawowe narzędzie przy planowaniu swojego życia i planowaniu codziennych zadań.
A przemyśleniami na ten temat podziel się w komentarzu poniżej. Jestem ciekawy Twojej opinii.