Seryjna morderczyni, magister, który sprytem zmienia historię świata polityki, świątobliwy lubieżnik, który morduje wspólnie z Lucyferem czy fotograf, który sypia z duchem – takie postacie poznajemy podczas lektury "Wyspy dreszczowców" Piotra Surmaczyńskiego. Kim jest Piotr Surmaczyński? Skąd się wziął na Wyspach i czym nas jeszcze zadziwi? Poznajcie kolejnego Pozytywnego.
Jak Pan trafił do UK? Co Pana wygnało z Polski?
To bardzo romantyczna historia. Hank Bukowski napisał kiedyś :" Nie jeden porządny facet wylądował przez kobietę pod mostem".  Ja miałem więcej szczęścia. Po bardzo stresującym i przykrym rozwodzie, ze złamanym sercem, wylądowałem na emigracji. Pierwszym moim przystankiem na wyspach była mała miejscowość w północno-wschodniej Anglii, jakieś czterdzieści minut drogi od Newcastle. Można więc powiedzieć, że emigracja miała podłoże miłosne. Chciałem rozpocząć nowe życie w miejscu, w którym nic nie będzie przypominało mi przeszłości. Billingham okazało się antypodami Trójmiasta. Jedyne co łączy te dwa miejsca to bliskość morza. Jednak plaża w Redcar niczym nie przypomina Sopotu.
 
Czym na co dzień się Pan zajmuje?
Piszę książkę, pracuję, wychowuję dwoje dzieci. Dzień zawsze wydaje się za krótki na wszystko co trzeba zrobić. Przy czym codziennie jest inaczej, więc nie sposób jednoznacznie odpowiedzieć na pytanie. Moje życie jest naprawdę bardzo intensywne i pełne niespodzianek. W tym miesiącu nagrałem w Dublinie słuchowisko na podstawie mojego tekstu. Piszę dla wychodzącego w Wiedniu miesięcznika "Polonika". Pracuję nad scenariuszem filmowym, na podstawie mojego opowiadania. Naprawdę brak czasu na realizację wszystkich planów. Jestem entuzjastą tego, co robię. Jestem w tej szczęśliwej sytuacji, że w moim otoczeniu znajdują się wspaniali ludzie, którzy pomagają mi realizować moje wizje. Ogromne wsparcie uzyskuję od Związku Polskich Pisarzy na Obczyźnie. Sam także staram się pracować na rzecz Związku. Jestem człowiekiem bardzo zajętym.
Co jest najtrudniejsze dla Polaka, który rozpoczyna życie na Wyspach?
Mam poczucie, że nic nie jest trudne. Nie pamiętam bym z czymkolwiek miał problemy po przeniesieniu się na Wyspy. Wbrew temu, co można czasem usłyszeć o ksenofobicznych zachowaniach Brytyjczyków, ja spotkałem się prawie wyłącznie z sympatią i chęcią pomocy ze strony autochtonów. Mam poczucie, że życie w UK jest zdecydowanie łatwiejsze niż w Polsce. To pewnie subiektywne spojrzenie, ale uczciwie mówię, że nie miałem najmniejszych problemów adaptacyjnych. Z resztą ja nawet nie mam poczucia, bym wyemigrował. My Polacy na wyspach jesteśmy raczej kolonizatorami. Wszędzie w Anglii są polskie sklepy i gazety. Nasz język ojczysty stał się jednym z najpopularniejszych na Wyspach Brytyjskich językiem obcym. Myślę, że już teraz jako naród stanowimy trwały element społeczeństwa brytyjskiego.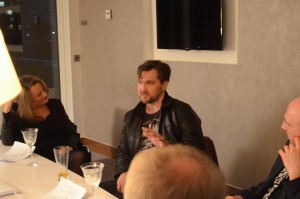 Co jeszcze "kluje się" w Pana głowie? Powstaną kolejne opowieści?
Obecnie pracuję nad książką pod wieloznacznym tytułem "Pussy". Jest to współczesna powieść obyczajowa o losach "Singielki" pracującej w wielkiej korporacji w Londynie. Mimo sukcesu zawodowego bohaterka jest nie do końca spełniona, bo nie udało jej się ułożyć życia osobistego. Historia z jednej strony jakby " z życia wzięta", ale zaprawiona sporą dozą realizmu magicznego. Co także może wydać się interesujące dla czytelników, narratorem opowieści jest kot bohaterki. Książka ukaże się do końca roku nakładem wydawnictwa Meridian.
Jakie plany na przyszłość? Prywatne i zawodowe.
Marzę o kupnie farmy w Hiszpanii. Jedyn,e czego nie lubię w Londynie, to pogoda. Zwłaszcza zimą jest nijako. Nie ma śniegu, ale jest ponuro i mokro. O wiele przyjemniejsza jest zima pod słońcem półwyspu apenińskiego lub na Balearach. Więc czemu nie? Chciałbym także móc skoncentrować się tylko pisaniu. To jednak chyba będzie trudniejsze do osiągnięcia od rancza w Hiszpanii.
Gdzie w UK znajdziemy "Wyspę dreszczowców"?
Przede wszystkim "Wyspę Dreszczowców" można nabyć na e bay pod adresem http://www.ebay.co.uk/itm/261929310793?ssPageName=STRK:MESELX:IT&_trksid=p3984.m1555.l2649.
Pozycja dostępna jest także w wybranych polskich księgarniach w Wielkiej Brytanii i Irlandii. Na pewno można ją także wypożyczyć w bibliotece polskiej w Londynie i Dublinie. Zapraszam także na spotkanie autorskie w ramach Targów "Pozytywni w Biznesie", gdzie będzie można kupić moją książkę i dostać dedykację.
Czego Pozytywni mogą Panu życzyć?
Przed wszystkim więcej czasu. To takie trudne kiedy musisz dzielić swoją uwagę pomiędzy zazdrosną i zaborczą literaturę, a ukochaną rodzinę. Pisząc mam poczucie, że zaniedbuję bliskich, a spędzając czas z żoną i dziećmi myślę o swoich bohaterach literackich. Koszmar. Ale tak na serio to czuję się szczęśliwy i życzyłbym sobie, tak jak niemiecki poeta Goethe, by ta "chwil" trwała w nieskończoność.
Zatem niech się spełni 🙂
a przy okazji, drodzy Pozytywni, koniecznie zajrzyjcie tutaj: