Tradycyjnie, na początku chciałabym zapytać o Wasze początki w Newcastle jako drużyny, skąd pomysł?
Opowiedz proszę o Waszych wszystkich sukcesach i sławnym meczu z Banter Brigade?
Nasze początki w Newcastle zaczęły się od zwykłego kopania piłki. Z chłopakami zebraliśmy się, żeby się trochę poruszać i pokopać piłkę, graliśmy wspólnie miedzy sobą, przy werbowaniu ludzi na wspólne niedzielne granie. Doszły do nas słuchy że są inne polskie drużyny, które też grają tak jak my, wiec postanowiliśmy wybrać najsilniejszy team z nas i zmierzyć się z innymi drużynami. Na początku były to wyrównane mecze, ale my z dnia na dzień zaczęliśmy się rozumieć coraz lepiej i stawaliśmy się za silni dla pozostałych drużyn. Po pewnych czasie gdy wygrywaliśmy, wręcz gromiliśmy swoich rywali, wpadłem na pomysł byśmy spróbowali swoich sił w lidze przeciwko angielskim drużyną. Widziałem w nas potencjał i narastającą siłę i wspólnie stwierdziliśmy, że to dobry pomysł dla sprawdzenia się oraz rozwoju drużyny. Dołączyliśmy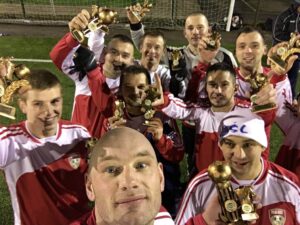 do ligi soccer6s (w której już kiedyś miałem przyjemność grać, wiec wprowadzenie drużyny nie było jakimś problemem, tym bardziej, że jakaś drużyna się rozpadła i mogliśmy zająć jej miejsce w lidze. Wystartowaliśmy w połowie sezonu w Division 1, od początku musieliśmy bronić się przed spadkiem z ligi, gdyż drużyna, która się wycofała, nie zgromadziła zbyt wiele punktów, tak że próbowaliśmy odrobić straty i utrzymać się w lidze. Było blisko, ale w ostatnim meczu sezonu przegraliśmy (przy nie korzystnym dla nas sędziowaniu, ale jako rodzynek w lidze i to jeszcze z innego kraju musimy liczyć na własne umiejętności i czasami grać pod górkę) w ogólnym rozrachunku spadliśmy z ligi, ale to podziałało na nas mobilizująco. W następnym sezonie wygraliśmy division 2 z ogromną przewaga, zdobyliśmy awans i z olbrzymim optymizmem czekaliśmy na nowy sezon w Division 1. Pierwszy mecz to był jednak kubeł zimnej wody przegraliśmy 2:1, i to była lekcja pokory dla nas, która nauczyła nas realnie myśleć, po czym postawiliśmy sobie cel utrzymanie się w lidze, czego dokonaliśmy zajmując 4 miejsce. Cel na przyszły sezon był jasny – tylko wygrana! Od początku nowego sezony wygrywaliśmy mecz za meczem, progres drużyny był niesamowity. Umiejętności i zgranie wzrastało z każdym meczem, co zaowocowało wygraniem ligi, osiągnęliśmy zamierzone cele i postanowiliśmy sprawdzić się w innej lidze, może silniejszej o większej ilości meczów. Zgłosiliśmy drużynę do Monday Night Benfield League, organizowane przez chapionsoccer.co.uk. Zaprosili nas na mecz kontrolny, który wygraliśmy 2:1 i przyjęli nas do ligi. Wystartowaliśmy od Division2, którą wręcz zdeklasowaliśmy wygrywając z ogromną przewagą nad drugim zespołem i po drodze w eliminacjach pucharu ligi pokonaliśmy zespół, który później wygrał Division 1. Po wywalczeniu awansu do Division 1, przyszedł czas na finały pucharu ligi, do którego zakwalifikowaliśmy się miedzy rozgrywkami ligi, na początek przyszło nam się mierzyć z zespołem Division1 Wallsender. Pokonaliśmy ich 2:0, potem wygraliśmy 3:2 i w końcu przyszedł czas na finał, w którym przyszło nam się zmierzyć z mistrzem, czyli zwycięzca Division 1, którego już raz pokonaliśmy w grupie 1:0. Oni byli podwójnie zmobilizowani i pozbierali najlepszych zawodników z drużyn, które odpadły, żeby nas pokonać. Niestety nie udało się to im, w meczu padł wynik 1:1 i doszło do rzutów karnych, w których wygraliśmy 3:2 i mogliśmy wznieść puchar ligi i z pełnym entuzjazmem myśleć o rozgrywkach Division 1.
Jak się wspólnie odnaleźliście?
Jak się odnaleźliśmy… hmm jeden podawał przez drugiego zapraszaliśmy nowe osoby na wspólne granie, itd. Ogólnie temat piłki nożnej sam się nawija na język, dzięki czemu umożliwiło nam to skompletowanie drużyny.
Jesteś kapitanem  drużyny, chciałabym abyś przybliżył nam swoją sylwetkę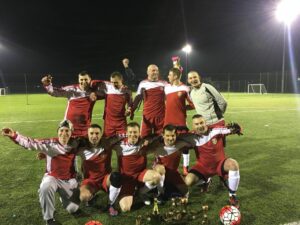 Tak, jestem kapitanem drużyny wybranym przez nasz zespól, ale ogólnie wszystkie decyzje podejmujemy z zarządem, w który skład wchodzą: Ja, Patryk Szczurek, Sebastian Jobczyk, Bogdan Oreszczynski oraz Łukasz Lehmann.
Jak jest Twoja historia związana z piłką?
Moja osobista, historia związana z piłka jest bardzo długa i kręta.  Gdyby wyszło tak jak bym sobie wymarzył to nie dawał bym wywiadu tu tylko w canal+ hehe.  A tak na serio, to grałem od dziecka, nieraz wychodziłem z piłką rano i wracałem, jak było już ciemno. Miałem epizody w drużynach juniorskich, takich jak: GORNIK ZABRZE, PIAST GLIWICE oraz seniorskich KOLEJARZ GLIWICE I GZKS SOSNICA GLIWICE, ale dziś jestem tu gram w drużynie po 11-tu w CHEMFICA SUNDAY i oczywiście szóstek POLISH EAGLES.
Jakie plany i aspiracje macie na przyszłość?
Nasze plany na przyszłość… czas pokaże na razie  koncentrujemy się na lidze oraz obronie pucharu…
Dziękujemy bardzo za wywiad i życzymy dalszych wygranych. 
Barbara Larysz.