Książę Jan Żyliński – arystokrata, biznesmen, najbogatszy Polak w Wielkiej Brytanii, który dorobił się majątku własną pracą. Polski patriota, arcyciekawa i inspirująca postać, fantastyczny i wciągający mówca. Jan porywa słuchaczy; mówi to, o czym wszyscy myślą, a boją się powiedzieć. Dzisiaj udzielił wywiadu Pozytywnym, a już wkrótce spotka się z Polakami na Targach Polskiego Biznesu, które Pozytywni organizują w Gateshead.
Misją Księcia Jana jest aby Polacy mieszkający w Wielkiej Brytanii byli szanowani i ich wkład w brytyjskie społeczeństwo doceniany. Wedlug Jana Polacy są klejnotem w brytyjskiej koronie i tak też powinni być traktowani. Jan przyjedzie na wezwanie lokalnej społeczności polskiej, aby opowiedzieć, co dla niego znaczy być Polakiem, dlaczego wezwał na pojedynek lidera partii nacjonalistów, dlaczego Polacy powinni być cenieni jak prawdziwy skarb w Wielkiej Brytanii, jak walczyć o naszą tożsamość narodową i godność w tych trudnych politycznie czasach, jak możemy działać wspólnie i jednoczyć się dla naszego wspólnego dobra i wspólnego celu – poszanowania Polaków w Wielkiej Brytanii.
Uczestnicy spotkania będą mieli okazję zadać pytania Janowi.
Poniżej prezentujemy naszą rozmowę z polskim księciem w UK.
Od urodzenia mieszka Pan w Wielkiej Brytanii. Czuje się Pan bardziej Polakiem czy Anglikiem?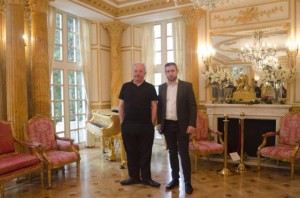 – Zostałem wychowany w duchu miłości do Polski. Myślałem, że aby zostać porządnym Polakiem muszę wyjechać i tam zamieszkać. Na szczęście Polska przyjechała do mnie i razem możemy iść na wojnę o miłość  i zrozumienie. Całe swoje życie funkcjonowałem w nieco schizofrenicznej rzeczywistości. I któregoś dnia pomyślałem, że pora wybrać, że nie chcę być dłużej schizofrenikiem. Postanowiłem tutaj, w Anglii, być Polakiem.  Tutaj się urodziłem, tutaj mieszkam i doskonale rozumiem to, co mówią Polacy, co czują. Wiem, jak są czasem dyskryminowani. Ja to mam od urodzenia. Cicho siedziałem przez 60 lat, od 40 lat prowadzę biznes. Znudziłem się biznesami, bo ile człowiekowi potrzeba pieniędzy i znalazłem nowy temat dla siebie. Teraz biorę się za Polskę, za obronę Polaków, bo tego potrzebują..
I stąd akcja z szablą?
To we mnie narastało. A Farage? – on dotychczas miał pole do popisu, bo nie miał przeciwnika z naszej strony. Ja to zmieniłem. Teraz wszyscy mi mówią, że w mediach stałem się twarzą Polaków.  I to mnie cieszy, bo w temacie traktowania Polaków wiele mam do powiedzenia. Dlatego chcę się z Polonią spotykać i zapalać do działania. Wyzwanie Farage`a na pojedynek to był dla niego szok, bardzo nietypowa akcja, bez precedensu.  Zrozumiał, że we mnie ma autentycznego przeciwnika, którego wcześniej nie miał. Ten przeciwnik jest tutaj urodzony, tutaj wykształcony, ma pozycję społeczną, płynnie mówi po angielsku. I on się tego wystraszył. Powinien być teraz bardziej ostrożny w rzucaniu osądów na nasz temat. Akcja z szablą to dopiero początek. Wywołałem pospolite ruszenie i będę szedł dalej. Zdaję sobie sprawę, że jestem towarem, który służy pewnym celom. W tym wypadku ma służyć Polakom.
 Czy polski książę w Londynie ma łatwiej niż miałby angielski książę w Warszawie?
Oba kraje na swój sposób są otwarte, jednak w obu są spore pokłady nietolerancji. Anglia jest bardziej tolerancyjna – 40 procent Londyńczyków to obcokrajowcy. Rdzenni Londyńczycy to zaakceptowali. Inaczej jest na prowincji – tam jest większy konserwatyzm. W Polsce z kolei jest większy snobizm. Gdyby jakiś książę brytyjski się tam pojawił, to byłoby wydarzenie na miarę koncertu Rolling Stonesów. Polacy z reguły czują się gorsi, choć gorsi wcale nie są. Z kolei Anglicy mają kompleks wyższości.  Im się wydaje, że ich imperium dalej istnieje. Ja to widzę na przykład w Cameronie –  jest kuzynem królowej, ojciec ma tytuł, pochodzi ze śmietanki ludzi na Wyspach. Ja czuję, że on ma w sobie mniemanie, że Anglicy są najlepsi na świecie. Nie dopuszcza, że my możemy być równi, a już na pewno nie lepsi, a przecież pod wieloma względami jesteśmy. To jest taki utajony rasizm wśród Brytyjczyków. My jesteśmy równi, moim marzeniem jest aby na przestrzeni 20 lat to Polak był premierem kraju.
A w czym jeśli nie jesteśmy, to bywamy lepsi od Brytyjczyków?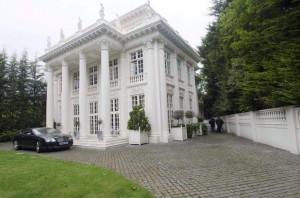 Polacy maja odwagę i potrafią walczyć. Polska jest mocarstwem, tylko mało kto jeszcze to zauważa. Moja szabelka to symbol, nie awanturniczość – to poczucie humoru, lekkość, bez  kłótni. A z Anglikami można dużo osiągnąć humorem. Owszem, są sytuacje, kiedy trzeba się bić, ale najlepiej bić się słowami, uśmiechem, debatą i dialogiem. Stale mówię mediom brytyjskim, że my – Polacy kochamy ten kraj i chcemy, żeby i Brytyjczycy nas pokochali. My jesteśmy wdzięczni, że możemy tu być, a oni powinni nas cenić. Jesteśmy skarbem narodowym, najcenniejszym klejnotem koronnym tego kraju.
[gap height="5″]
Co Pan najbardziej ceni w Polsce?
Polki 🙂
Czy Polacy kiedyś wrócą z emigracji?
W Polsce musi być dobrobyt, żeby Polacy nie chcieli wyjeżdżać. Politycy mogą sobie mówić to, czy tamto – to nie robi najmniejszej różnicy. Polacy będą wyjeżdżać dopóty, dopóki nie będą mieć dobrobytu i stabilizacji finansowej w Polsce. To jest do zrobienia. Gdybyśmy zrobili reformę gospodarki i zredukowali biurokrację, Polska może mieć taki wzrost jak Singapur. Tymczasem to, co obecnie dzieje się w Polsce jest dla mnie szokujące. Założyłem fundację w Warszawie, zatrudniłem dwóch pracowników.  Pensja to jedno, a ZUSy i podatki, które płacę, to drugie tyle. To jest obłęd. Tego nie ma w Anglii. Poważne reformy prorynkowe są potrzebne, tylko wtedy Polacy wrócą z Wysp. Wszyscy o tym mówią, nikt nie realizuje.
Co chce Pan powiedzieć Polakom na przykład na Targach Polskiego Biznesu w Gateshead?
Chcę spotkać się z Polakami, z moimi rodakami, chcę ich motywować i nakręcać, aby podnieśli głowy i szli do przodu. Zapraszam więc na spotkanie ze mną do Gateshead. Będzie mi bardzo miło się z Wami spotkać i porozmawiać o tematach ważnych dla Polski.
 Zapraszamy na to niezwykle inspirujące i motywujące spotkanie z polskim księciem w Wielkiej Brytanii!
http://www.pozytywni.co.uk/pozytywni-w-biznesie-pierwsze-targi-polskiego-biznesu-w-gateshead/