Wielu ludzi zastanawia się jak prowadzić spotkania biznesowe, w szczególności jeśli mamy polecić komuś usługę bądź
produkt. Niejednokrotnie obezwładnia nas stres i powtarzające się w głowie pytanie 'czy kupi?'. Niewielu z nas,
szczególnie jeśli dopiero zaczynamy przygodę z biznesem, zdaje sobie sprawę z tego, że sprzedaż to też nauka, do której trzeba się przygotować.
[gap height="15″]Istnieje kilka elementów dobrze przeprowadzonego spotkania, które opisane są poniżej.
[gap height="10″]Cele spotkania – konieczne jest ustalenie przed spotkaniem jakie cele zamierzasz osiągnąć w wyniku przeprowadzenia
rozmowy. Celem minimum może być zbudowanie pozytywnych relacji, celem maksimum – sprzedaż produktu lub usługi (również podpisanie umowy)
Przywitanie się – bardzo istotnym elementem jest wywołanie pierwszego pozytywnego wrażenia, szczególnie jeśli dana osoba
jest nam obca. Należy skupić wszystkie zmysły na kliencie i swoich celach, to jaki wynik spotkania chcesz osiągnąć. Klient
musi czuć się bezpiecznie i pewnie.. Ważne jest aby od samego początku pamiętać o kontakcie wzrokowym i uśmiechaniu się.
Zagajenie – w celu rozluźnienia atmosfery trzeba porozmawiać na temat lekki i przyjemny dla drugiej strony, taki aby
poczuła się komfortowo, niejednokrotnie można stosować komplementy (ale bez przesady). Najważniejsze aby wywołać w
kliencie pozytywne odczucia.
Intencje – mówimy wprost z czym przychodzimy, jeśli jest to możliwość współpracy czy polecenia produktów oraz wszystkie
inne powody. Można zadać pytanie czy jest tym zainteresowany.
Analiza potrzeb – polega na zadawaniu pytań , aktywnym słuchaniu i analizowaniu odpowiedzi, po to aby móc się do niech
odwołać w późniejszej rozmowie. Unikaj zadawania nic nie wnoszących do rozmowy pytań. Na podstawie wypowiedzi klienta
można dopasować do niego swoje usługi.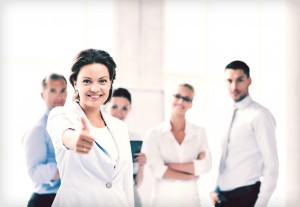 Prezentacja oferty – musisz dobrze znać swoją usługę/produkt. Używać zdań które odwołują się do wcześniej poznanych
potrzeb klienta w kolejności: potrzeby klienta, korzyści o których mówią inne osoby korzystające z tych usług, atrybuty
rozwiązania (wg. Ciebie), a na końcu o cenie. Ważne aby mówić tzw. językiem korzyści np. 'dzięki temu', 'to pozwoli na',
'w ten sposób', 'idealne rozwiązanie', 'tylko u nas'.
Zbijanie obiekcji – 99% klientów ma obiekcje, ich zbijanie polega na zwróceniu uwagi klienta na to co jest dla niego
ważne, bo w większości istotne dla niego są inne cechy niż te do których zgłasza obiekcje.
Domknięcie sprzedaży i pożegnanie – negocjowanie ostatecznych warunków oraz podsumowanie transakcji. Mogą się tu również pojawić wątpliwości, należy je więc rozwiać. Na końcu podziękować za poświęcony czas i pożegnać się.
Niezależnie od wyniku spotkania pozostaw po sobie dobre wrażenie abyś zawsze mógł do danej osoby wrócić.
Pamiętaj! Zbuduj pozytywne relacje.