Witam serdecznie, opowiedz nam proszę o punkcie zwrotnym w Twoim życiu.
Pamiętam ten dzień jak dzisiaj, przełom nastąpił 2 lata temu. Żyłem bez konkretnych celów, bez pomysłu na przyszłość wypalając kolejnego papierosa, czekając na Sobotę (odwołanie do polskiego filmu dokumentalnego) oraz ważąc 115 kg z duża nadwagą. Tego dnia zdałem sobie sprawę, że zwyczajne podejście po schodach zaczyna mi sprawiać problem, wróciłem z zakupów, przewiesiłem spoconą koszulkę i spojrzałem w lustro.. Obiecałem sobie wtedy zmiany, zmiany które kompletnie odmieniły moje życiowe nawyki. Rzuciłem papierosy, zacząłem się zdrowo odżywiać, regularnie ćwiczyć oraz biegać. Tak stało się to moja pasją, która zamieniła się w nałóg, bez którego nie wyobrażam sobie obecnie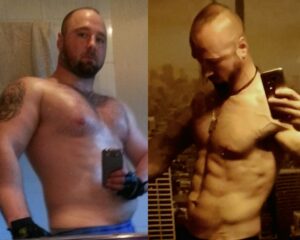 życia.
Jak wygląda Twój typowy dzień?
Staram się spędzać każdy dzień produktywnie, każdego dnia zrobić coś, co uczyni życie łatwiejszym, ciekawszym. Wstaje każdego dnia ok. 7, wypijam szklankę wody z cytryną, przestrzegam diety. W zależności od dnia udaje się z rana do Uniwersytetu gdzie studiuje lub do pracy.
Po pracy zazwyczaj jest chwila relaksu przy komputerze, gdzie w wolnej chwili edytuje nagrane wideo, czy też zajmuje się promocją strony FB oraz kanału.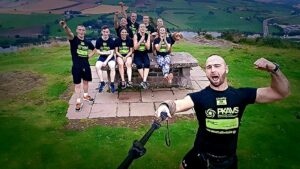 Wieczorem udaje się na trening, który zajmuje mi jakieś 90 minut. W zależności od dnia, jest to trening typowo siłowy, interwałowo-kalisteniczny (z wykorzystaniem ciężaru własnego ciała) lub cardio typu bieganie, czy rower. Trenuje obecnie 6 razy w tygodniu. Dzień wolny staram się spędzać ze znajomymi, aktywnie wypoczywając w pobliskich górach czy też odwiedzając inne ciekawe miejsca,  których w Szkocji mnóstwo.
Największe osiągnięcie?
Wierzę, że wciąż przede mną, jednak jak do tej pory myślę, że było nim niewątpliwie moja przemiana sylwetkowa w przeciągu tych wspomnianych dwóch lat skąd wszystko się zaczęło… (zdjęcie załączam w mailu)
Dlaczego sport jest ważny w życiu człowieka? Jakich zmian dokonał w Twoim?
Sport odmienił moje życie, zmienił nie tylko moje ciało, ale również ukształtował charakter, nauczył większej samodyscypliny, organizacji. Dzięki tej pasji zacząłem postrzegać świat inaczej pragnąc wycisnąć z życia jak najwięcej, tak jak ten poranny sok z cytryny 😉 Kiedyś brakowało mi pomysłu na życie teraz jest ich aż nadto, gdzie czasem ambicja przegrywa z czasem. Krótko mówiąc: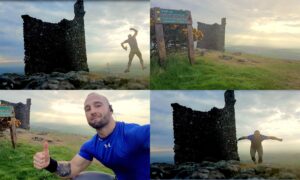 dzieje się!
Wiemy, że prawie każdy marzy o zdrowym trybie życia, czy wysportowanej sylwetce, powiedz od czego zacząć i jak najlepiej się motywować?
Wszystko jest kwestią priorytetów, jeśli człowiekowi naprawdę zależy to osiągnie swój cel. Ważne jednak, żeby nie stawiać przed sobą wielkich wyzwań już na samym początku. Spore wyzwania wymagają czasu, wyrzeczeń… ludzie często rezygnują już przed startem. Pomocna jest tutaj zasada "małych kroków" gdzie stawiamy małe cele z tygodnia na tydzień. Realizując je nabieramy pewności siebie oraz jakże cennej motywacji do dalszego działania.
Jak Ty motywujesz ludzi? Uważasz, że jesteś skuteczny?
Głównie motywuje ludzi właśnie przez sport. Korzyści płynących ze zdrowego trybu życia jest masę, zaczynając od poprawy sylwetki, poprzez lepsze funkcjonowanie organizmu czy też "szlifowanie" charakteru. Człowiek staje się lepszą wersją samego siebie! Czy jestem skuteczny? Zdarza mi się słyszeć dużo pozytywnych opinii o tym co robię. Motywując ich, ludzie odwdzięczają mi się podobnie zachęcając mnie jeszcze bardziej do działania. To daje naprawde pozytywnego kopa i tylko utwierdza mnie w przekonaniu, że jestem na dobrej drodze J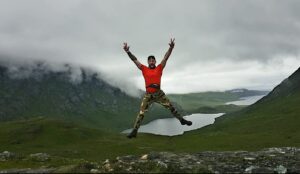 Jaka jest Twoja oferta, gdzie można Cię znaleźć?
Jedno słowo: LogOut4Life. Innymi słowy: Wyloguj się do życia.
https://www.facebook.com/LogOut4Life/?fref=ts
Od kilku miesięcy prowadzę pod tą nazwą kanał na YouTube poświęcony motywacji do treningów, zdrowego trybu życia oraz korzystania z niego w najlepszy możliwy sposób. Staram się również dotrzeć do ludzi poprzez stronę na FB, gdzie promuję wideo oraz dodaję motywujące posty. Ostatnio założyłem również grupę na Facebooku:
"Polacy z pasją w UK: LogOut4Life Project"
http://Polacy z pasją w UK – LogOut4Life project.
… której celem jest skupianie ludzi z interesującym hobby na Wyspach. Dziele się tutaj swoimi pasjami jak i również poznaje zainteresowania innych bez wątpienia ciekawych ludzi..
…Optymistów, którzy mają jasno określony cel, aspiracje i konsekwentnie do nich dążą.
Plany na przyszłość?
W trakcie realizacji , obecnie koncentruję się na studiach w kierunku Sport & Fitness, które pomagają mi zwiększać wiedzę z zakresu żywienia, treningu personalnego oraz motywacji innych ludzi.  Niedługo na YouTube zamierzam opublikować relacje z planowanej serii wypadów na "Isle of Skye" – jednej z wysp na północy Szkocji. Miejsce to jest dla mnie taką " Nową-Zelandią Europy". Widoki są tutaj po prostu epickie. O efektach będziecie mogli się przekonać już niedługo na moim kanale YouTube czy też stronie, którą prowadzę – "LogOut4Life". Znajdziecie tam motywujące wideo do treningów, moje rady, zdrową kuchnie oraz wideo z weekendowych wypadów po Szkocji.
Kilka słów dla Polonii w UK…
Wielu z Nas pracuje w UK poniżej swoich kwalifikacji, możliwości… Zastanówmy się… czy to jest to co chcemy robić do końca naszego życia? Dlaczego nie zacząć robić coś w kierunku zmiany na lepsze? Ja odkąd "obudziłem się" jakieś 2 lata temu przestałem przezywać swoje życie. Zacząłem nim żyć! Pasja… to ona czyni nas wyjątkowymi.
Wtedy przed tym lustrem zadałem sobie jeszcze pytanie: "Co lubię robić, co chciałbym robić?"
Zacząłem to robić… obecnie dążę do tego, żeby połączyć pasje z zawodem, bo czy może być dla Nas coś lepszego jak zajmowanie się w pracy tym co kochamy?
Dziękuję za wywiad, gratuluję przemiany i determinacji w dążeniu do celu!
Pozdrawiam, Barbara Larysz.