"Mieszkam i pracuję w Wielkiej Brytanii. Tęsknię za domem, za Polską. Z jednej strony czekam na powrót. A może jednak nie wrócę? Nie wiem. Nie mogę się odnaleźć. Przyjechałam tutaj, żeby zarobić pieniądze, żyć na lepszym poziomie. Czuję się jak zawieszona w czasoprzestrzeni, zdezorientowana. Jakbym nie umiała do końca tutaj żyć. Trochę niezadowolona, nieszczęśliwa. Z drugiej strony, wiem że na dziś nie wrócę do Polski, no więc żyję tak na pół" – opowiada o sobie Monika.
Stan zawieszenia – stan niebycia
Taki stan zawieszenia, w którym funkcjonują osoby podobne do Moniki dość trafnie ktoś określił jako stan "nierozpakowanego plecaka". To stan zawieszenia w przeszło – przyszłości. Stan nieumiejętności bycia tu i teraz. Z jednej strony chęcią powrotu z powodu tęsknoty za Polską, z drugiej niezdecydowaniem, by powrócić – z różnych względów czy to finansowych czy innych.
Być tu i teraz
Nie chodzi o to czy ktoś ma wracać czy nie. Czy to słuszne czy niesłuszne. Chodzi o umiejętność bycia tu i teraz. Bez niej nie umiemy dostrzegać tego, co dobrego niesie nasze – dziś, a poza tym, czujemy się sfrustrowani. Jak słusznie napisał William P. Young w książce "Chata", przyszłość ma to do siebie, że jest nierzeczywista, bo jej nie ma tu i teraz i skupianie się tylko na niej powoduje, że nie dostrzegamy dobra ukrytego w naszym dziś.
Dobra przyszłość to dobre przeżywanie dziś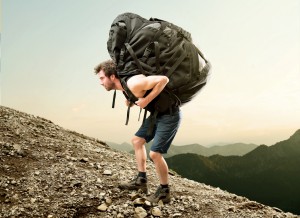 Nie da się zbudować dobrej przyszłości bez dobrego wykorzystywania czasu danego nam w danej chwili. Bo dobra przyszłość zbudowana jest z dobrego przeżywania podarowanego nam dziś. Z umiejętności cieszenia się tym, co mamy, z rozwijania umiejętności dostrzegania piękna w zwykłości, w cieszeniu się z tego, co jest dla nas teraz, z wykorzystywania miejsca, w którym jesteśmy w najlepszy z możliwych sposobów. Z wdzięczności za to, co jest w naszej obecnej chwili.
Kiedy już jesteśmy w jakimś miejscu, bez względu na to, czy na zawsze, czy na chwilę, na dwa lata czy lat siedem, dobrze jest naprawdę być tu i teraz. Wierzyć, że to TU i TERAZ może przynieść nam wiele wspaniałych rzeczy. Że w naszym tu i teraz jest dużo wspaniałych okazji, by się rozwinąć, by stać się lepszym człowiekiem, by być bardziej radosnym, wdzięcznym. Jeśli chcemy doświadczyć dobroci od miejsca, w którym się znaleźliśmy, warto okazać mu szacunek i spojrzeć na nie przychylnym wzrokiem.
Każdy dzień ma dla Ciebie bogactwo. W jego zwyczajności ukryte jest piękno. Otwórz oczy na Twoje dziś.
Dobrze jest mieć cele na przyszłość. Dobrze jest doceniać, to co dała nam przeszłość. Jednak to wspaniała umiejętność żyć też tu i teraz! Żyjmy naprawdę. Bądźmy wdzięczni za nasze dziś. Bo wdzięczność otwiera drogę do dobrego życia.
Każda sytuacja niesie swoje bogactwo
Bycie w jakimś miejscu w stanie "nierozpakowanego plecaka", zawieszenia, powoduje frustrację i nieumiejętność prawdziwego bycia. Rozpakuj swój plecak. Spójrz z uśmiechem na miejsce, w którym jesteś. Czeka tu na Ciebie wiele dobrych rzeczy. Z każdej sytuacji możesz wyciągnąć coś cennego, pod warunkiem, że będziesz mieć takie nastawienie. Od naszego podejścia zależy bardzo wiele. Także to, czy nasz czas w Wielkiej Brytanii będzie owocnym. Jeśli osadzony w przeszło – przyszłości zdecydujesz się czuć nieszczęśliwy i się męczyć, to będziesz się męczyć.
Najlepiej jak się da
Pamiętam jak pewnego razu wyjechałam na jakiś czas z Polski. Męczyłam się spory kawałek czasu, tęskniłam za ludźmi, wyobrażałam sobie, co teraz robią, to, że mogłabym z nimi być. Czułam, że moje szczęście i najlepsze rzeczy zostały w Polsce. Oj męczyło mnie to okrutnie. Aż w końcu pewnej nocy miałam sen. W tym śnie moja przyjaciółka powiedziała do mnie tak: "Skoro już tutaj jesteś, nie patrz na to co zostawiłaś i czego nie masz. Spójrz na to, co dobrego jest dla Ciebie w miejscu, w którym jesteś. Wykorzystaj ten czas i to miejsce najlepiej jak się da." To było niesamowite. Po raz pierwszy po wielu dniach obudziłam się spokojniejsza, jakby lżejsza od nieokreślonego ciężaru. I wiecie co – zaczęłam cieszyć się tym co tu i teraz. Zaczęłam czuć się szczęśliwa. Miejsce i okoliczności były te same, ale zmieniło się moje nastawienie. I wiecie co? Zaczęłam odkrywać to, czego nie widziałam wcześniej – dobro w moim dzisiaj.
Życzę Wam czerpania piękna z Waszej codzienności!
Agnieszka Kubicka
Agnieszka Kubicka poprowadzi szkolenie 'Twój Biznesowy Potencjał' podczas Targów Polskiego Biznesu w Gateshead w dn. 27.06.15. Serdecznie zapraszamy: http://www.pozytywni.co.uk/twoj-biznesowy-potencjal-szkolenie-agnieszki-kubickiej/