Pani Monika na co dzień, jest mamą, ale po godzinach, zasiada w swoim azylu i oddaje się swojej największej pasji, jaką jest twórcze tworzenie kartek, pamiątek okolicznościowych. Tworząc swoje dzieła oddaje się całym sercem, a każdy nawet najmniejszy szczegół tworzy z wielkim oddaniem i starannością. Poznajcie Monica Hand Made Cards, jako dowód, że pozytywnych i spełniających się ludzi nie brakuje i można ich znaleźć wszędzie.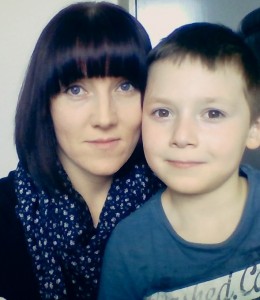 Pani Moniko, proszę opowiedzieć skąd wziął się pomysł na taki rodzaj spełnienia?
Pomysł narodził się jakieś 2,5 roku temu. Codzienna praca nie dawała mi żadnej satysfakcji, pracowałam, bo trzeba, ale czułam, że czegoś mi brakuje. Może to jakaś ukryta tęsknota sprawiła, że pomyślałam sobie żeby coś zmienić, może by tak coś więcej dać od siebie, ale zarówno z korzyścią dla siebie na przyszłość. Chciałam uciec od codziennej rutyny, chciałam mieć swój domowy azyl. Przyszło mi do głowy rękodzieło, myślałam nad czymś oryginalnym. Pierwszą wersją miało być tworzenie biżuterii, ale po tygodniu przemyśleń na ten temat zrezygnowałam z tego planu ( za dużo jest jej w sklepach czy kiermaszach itp.) Stwierdziłam, że moja biżuteria pewnie niczym by się nie wyróżniała od pozostałej, zresztą sama nie lubię biżuterii, wiec na pewno nie wykonywałabym jej z pasją. Chciałam, aby moje prace oddawały uczucia i postawiłam na tworzenie z papieru kartek okolicznościowych. Jestem samoukiem w tej dziedzinie, nie kończyłam żadnych kursów rękodzieła, czy innych plastyczno-artystycznych kierunków np. w szkole. Z wyksztalcenia jestem handlowcem, co dowodzi, że każdy z nas ma jakieś zdolności, talent, tylko, że nie każdy jeszcze odkrył ten talent. Każdy z nas ma mniejsze lub większe poczucie piękna. Początki były trudne, ale stopniowo rozwijam swoją pasje i nadal uczę się na błędach. To, co mi pomaga, to mój indywidualny sposób postrzegania świata;) słowa, "że mam swój świat" w moim przypadku są strzałem w dziesiątkę. Bardzo lubię ludzi i sprawia mi ogromna przyjemność tworzenie czegoś, co komuś może się podobać, do tego udaje mi się sprzedawać moje prace, co bardzo mnie motywuje do dalszego działania w tym kierunku. W każde zamówienie staram się być zaangażowana całym sercem, każdą kartkę wykonuję od podstaw własnoręcznie z pomocą zwyklej drukarki bez użycia lasera.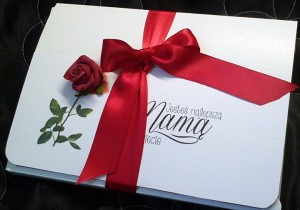 Pani hobby, to nie tylko pasja, ale też swojego rodzaju działalność, proszę opowiedzieć, jak Pani traktuje to zajęcie?
Na co dzień, jak już mówiłam, pracuję, od poniedziałku do piątku jestem zabieganą, pracującą mamą, która gdzieś, po drodze musi odebrać, czy zawieść dziecko do szkoły, po powrocie ugotować obiad i zrobić pranie;) normalna, zwykła kobieta, jak większość z nas. Kartkami zajmuje się głownie wieczorami lub w weekendy, są dodatkowym dochodem do normalnej wypłaty. Bardzo chciałabym, aby pasja była na pierwszym miejscu, ale póki co, nie mogę sobie na to pozwolić, z prostego względu, nie utrzymałabym się tylko i wyłącznie z wykonywania rękodzieła. Chociaż bardzo sobie tego życzę;)
Proszę opowiedzieć nam o artystycznej stronie Monica Hand Made Cards.
Strona powstała z myślą o promowaniu tego co robię  ale i z myślą o  moich odbiorcach, to miejsce, gdzie pokazuje swoje projekty, wklejam zdjęcia wzorów, nawiązuję znajomości z klientami i promuję moją twórczość. Każdy może do mnie napisać, a ja zawsze odpowiem na zadane pytanie.
Wracając do początków,  proszę opowiedzieć, co zdecydowało, że mieszka Pani w UK?
Do UK przyleciałam w 2008 roku. Główną przyczyna było to, że urodziłam syna i razem z mężem chcieliśmy zapewnić i jemu i sobie godne warunki do życia, zresztą myślę, że dla większości z nas emigrujących to główny i jedyny powód wyjazdu z Polski. Z czasem, ułożyło się tak, że teraz trudno nam się odnaleźć w Polsce. To nie tak, że nie tęsknie …bardzo tęsknię, ale chyba już znalazłam swoje miejsce na ziemi, każdy z nas takiego szuka.
Czuje się Pani szczęśliwa żyjąc tutaj? Czym szczęście jest dla Pani?
Ciężkie pytanie, bo szczęście dla każdego jest sprawą indywidualną, szczęście to coś, co czyni nasze życie spełnionym, to stan kiedy jest nam po prostu dobrze. Na pewno swojego rodzaju szczęście daje mi pasja, którą kocham i wykonuję z przyjemnością i wiedza, że wracając do domu ktoś na mnie w nim czeka. Innym dużym słowem -szczęście-, jest stabilizacja finansowa, która daje poczucie bezpieczeństwa.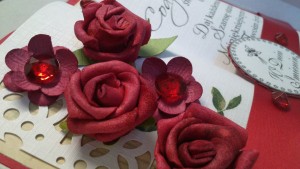 Co jest Pani największym sukcesem?
Tak jak w przypadku szczęścia, to i z sukcesem jest tak, że każdy ma inną definicję na tą życiową wartość. Dla jednych jest to rodzina, kariera dla innych możliwość rozwoju własnej osobowości w różnych aspektach. Dla mnie na pierwszym miejscu jest rodzina, dokładnie mój synek. Mnie nikt, nie przekazał tyle wrażliwości, miłości, no i te ciężkie chwile, którym  podołałam jako młoda wtedy matka. Drugim moim sukcesem w ostatnim czasie myślę, jest robienie tego co daje satysfakcje w życiu, czyli rozwijanie swojej pasji, a gratisem do jest dochód finansowy.
Jaką przyszłość widzi Pani dla swojej działalności?
Chciałabym bardzo przewidywać przyszłość, oj tak 😉 ale puki co, to życzę sobie malej galerii która , będzie również moja pracownia, gdzie będę wykonywała na miejscu swoje kartki i w miedzy czasie, mogłabym  bezpośrednio przyjmować klientów zainteresowanych moim rękodziełem.
Jaka jest Pani oferta i gdzie można Panią znaleźć?
Moja oferta obejmuje:
-indywidualne, personalizowane zaproszenia na każdą okazję
-kartki, pamiątki, personalizowane, również wykonywane na indywidualne zamówienie, na każdą okoliczność
-indywidualną oprawę weselną – imienniki na stół, zaproszenia, zawieszki na alkohol i podobny asortyment

Można mnie znaleźć na:
-stronie internetowej: http://cardsmonica.wix.com/made-by-hand
-facebook fanpage: https://www.facebook.com/MonicaHandMadeCards
oraz przez kontakt email: cardsmonica@gmail.com
Dziękujemy za rozmowę i życzymy dalszych sukcesów. Pozdrawiamy. Pozytywni.
Barbara Larysz