Z pewnością wiesz, że codziennie posługujemy się tysiącami słów. A czy uświadamiasz sobie, że perswaja jest używana przez wszystkich, każdego dnia?
[gap height="5″]Jeśli spytałbyś kogoś, czy jest świadomy tego, co mówi, większość osób zdecydowanie odparłaby, że tak. Mimo to zaraz Cię przekonam, że jest inaczej i będziesz mógł dostrzec jak TY sam mało wiesz o słowach, których używasz. Brzmi nierealnie? Zaraz opowiem Ci o wyjątkowym słowie, którym posługujesz się na codzień. To o czy zaraz się dowiesz jest częścią programowania neurolingwistycznego zawanego w skrócie NLP.
Na początek powiedz, co byś zrobił gdyby ktoś do Ciebie powiedział abyś nie myślał, co robiłeś wczoraj rano..? Czy właśnie o tym pomyślałeś?:) I w tym sęk! Otóż czegokolwiek byś nie zaprzeczył, zobaczysz to oczyma swojej wyobraźni. Dzieje się tak, ponieważ ludzka świadomość działa na takiej zasadzie, iż aby coś zaprzeczyć musi to najpierw przywołać. Jak możemy przeczytać na stronie PPOZYTYWNI.CO.UK "Najpierw trzeba sobie stworzyć obraz, aby móc go zaprzeczyć." .Dlatego najpierw zobaczyłeś to, co robiłeś wczoraj rano a dopiero potem odrzuciłeś tę myśl.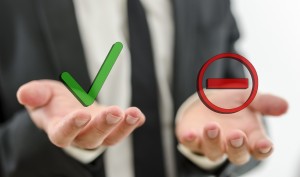 To bardzo ważne by używać rozważnie słowa "nie". Ile razy powiedziałeś do kogoś "nie martw się" lub "nie myśl o tym"? No właśnie! Przypadkowo osiągnąłeś rezultat odwrotny od zamierzonego. Teraz już wiesz dlaczego. O wiele lepszy wynik możesz osiągnąć mówiąc na przykład "spokojnie, dasz radę" lub "zapomnij o tym".
Znając charakterek tego słowa, możesz używać go z korzyścią dla siebie. Jeśli powiesz do szefa: 'niech Pan nie myśli że jestem idealny. Nie posiadam wielkiego doświadczenia, nie potrafię wszystkiego i dlatego nie musi mi Pan dawać tego zlecenia, które chce każdy w firmie' to jak myślisz – jak On to odbierz? Bingo! A ponadto uzna Cię za bardzo skromnego pracownika, czym sobie zaskarbisz Jego względy. Mylę, że jesteś już teraz w stanie uświadomić sobie w jak wielu okolicznościach możesz zastosować tę sztuczkę.
Teraz, gdy jesteś uzbrojony w nową wiedzę, o której wie naprawdę mało osób, możesz uznać, że perswazja i wpływ – oczywiście pozytywny – jest łatwy w użyciu i jednocześnie wszechobecny. Teraz możesz świadomie używać słowa "nie". Zachęcam Cię także do szerszego poznania NLP, ponieważ perswazja to fascynująca dziedzina wiedzy. Powodzenia!
[gap height="5″]Pozytywni!
[gap height="20″]