Europejskie Biuro Detektywistyki i Bezpieczeństwa rozszerza swoją działalność na rynek bytyjski. Odwiedź nas na Targach "Pozytywni w Biznesie" jeżeli chcesz uzyskać więcej informacji nt. firmy i oferowanych przez nią usług: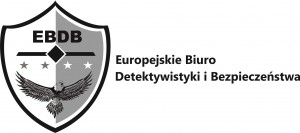 Europejskie Biuro Detektywistyki i Bezpieczeństwa powstało w 2010 roku w Hiszpanii jako firma Sayret Security Consulting. Firma Sayret była zarejestrowana w Barcelonie pod adresem Calle Sardenya 397 2ª5ª i pod numerem identyfikacji podatkowej J65489221. Od momentu powstania firma przeprowadziła kilka udanych projektów szkoleniowych między innymi z: policją katalońską "Mossos d'Esquadra", Guardia Civil, Policia Local oraz z Internacional Police Assosiation.
Pełnym sukcesem zakończyliśmy również szkolenia z akademiami ochrony w tym z jedna z największych w Gironie "CIS Formacion".
W 2012 roku firma przeniosła swoją działalność do Polski, a od stycznia 2015 roku rozpoczął się proces reorganizacji firmy i dodawania nowych gałęzi działalności. Miało to na celu zapewnienie kompleksowości usług w dziedzinie bezpieczeństwa.
Po zaproszeniu do współpracy byłych funkcjonariuszy służb państwowych z Polski oraz z krajów europejskich, w kwietniu 2015 roku powstało Europejskie Biuro Detektywistyki i Bezpieczeństwa. Dzięki wieloletniemu doświadczeniu zawodowemu ludzi wywodzących się ze służb państwowych nasza firma gwarantuje wykonanie usług na najwyższym poziomie oraz w pełni kompleksową pomoc zleceniodawcy.

Według oceny i analiz naszej firmy istnieje duże zapotrzebowanie na działania ochronne w świecie biznesu i klientów indywidualnych. Według firmy Europejskie  Biuro Detektywistyki i Bezpieczenstwa (EBDB) istnieje jedyna skuteczna metoda pomocy w ochronie . To polaczenie  schematów działania i struktur służb państwowych dla celów biznesowych i osób prywatnych. Widząc tą potrzebę  podjęliśmy pełną współpracę z byłymi funkcjonariuszami służb państwowych.
By ochrona od biznesu do osób prywatnych była kompletna i skuteczna  należy  wdrożyć działania wywiadowcze operacyjne obserwacyjne i ochrony bezpośredniej plus zabezpieczenia IT. Zarówno na rynku polskim, brytyjskim i europejskim schematy postepowania i dzilania sa jednakowe. Dlatego daje nam to możliwość rozszerzenia usług na cala Europe