Tomasz Frontczak – współtwórca portalu www.pozytywni.co.uk. został nominowany do udziału w plebiscycie Pangea Magazynu. Wybieramy wybitnych Polaków na Wyspach. Tomasz Frontczak startuje w kategorii Młody Polak.
Jako twórca najbardziej pozytywnego portalu we wszechświecie – wpływa na zmianę opinii na nasz temat i walczy z niesprawiedliwymi stereotypami.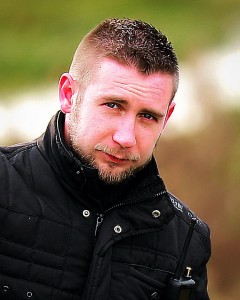 – Polacy to nie oszuści, złodzieje, naciągacze i wyłudzacze brytyjskich zasiłków. Jeśli tacy są – to jest ich niewielki odsetek. Na portalu Pozytywnych prezentujemy tylko tych, którzy są wartościowi i pomimo krzywdzących stereotypów, odnieśli sukces i są tu szczęśliwi. Niektórzy mówią, że walczymy z wiatrakami, bo opinii o Polakach nie da się zmienić. Ale jeśli to faktycznie wiatraki – trudno – skasujemy je wszystkie. Z pomocą wszystkich Pozytywnych – mówi Tomasz Frontczak.
Jeśli zatem zgadzacie się z filozofią Pozytywnych, zagłosujcie na Tomka w plebiscycie. Wasz głos będzie oznaczał, że czujecie się ludźmi wartościowymi, którzy nie boją się walczyć o swoje marzenia, pozytywnie podchodzicie do życia i dosyć macie szkalujących opinii. Wasz głos będzie oznaczał, że jesteście ludźmi odważnymi, którym do szczęścia nie są potrzebne brytyjskie zasiłki, że własną pozytywną energią osiągacie życiowe cele.
Zajrzyjcie na tę stronę i kliknijcie
http://www.pangeamagazine.com/wybitny-polak-anglia-walia-ni-2015/?lang=pl
O tym, jak opiniotwórczym portalem są Pozytywni, niech świadczy fakt, że znacząca część osób nominowanych do plebiscytu to osoby, które zaprezentowaliśmy już na naszym portalu.
Naszą rekomendację do udziału w plebiscycie otrzymują:
– Jakub Smolarek w kategorii BIZNES
– Marcin Hawryło w kategorii KULTURA
– Kamila Anna Czachorowska w kategorii NAUKA
– Dagmara Chmielewska w kategorii OSOBOWOŚĆ
I naturalnie TOMASZ FRONTCZAK w kategorii MŁODY POLAK
Głosować można codziennie,  poinformuj swoich znajomych o plebiscycie, udostępniajcie tę informację gdzie się da. Niech zwycięży pozytywne podejście do życia.
Dziekujemy 🙂