Czy znalezienie pozytywnych Polaków w Wielkiej Brytanii jest trudne? Okazuje się że nie! Wręcz przeciwnie, są takie miejsca, gdzie ich gęstość na metr kwadratowy powierzchni wielokrotnie przekracza przyjęte normy (o ile takie w ogóle istnieją).
W ostatnią Niedzielę miałem okazję uczestniczyć w Targach Polskiego biznesu w Northampton. Pojechałem tam bez szczególnych oczekiwań, jednakże moje wątpliwości zostały bardzo szybko rozwiane. Nie wiem czy takie było zamierzenie organizatorów, czy też było to dziełem przypadku, aleokazało się, że na targach można było znaleźć dosłownie wszystko, czego przeciętny pozytywny mógłby potrzebować, aby osiągnąć sukces. Większość firm prezentowała się w formie seminariów, czy też krótkich szkoleń dając nam namiastkę tego co oferują.
Na początku każdy uczestnik otrzymał kopię magazynu "Pangea" i to z rąk nie byle kogo,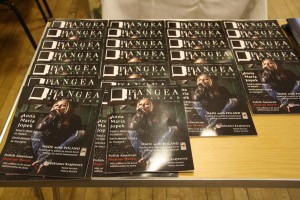 bo samej redaktor naczelnej tegoż pisma. PANGEA Magazine to  źródło informacji o polonijnych elitach na świecie. Magazyn jest dwujęzyczny. Wszystkie artykuły prezentowane są zarówno w języku polskim, jak i angielskim. Moda, styl życia, sztuka, ekskluzywne newsy, biznes, prawo, historia, wywiady ze znanymi postaciami oraz znacznie wiecęj, znajdujemy w pięknie wydanym, renomowanym czasopiśmie. Prezentowane materiały charakteryzują się bardzo wysokim poziomem, a korespondenci piszący dla  magazynu zamieszkują niemalże wszystkie kontynenty i są Polakami lub mają polskie korzenie.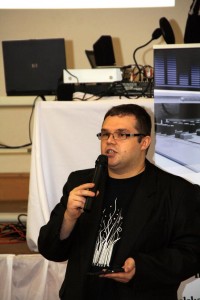 Po krótkim wstępie jako pierwszt zaprezentował się Damian Marcinkiewicz, właściel firmy IT4BIZSolution, zajmującej się wszelkimi aspektami marketingu internetowego. Damian przedstawił prezentację pt: "Darmowe narzędzia IT wspierające rozwój i promocję biznesu". Od niego dowiedzieliśmy się dlaczego bycie widocznym w internecie jest bardzo ważne z punktu widzenia każdego przedsiębiorcy, oraz jak wykorzystać szereg darmowych narzędzi do tego, aby chociażby stworzyć swoją własną stronę internetową bez potrzeby wkładu finansowego. Dowiedzieliśmy się również na temat darmowych aplikacji udostępnionych przez Google, które mogą wspomóc efetywną pracę w firmie.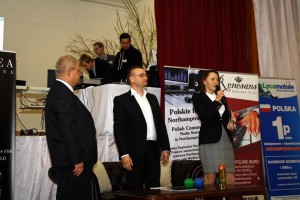 Kolejną prezentację przeprowadzili przedstawiciele Rune Desire, od nich dowiedzieliśmy się na temat kosmetyków firmy TianDe, opartych na starożytnej Chińskiej medycynie. Sam nie posiadam wielkiej wiedzy na ten temat, ale miałem okazję doświadczyć na własnej skórze jak działają ich produkty i muszę przyżnać, że zostałem bardzo mile zaskoczony. Po nałożeniu trzech "specyfików", moje dłonie stały się bardzo gładkie, i efekt ten utrzymuje się nadal. dzień po kuracji. Firma sprzedaje oczywiście kosmetyki do całego ciała, a dbanie o skórę powinno pomóc w tworzeniu wizerunku każdego pozytywnego.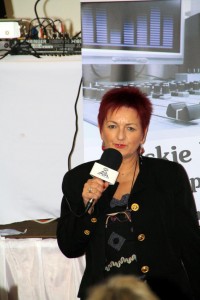 Pozostając w temacie wizerunku, następpnym gościem była pani Jolanta Zgłobicka, właścicielka firmy Art.Work Training Centre. Poprowadziła ona warsztat dla pozytywnych kobiet pt: "WIZERUNEK KOBIETY BIZNESU – odkrywając kobiecość – jak podkreślić własne atuty i nie zapomniec o zaletach". Jak sama nazwa wskazuje, warsztat skierowany był głównie dla osób chcących zmienić, lub podkreślić swój styl, a także zdobyć więdzę na temat tego, jak profesjonalnie aranżować wizerunek biznesowy. W prezentacji Pani Jolanta omówiła zasady, budowę i znaczenie wizerunku w relacjach biznesowych, oraz doradziła w sprawie odpowiedniego makijażu.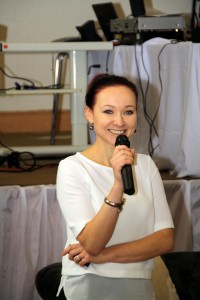 Kimże byłby pozytywny, gdyby nie był skuteczny w tym co robi? Pewnie byłby pozytywny mimo wszystko, ale nikt by nigdy się o tym nie dowiedział. Tutaj z pomocą przyszła Anna Białous, ze swoim interaktywnym warsztatem "Jak podnosić osobista skuteczność?" W bardzo ciekawy sposób udowodniła nam, że szczęście rzadko jest dziełem przypadku, i przy odrobinie chęci można się go nauczyć. Pokazała również jak łatwo można nawiązywać kontakty, które są tak ważne w naszym rozwoju. Anna jest właścicielką Centrum Rozwoju Osobistego, firma ta oferuje zarówno szkolenia z zakresu komunikacji interpersonalnej, jak i psychoterapie. Serdecznie zapraszam do zapoznania się z jej ofertą.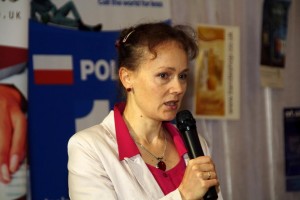 Biznes to również niestety robota papierkowa, ale nie każdy człowiek z najlepszym pomysłem jest w stanie się w tym wszystkim połapać…forma działalności? Rozliczenia podatkowe? Na szczęście my przedsiębiorcy nie musimy zostać z tym sami. Krótko o rodzajach działalności gospodarczej w Wielkiej Brytanii opowiedziała nam Małgorzata Piotrowska, właścicielka firmy księgowej "Renesans", działającej na rynku Brytyjskim już od 2006 roku. Jej oferta skierowana jest wyłącznie dla Polaków, gdyż widzi ona głęboki sens w intergrowaniu Polskiej społeczności i trosce o jej los w Zjednoczonym Królestwie.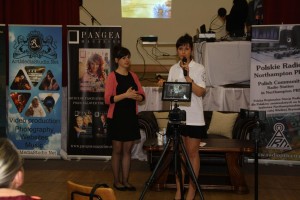 Zdrowie jest bardzo ważne dla każdego pozytywnego, no bo jak można przecierać nowe szlaki, kiedy brak na to sił. O produktach firmy Green Ways International opowiedziała nam Natalia Gurgul. Są to suplementy diety na bazie zielonych warzyw, pomagają one przede wszystkim w odkwaszaniu organizmu. Podczas następnej prezentacji dowiedzieliśmy się również, dlaczego warto użwać organicznych kosmetyków. O produktach firmy  Eco-cosmetics4U opowiedziała nam Anna Szeląg.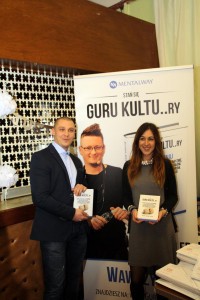 Nikt nie rodzi się biznesmenem czy też specjalistą od komunikacji. Niektórzy mają trochę więcej szczęścia i wynoszą te umiejęstności z domu, ale niestety większość z nas musi się ich nauczyć później. Na szczęście nie jest to niemożliwe, mało tego, są ludzie którzy mogą nam w tym pomóc! Przedstawiciele firmy CBI Training opowiedzieli nam  o szkoleniach które prowadzą. Mają oni możliwość organizacji spotkań z najlepszymi Polskimi trenerami – Michałem Wawrzyniakiem i Piotrem Tymochowiczem, którzy są wybitnymi specjalistami od budowy wizerunku. 
Jak widać, na targach mogliśmy dowiedzieć się, co składa się na sukces każdego pozytywnego. Jest jednak jeszcze jeden element, nie wiem czy nie jeden z najważniejszych, jest to zdrowe odżywianie i aktywność fizyczna. Aby móc się rozwijać, nasz mózg potrzebuje odpwiednich składników odżywczych oraz tlenu, a to można osiągnąć tylko poprzez te dwie rzeczy. O tym jak to zrobić opowiadał Bartosz Konarski, dietetyk i trener, W trakcie swojego wykładu pt: "Jak schudnąć 5-6kg bez efektu jojo" opowiedział nam, jak zdobyć motywację do odchudzania, jak się odżywiać i jakie ćwiczenia wykonywać. Opowiedział nam również jak utrzymać sylwetkę na którą tak ciężko pracowaliśmy.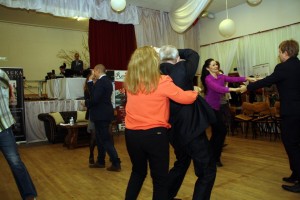 Połączcie te wszystkie elementy ze swoimi marzenami, a na pewno uda się Wam je osiągnąć. Pracujcie ciężko, ale pamiętajcie aby potem znaleźć czas dla siebie. I nawet tutaj organizatorzy targów nie zawiedli. Na końcu zafundowali uczestnikom szybki kurs tańca Modern Jive, zorganizowany przez firmę  Black Swan Dance Studio. Było przy tym wiele zabawy, wszyscy się świetnie rozluźnili na koniec dnia, i myślę że umiejętność znalezienia czasu na relaks też jest elementem do sukcesu niezbęnym.
Nie byłoby sprawiedliwym, gdyby nie wspomnieć o wspaniałej pracy "Polskiego radia Northampton", które to zajeło się obsługą audio-wizualną całego przedsięwzięcia. Jest to lokalna Polska stacja w Northampton, działająca tam już od kilku miesięcy i rozwijająca się bardzo szybko.
Jak widzicie Polaków którzy odnieśli sukces w Wielkiej Brytanii nie brakuje, biorąc pod uwagę, że były to targi organizowane w niewielkim mieście, frekwencja była niesamowita. Chcę abyście wszyscy wbili sobie do głowy, że Polace to zdolny i inteligentny naród, zapamiętajcie że przy odrobinie chęci i samodyscypliny jesteście w stanie osiągnąć wszystko.
Na sam koniec aby dołożyć wisienkę na tort,  zapraszam do posłuchania Klaudii Stańdo, która umilała nam przerwy swoimi występami. Okazuje się że Northampton przyciąga nie tylko biznesy, ale również talenty!
David Slomian
[mom_video type="youtube" id="l9zxJixqICk"]