Kamila Czachorowska – polska logopedka, która podbija rynek brytyjski. Dotarliśmy do niej, bo jak nas kilku Pozytywnych przekonało "to najlepsza polska logopedka na Wyspach". To kobieta bardzo ambitna, aktywna i pracowita – wspólnie z mężem buduje swoją przyszłość w UK. Od początku wiedziała, do jakiego portu chce płynąć i celu nie zmienia. Jeśli masz problemy z wymową – zapraszamy do jej gabinetu, ale najpierw przeczytaj o pasji, którą nosi w sercu.
Logopedia? W Wielkiej Brytanii? Jest na to zapotrzebowanie?
Tak. I to nawet bardzo dużo. Wiem, trudno w to uwierzyć, sama długo w to wątpiłam, ale na chwilę obecną nie mam co do tego wątpliwości.
Logopedia to biznes czy misja?
W sumie to trudno odpowiedzieć na to pytanie jednoznacznie. Słowa "biznes" nie lubię, a słowo "misja" brzmi bardzo patetycznie. Nie wiem czy tym jest właśnie logopasja. Moim zdaniem, logopasja to przede wszystkim pasja i sposób na życie. Nie wyobrażam sobie pracować w Wielkiej Brytanii "gdziekolwiek", skoro mogę pracować w zawodzie i na własnych zasadach.
Uczy Pani polskie dzieci wymowy polskiej czy angielskiej? Czy może pracuje Pani z małymi Anglikami?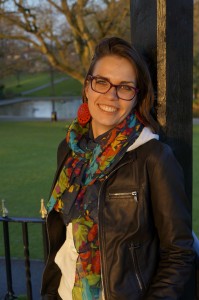 Pracuję tylko i wyłącznie z polskimi dziećmi. Za pracę w języku angielskim się nie zabieram z kilku konkretnych powodów. Po pierwsze w języku angielskim nie mam takiej naturalnej ekspresji, jaką posiadam w języku polskim. Po drugie wiem, jak ważne jest dbanie i pielęgnowanie języka polskiego poza granicami kraju, przede wszystkim ze względu na budowanie relacji rodzic – dziecko oraz wszechstronny rozwój młodego człowieka. Ostatnim powodem dla jakiego nie pracuję w języku angielskim jest to, że uważam, że tak jak angielski logopeda nie pomoże w przypadku języka polskiego, tak ja nie pomogę w języku angielskim. Oczywiście mogę w jakimś stopniu wpływać na język angielski, jednak nigdy nie przekażę takiej melodii i akcentu jak brytyjski logopeda. Jest jeszcze jedna ważna kwestia, którą powinnam tu podkreślić: logopeda nie zajmuje się tylko poprawą wymowy. To zamykanie logopedy w jednej szufladzie, gdy mamy do dyspozycji całą szafę. Logopeda pracuje m. in. nad rozwojem dziecka, nad nauczeniem dziecka / dorosłego komunikacji z innymi ludźmi, stymuluje naukę mówienia samą w sobie. Długo mogłabym o tym pisać / mówić. Logopedia jest bardzo rozległą dziedziną.
Z czym dzieci mają największy problem?
To bardzo ogóle pytanie. Zależy jakie dzieci. Jeżeli mówimy o dzieciach w normie rozwojowej, czyli takich które rozwijają się książkowo pod kątem percepcji słuchowej, wzrokowej, rozumienia, motoryki małej, dużej, mówienia, itd. to jeżeli mają problem to zazwyczaj z wymową typowo polskich głosek tj. ś, ź, ć, dź, ń, r oraz sz, rz, cz, dż. Często też trafiają do mnie dzieci, które "miksują" język polski z angielskim, ponieważ często ich rodzice nie wyznaczyli jasnej granicy pomiędzy tymi dwoma językami. Natomiast, kiedy wzięłabym pod uwagę dzieci z poważniejszymi problemami tj. opóźniony rozwój mowy, zaburzenie mowy o typie afazji, autyzm, itd. to ich problemu są o wiele poważniejsze i dotykają zupełnie innych płaszczyzn. Zazwyczaj te dzieci są trudne do zdiagnozowania dla brytyjskich specjalistów lub są diagnozowane stosunkowo późno. Pomoc jaką otrzymują jest minimalna lub, rzekłabym, znikoma. To bardzo trudna sytuacja.
Dzisiaj jest Pani wziętym logopedą w UK (Polacy mówią, że najlepszym). A jakie były początki? Od razu po przyjeździe tutaj wiedziała Pani, co będzie Pani robić?
Czy wziętym, czy najlepszym? Powiem tak, na brak pracy nie narzekam. Zdaję sobie sprawę, że jest wielu logopedów, od których wiem więcej z racji doświadczenia, dużej ilości czasu poświęconego na doskonalenie się, ale wiem, że są także i tacy logopedzi, którym ja do pięt nie dorastam. Zdaję sobie sprawę, że jeszcze wiele muszę się nauczyć. Zawsze patrzę ile jeszcze powinnam się dowiedzieć, by robić to, co robię lepiej.
Tak, od razu po przyjeździe do Anglii wiedziałam co chcę robić. Już przed wyjazdem nawiązywałam kontakty z polskimi szkołami i innymi polonijnymi organizacjami. Mimo, że początkowo pracowałam w fabryce i na sprzątaniu, a logopedią zajmowałam się przez 2 dni w tygodniu, to wiedziałam, że tak zostać nie może, bo w fabryce, na sprzątaniu się męczyłam. Nie fizycznie, bo pracy się nie boję, ale wiedziałam, że stać mnie na więcej. I dążyłam do tego, żeby jak najszybciej działać na własny rachunek, założyć firmę i robić to co bardzo lubię.
Mówi Pani, że wielką rolę w Pani działalności odgrywa Pani mąż. Jak wspólnie doszliście do miejsca, w którym obecnie jesteście?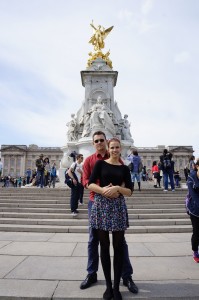 Tak, mój mąż zawsze mnie wspierał i wspiera. Nigdy mnie nie ograniczał, raczej zawsze motywował do konstruktywnego działania. Do miejsca, w którym teraz jesteśmy, choć to nie jest ostatnie miejsce, w którym chcemy być, doszliśmy i nadal dochodzimy ciężką, mrówczą pracą i planowaniem wszystkiego od a do z. Ja pracuję po 6 dni w tygodniu, czasem 7, kiedy prowadzimy szkolenie. Każdego dnia pracuję po około 12 – 14 godzin. Mój mąż obecnie pracuje w brytyjskiej firmie jako inżynier. Po powrocie z pracy na etat pomaga mi w mojej firmie. Także my nie znamy czegoś takiego jak nuda, brak zajęcia, leniuchowanie do 12 w południe przed telewizorem. Z resztą nie mamy TV. A jeśli ktoś mówi nam, że nie ma czasu na spotkanie, to się uśmiechamy.
Co Was wygnało z Polski? Tam też przecież potrzeba logopedów. Dzieci mówią coraz gorzej. Np. w przedszkolu mojej córki, po ostatnich badaniach okazało się, że zaledwie kilkoro dzieci mówi poprawnie. Skąd więc pomysł na Wielką Brytanię?
Wygnało to za duże słowo. Raczej skłoniło do wyjazdu. Dla mojego męża była to perspektywa rozwoju, przekraczania granic i zdobycia międzynarodowego doświadczenia. A mnie chęć przygody – jak nie teraz to kiedy i w sumie nieświadomość tego, jak to jest żyć w innym kraju. Nie wyjechaliśmy za pracą. Ja świadomie rezygnowałam z 4 miejsc pracy w zawodzie. Miałam perspektywy rozwoju, mój mąż podobnie. Nie narzekaliśmy na życie ani pieniądze w Polsce. A dzieci w Polsce, rzeczywiście mówią coraz gorzej. I moim zdaniem sytuacja będzie się pogarszać z racji szybkości życia, zabiegania rodziców, mniejszych więzi dziadkowie – wnuczęta.
Jesteście najlepszym dowodem na to, że ciężka praca – niezależnie od miejsca pobytu – przynosi efekty. Wielu Polaków ma z tym problem i łapią każdą pracę, niezależnie od swoich aspiracji, ambicji. Tak trzeba w UK?
Moim zdaniem to wszystko zależy od sytuacji człowieka. Nie można generalizować. Część osób może i ma większe aspiracje i ambicje, ale mają taką sytuację w życiu, że trzeba je schować do kieszeni, zacisnąć zęby i pracować. Inni wyjeżdżają tu za pieniędzmi, nieważne jak zarobionymi, ważne że je mają, bo np. w Polsce ich nie było. Mają pracę, nieważne jaką, ważne że jest. Nie myślą o tym, co będzie za 10 lat, żyją tu i teraz. Jest im z tym dobrze i są szczęśliwi. Czy tak trzeba żyć? Nie wiem. Jedyne czego jestem pewna, to tego, że ja bym tak nie mogła. U nas początki były trudne, ale wiedzieliśmy dokąd idziemy. Są takie mądre słowa: "Jeśli nie wiesz do jakiego portu zmierzasz, pomyślne wiatry nie będą Ci wiały". To chyba najlepsza odpowiedź na to pytanie.
Czujecie się ludźmi sukcesu, ludźmi spełnionymi?
Steve Jobs powiedział: "Bądźcie niespełnieni i nienasyceni". Mówił o tym w kontekście ciągłego poszukiwania, rozwoju i doskonalenia. Nie czuję się człowiekiem sukcesu. Może ktoś patrząc z boku, może tak myśleć, ja nadal jestem sobą. Jestem mądrzejsza o pewne doświadczenia, sytuacje których doświadczyliśmy, to tyle. Czy jestem spełniona? W sensie zawodowym owszem. Robię to, co lubię i ciągle się rozwijam. Do spełnienia prywatnego potrzeba jeszcze trochę czasu i pracy.
Wpisałam w Google "Kamila Czachorowska". Trochę informacji wyskoczyło. Jest Pani aktywna na bardzo wielu polach. W tym tkwi tajemnica sukcesu bardzo dobrej polskiej logopedki w Wielkiej Brytanii? Jakie działania Pani podejmuje, by podbijać brytyjski rynek?
Tajemnica to rzetelność, szczerość, życzliwość i jakość. Staram się to wszystko łączyć zarówno w życiu prywatnym jak i zawodowym. Nawiązuję kontakty z różnymi polskimi organizacjami, szkołami, kościołami i stowarzyszeniami. Znam chyba większość ich przedstawicieli w promieniu 100 km – 150 km od Swindon. Nie spoczywam na laurach. Staram się być ciągle aktywna i nie tracić czasu. Prowadzę również stronę internetową – www.logopasja.pl – to blog dla rodziców, nauczycieli i logopedów o tematyce logopedycznej.

Jakie plany na przyszłość?
Pewne plany mamy, nie są to jeszcze plany ostateczne. Opowiem o nich z miłą chęcią jak je zrealizujemy. Teraz jest na to za wcześnie. Są to plany zarówno związane z życiem prywatnym jak i samą logopedią. Jedyne co mogę zdradzić to to, że chcemy aby logopasja stała się synonimem jakości, rzetelności i zaufania wśród wszystkich polskich logopedów, a także osób, które będą potrzebowały specjalistycznej pomocy terapeutycznej.
Czego, jako Pozytywni możemy życzyć pozytywnej logopedce?
Zdrowia, spokoju w sercu i mądrych decyzji w życiu. To wszystko czego mi potrzeba, do tego, żeby czuć się dobrze i nie dać się ślepo pochłonąć pracy. Często ludzie zapominają o znajomych i rodzinie tylko dlatego żeby zarobić więcej pieniędzy. Ja nie chcę zapomnieć o tym, że jestem tylko człowiekiem i mam pewne wartości, których nie mogę i nie chcę się zrzec. Chcę iść mądrze pod prąd i tego samego życzę czytelnikom.