Pani Krystyna Czerwińska swój sukces zawdzięcza swojej ciężkiej pracy i samodyscyplinie, szkoliła się podejmowała wiele prac, żeby dziś stać na czele pięciu firm w Wielkiej Brytanii.  Przeczytajcie jak  wyglądały jej pierwsze kroki i co ma do przekazania swoim rodakom.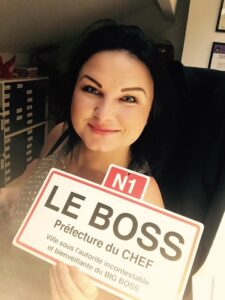 Jest Pani wszechstronną osobą. Czym dokładnie zajmuje się Pani w Wielkiej Brytanii?
Dziękuję- bo uważam wszechstronność  za komplement. W Wielkiej Bytanii zarządzam grupą firm, dokładnie pięcioma. Moi współpracownicy i pracownicy nazwali działalność moim nazwiskiem ''Czerwinska Group of Companies''.
Prowadzę biuro usług notarialnych, biuro księgowe, szkołę językową, biuro usług językowych gdzie oprócz tłumaczeń, współpracujemy z kancelariami prawnymi, brokerami ubezpieczeniowymi, pomagamy zarządzać długami, stawiać pierwsze kroki w Wielkiej Brytanii osobom prywatnym i firmom, jest to również dział pomocy w uzyskaniu zasiłków, odszkodowania; prowadzę firmę szkoleniową, klub biznesu i klub seniora.
Skąd pomysł na tego typu działalność? Komu dedykuje Pani swoje projekty i działania?
Pewnego dnia, zaraz ponad pięć lat temu, postanowiłam wykorzystać swoje możliwości językowe i liderskie. Moją pracę dedykuję Polonii i sądziadom ze wschodniej Europy mieszkającym na wyspach. Moimi działaniami zainteresowane są również osoby prywatne i firmy z Polski. Odległość absolutnie nie sprawia problemu w dzisiejszych czasach.
Jakie były Pani początki w UK i jakie zdarzenia sprawiły, że jest Pani w takim, a nie innym miejscu swojego życia?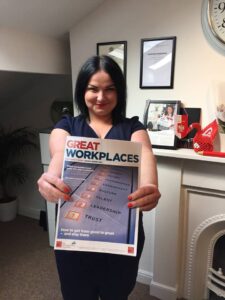 Zapewne nie zaskoczę nikogo mówiąc, że początki nie były łatwe. Również dla mnie. W Anglii mieszkam od ośmiu lat. Od samego początku wykorzystywałam możliwości, jakie daje nam ten kraj. Ciężko pracowałam fizycznie, aby móc zapłacić za edukację. Szkoliłam się, podejmowałam się prac biurowych w trakcie szlifu języka. Kiedy w czasach recesji straciłam pracę, wiedziałam, że będzie to najlepszy moment aby rozpocząć swoją dzialalność. Tak, w czasach kiedy inni zamykali swoje przedsiębiorstwa, tracili pracę, sytuacja finansowa kraju pozostawiała wiele do życzenia- ja rosłam w siłę i tworzyłam miejsca pracy.
Co było dla Pani największą trudnością po przyjeździe na Wyspy?
Fakt, że musiałam pracować fizycznie aby wystartować. W Polsce pracowałam jako dekorator wnętrz, pózniej byłam windykatorem należności. Te prace wymagały ode mnie wysiłku umysłowego, nie fizycznego. To, że nagle trzeba ''wyskoczyć'' z garnituru i wziąć miotłe do ręki, było dla mnie największą trudnością. Pewnie niektórzy pamiętają, jak do fabryki przychodzialam elegancko ubrana, przebierałam się w szatni, aby stanąć przy linii produkcyjnej. Ci którzy wierzą w siłę umysłu i przyciągania do siebie rzeczy, powiedzą, że pewnie sobie to życie w taki sposób odzyskałam. Ja powiem, że na sukces sobie ciężko zapracowałam.
A co Panią pozytywnie zaskoczyło? Jaki był najbardziej POZYTYWNY moment po Pani przyjeździe do UK?
Gościnność tutejszych, jest to jedna z wielu zalet tego kraju. Ogromna tolerancja i zrozumienie dla przyjezdnych, jest to coś, czym Brytyjczycy powinni się szczycić. Natomiast fakt, że mogę być tutaj, kim chcę- nawet bez odpowiedniego wykształcenia- i możliwości z tym związane- jest nie do zastąpienia. Ciągle ubolewam nad tym, że Polska nie dała mi takich możliwości. Myślę, że nasz kraj żałuje, że stracił tak wielu przedsiębiorczych, zdolnych  i chętnych  do działania i pracy ludzi.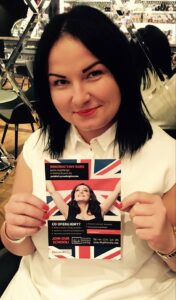 Gdyby mogła Pani cofnąć czas, co by Pani zmieniła w swoim życiu? Przyjechałaby Pani powtórnie do Wielkiej Brytanii?
Absolutnie nic bym nie zmieniła. Jestem przepełniona wdzięcznością za to, kim jestem i co mam. Decyzja przyjazdu, to najlepsza decyzja w moim życiu.
Jakie ma Pani plany na przyszłość? Co chce Pani robić za 5, 10,15 lat?
Zaczynam studia prawnicze. Nie wydaje mi się, że będę po prostu ''prawnikiem''. Wierzę, że upewni mnie to w pewnych kwestiach. Towarzyszą mi ogromne ambicje. To, że będę miała własną kancelarię, bo przecież już nie potrafię pracować ''u kogoś'', to fakt. Za kilka lat chcę nadal zarażać innych swoim pozytywnym podejściem do życia, biznesu. Chcę dawać przykład. Wierzę, że nigdy nie stracę sił. Bieda w dzieciństwie mnie tego nauczyła. Chcę mieć szczęśliwą, zdrową rodzinę.
Co poradziłaby Pani Polakom wahającym się nad spełnianiem swoich marzeń i budowaniem życia za granicą?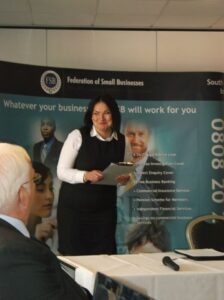 Jestem zapraszana jako wykładowca na konferencje, jako mówca do różnych wydarzeń. I muszę powiedzieć, że życie i doświadczenia zmieniają moje wypowiedzi. Dzisiaj chciałabym zmotywować was do pracy nad samodyscypliną. Wierzę, ze istnieje bezpośredni związek między dyscypliną a poczuciem własnej wartości. Im z większym powodzeniem stosujemy samodyscyplinę- tym większy mamy do siebie szacunek i bardziej siebie lubimy, cenimy. Mamy lepszą opinię o sobie i większą dumę z siebie odczuwamy. Stajemy się szczęśliwszymi i silniejszymi ludźmi. Nigdy się nie poddawaj, nie pozwól, aby lenistwo ogarnęło Twoje życie i działania. Walcz o swoje plany i marzenia. Stawiaj ludzi na pierwszym miejscu.
O czym Pani marzy i czego Pozytywni mogliby Pani życzyć?
 Marzę o możliwości posiadania większej ilości czasu dla siebie samej. Uczę się- bo tego człowiek uczy się całe życie- jak mądrze gospodarować swoim czasem. Całe swoje życie biznesowe poświęciłam swoim klientom i ich sprawom. Absolutnie się nie skarżę. Stawiam ich na pierwszym miejscu. Dumnie  o tym mówię. I może to się wydawać niemądre dla niektórych, ale tak własnie jest i dzięki temu odnoszę sukcesy. Śpiewam w chórze, udzielam się charytatywnie, interesuję się polityką, sporo czytam. Kiedyś malowałam- chciałabym móc poświęcić się temu chociaż na kilka godzin w tygodniu, bez ciągłej walki w mojej głowie, że coś innego może być w tym momencie ważniejsze. Pracuje nad tym.
Gdzie w Wielkiej Brytanii  możemy Panią znaleźć?
Swoja działalność prowadzę w Bradford, koło Leeds. W całej Wielkiej Brytanii mam partnerów biznesowych. Odległość nigdy nie była dla mnie problemem, jeżeli widzę potencjał w sprawie.
Dziękujemy bardzo za wywiad i życzymy dalszych sukcesów, Pozytywni Un Ltd.