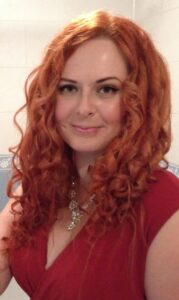 Ella Vine, trzykrotna mistrzyni Polski juniorek w szachach, teraz modelka i aktywistka praw Polaków w Wielkiej Brytanii, mieszkająca pod Londynem, potrząsnęła przemysłem bieliznianym, projektując pierwszy w świecie magnetyczny pas do pończoch, który ułatwia przyczepienie pończoch do pasa poprzez magnetyczny klip. Ten patent oczekujący wynalazek, łączący modę z technologią, powstał w rok przy pomocy profesora fizyki nuklearnej i dzięki utworzeniu innowacyjnej technologii NeoMagTriple™ .
Projekt Elli został wybrany do wsparcia przez Essex Innovation Programme, regionalną agencję sponsorowaną przez rząd brytyjski i Unię Europejską, pomagającą nowym firmom w Essex. Produkt został wyróżniony przez media brytyjske, które okrzyknęły go ''czystym nokautem'', który ułatwi życie kobietom noszącym pończochy. Przemysł bielizniany wydaje się przepełniony, gdzie bardzo trudno jest nowym firmom wejść na rynek. Marka Ella Vine oferuje coś nowego, świeżego i innowację w obszarach, w których wcześniej wydawało się to niemożliwe.
Pas magnetyczny Elli otrzymał rekomendację od byłego Dyrektora Krajowego Działu Bielizny Marks&Spencer, Jacka Levene, który powiedział: ''Magnetyczne zapięcie w pasie do pończoch będzie fantastycznym ułatwieniem. To jest pierwsza tego rodzaju innowacja od lat, która ułatwia zapinanie lub odpinanie pończoch od pasa''. Ella wyjaśnia ideę: ''Przez ostatni wiek kobiety musiały przypinać pończochy do pasa w sposób, który jest trudny, niewygodny, zajmuje dużo czasu i co gorsza czasami – nie zawsze działa. Więc ja zaprojektowałam magnetyczne zapięcie, dzieki któremu można przypiąc pończochy do pasa w ciągu ułamku sekundy – jest to bardzo proste i skuteczne''.
Magnetyczny pas do pończoch w wykonaniu Polki dostał duże uznanie w środowisku modelek i artystycznym. Helen Kitajewski, Finalistka Brytyjskiej Miss Piękności i Miss Piękności Pembrokshire 2016 powiedziała: ''Ten produkt jest unikalny i innowacyjny – nie mogę się doczekać, aby go dostać w swoje ręce. Pasy do pończoch Ella Vine są również seksowne i wyglądają fantastycznie''. Khandie Khisses, jedna z najlepszych tancerek burlesque w UK pochwaliła projekt: ''W burlesque my zawsze poszukujemy nowych sposobów uwodzenia publiczności. To cudo marki Ella Vine dało nam właśnie taką możliwość. W naszym codziennym noszeniu pończoch, kto nie kocha produktu, który ułatwi nam bycie seksownym? ''.
Lady Blue Pheonix, tancerka burlesque, dodaje: ''Nie mogę sie doczekać, aż product trafi na rynek Ja i moje koleżanki myślimy, że to zmieni świat burlesque. Nie będziemy musiały już martwić się, że pończochy porwą się od dotychczasowych plastikowych i metalowych zapięć i będziemy mogły nosić różne rodzaje pończoch, które da się łatwo przypiąc do pasa do pończoch''.
Wynalazek to nie wszystko; to dopiero początek drogi. Ella mówi: ''Przy zakładaniu firmy nie miałam budżetu na jej prowadzenie. Nie chciałam brac żadnych pożyczek i zaczynać z długami, wiec zamiast tego zaczęłam finansowanie społecznościowe (ang. crowdfunding) na stronie Indiegogo.com. Jest to gwałtownie rozwijająca się metoda rozwoju nowych firm; zasady są proste. Ludzie z całego świata mogą wejść na moją stronę na Indiegogo i zamówić produkty firmy w formie przedsprzedazy. To mi umożliwi wyprodukowanie magnetycznych pasów do ponczoch i innych produktów bieliznianych i wprowadzenie ich na rynek. Oferujemy prezenty i niespodziaki dla tych, którzy wesprą inicjatywę – nie tylko dla kobiet, także dla mężczyzn! Zaanagażowanie emocjonalne klientów jest więc już od samego poczatku powstawania firmy; klienci mają satysfakcję uczestniczenia w czymś nowym i fajnym. W Wielkiej Brytanii, a szczególnie w USA jest to bardzo popularna metoda wprowadzania nowości na rynek''.
Projekt Elli ma też wymiar społeczny – 2% funduszy zebranych poprzez crowdfunding zostanie przekazana dla Women's Aid, organizacji charytatywnej pomagającej osobom doświadczającym przemoc domową.
Wesprzeć kampanię Elli i zamówic magnetyczne pasy do pończoch można na
https://igg.me/at/EllaVine
www.ellavine.co.uk
Twitter @EllaVineBrand
Facebook https://www.facebook.com/Ella-Vine- bielizna-1670946716560120/