Przedstawiamy Wam niesamowicie pozytywnego lidera i frontman'a polskiej grupy Coma, autora tekstów, aktora i jurora show Must Be The Music – Piotra Roguckiego. Przeczytajcie, co Piotr ma do powiedzenia o Polakach mieszkających za granicą oraz swojej twórczości.
Z Piotrem Roguckim udało nam się porozmawiać przy okazji koncertu grupy Coma w Newcastle Upon Tyne.
Piotrze, za chwile pierwszy z czterech w północnej Anglii koncert , w zeszłym roku byliście na południu Anglii, jak obierasz te koncerty? Ilu ludzi przychodzi?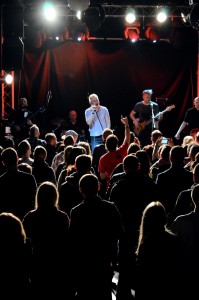 Frekwencja nie jest jakaś nadzwyczajna, ale tak naprawdę to nie ma znaczenia. Gramy tu po raz pierwszy. Mam nadzieje, że następnym razem kiedy tu zawitamy, będzie więcej ludzi, cieszy nas to, że mogliśmy tutaj dotrzeć. Z tego co mówiłaś, to jesteśmy takim pierwszym poważniejszym polskim zespołem, który tutaj się pojawił, czyli przecieramy szlaki, dla nas jest to pozytywne. Sam wyjazd  i zagranie na małej scenie przed niewielka publicznością, która pewnie w osiemdziesięciu procentach nigdy wcześniej nie była na naszym koncercie, to okazja, aby  skonsolidować zespół i sprawdzić, co jest najważniejsze w tym co robimy, czyli zobaczyć czy nasza muzyka nadal działa. Po takim wyjeździe zawsze mamy dużo pozytywnej energii i adrenaliny na działania w kraju, na próby, nowe pomysły.
Konstruujemy to w ten sposób, że na te koncerty zapraszamy suporty lokalne, czyli angielskie, które z przyjemnością zgadzają się przed nami grać. Oni zapraszają tutaj swoich znajomych, czyli publiczność jest mieszana. Widać już tego efekty ponieważ, zostaliśmy zaproszeni przez Anglików na  festiwal, który się będzie dział gdzieś pod Manchesterem na jakieś 500 osób. Usytuowali nas na plakacie, jako drugi najważniejszy zespół!
Czyli śpiewacie tylko po Angielsku?
Nie, bardzo dobry odbiór naszych utworów jest w języku polskim, zdecydowaliśmy, że nie będziemy udawać, że nie znamy ojczystego języka i nie będziemy śpiewać tylko po angielsku.
Korzystając z okazji, że spotykamy się na niepolskiej ziemi, chciałam nawiązać i zapytać o Twoją opinię na temat Polaków, którzy wyemigrowali i nadal migrują…w sumie od początku, od kiedy zaczęła się ta fala…okrzyknięto nas nieudacznikami, złośliwie, mówią, że poszliśmy na łatwiznę, że nie starczyło nam odwagi, aby zostać i walczyć…zgadzasz się z ta opinią?
Słuchaj, to jest bardzo trudna decyzja wyjechać z kraju, chociaż z drugiej strony, nie aż tak trudna…
Decyzja jest łatwa, a później jak myślisz?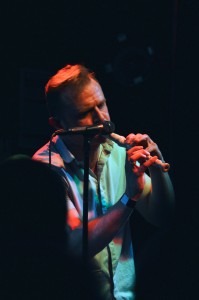 Świat jest mały, ale walka wszędzie jest taka sama. Wyjazd z kraju to wcale nie jest pójście na łatwiznę. Jeden jest plus w Polakach, który daje nam przewagę, czy to w Polsce czy za granicą. Efekty tego plusa widać już w naszym kraju, który się coraz fajniej rozwija, nie jest tak jak było dziesięć, czy dwadzieścia lat temu, (…). Plus który daje Polakom przewagę to pracowitość. Polacy to ogromnie ambitny i zdeterminowany naród. To co się dzieje w Anglii, z zewnętrznego punktu widzenia, ale również z rozmów z ludźmi, to jest nieustający rozwój. To nie jest poprzestawanie na tym symbolicznym zmywaku. A teraz Polacy zaczynają być bardzo silną, wyrazistą kulturą na Wyspach, która spotyka się z ogromnym szacunkiem miejscowych, która sama sobie wywalczyła przywileje swoją pracą. Zaczynając od sprzedaży butów, jednocześnie podejmując studia, czy prace w restauracji. W Anglii bardzo się ciężko pracuje, nawet nie wiem, czy nie trudniej niż w Polsce, nie ma tyle wolnych weekendów i świąt narodowych, jak w naszym kraju. Ci którzy, naprawdę mieli ambicję, aby coś zrobić, dokonali rzeczy niesamowitych , zostają menadżerami  w poważnych firmach, jak kilku moich znajomych, zaczynają pracować w firmach produkujących filmy, współpracują z wielkimi gwiazdami,  jak John Malkovich,  jak jedna z moich koleżanek, która studiowała w Londynie produkcję filmową.
Myślę że, to nie jest kwestia nacji, ale oczywiście my byliśmy bardzo zakompleksionym narodem,  to nie wynikało z tego, że to jest w naszym charakterze, bo Polska jest bardzo ambitnym i dumnym narodem, ale wynikało raczej z tego, że po prostu  mieliśmy taką historie, która nas stłamsiła, ubezwłasnowolniła. Polska w Anglii zyskała miano kraju bardzo ambitnego, twórczego, dynamicznego i niebojącego się pracy. (…)
Zgadam się całkowicie  z tym co powiedziałeś, teraz  Polacy w UK stają się mocni politycznie i medialnie, teraz widać jak walczymy …
Z jednej strony jest to solidarność mniejszości. Ale z drugiej  strony jest też grupa ludzi, która się nie solidaryzuje tylko wtopiła  się w społeczeństwo i funkcjonuje  naprawdę bardzo wyraźnie i nie musi walczyć o prawa Polaków, ponieważ jest traktowana na równi. To nie są ludzie, którzy się wypowiadają w Internecie, siedzą na facebook'u i piszą newsy, nie mają na to czasu, albo to jest poza ich ambicjami, czy zainteresowaniami,  po prostu wykonują swoją pracę i takich ludzi jest bardzo dużo.
Teraz, chciałabym zapytać o Wasze plany? Pracujecie nad nową płytą? Czy jesteś w stanie choć odrobinę określić w jakim klimacie będzie ta płyta, czy równie poetycka, symboliczna i metaforyczna jak pierwsze, czy troszkę bardziej przystępniejsza jak płyta bez nazwy?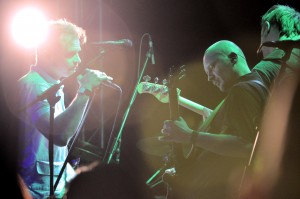 Teksty są już skończone od półtora roku na nowy album, muzyka skończona w 95%. Teraz musimy usiąść i skonsolidować siły, dokonać aranżacji, wykonać dziesiątki prób, aby ten materiał osiadł, no i nagrać to. (…) Chcemy wydać płytę w przyszłym roku, bo materiał jest bardzo obszerny i myślę że, będzie to najważniejsza płyta w naszym dorobku.
Jeżeli chodzi o warstwę tekstową, to będzie to kwintesencja charakteru, który sobie wypracowałem z językiem bardziej przystępnym. Czerwony album był dla mnie takim polem eksperymentalnym do stworzenia nowej formy komunikacji, takiej bardziej współczesnej, nie nasączonej tymi  romantycznymi odniesieniami i w tym schemacie się już poruszam. Doszukałem się wreszcie swojego stylu pisania i kontynuuje to poruszając bardziej ważkie tematy w tej pracy.
Piotrze, gdybyś musiał stworzyć listę i ułożyć w sposób hierarchiczny rzeczy, którymi się zajmujesz to co było by na pierwszym miejscu? Coma, Twoja własna twórczość, aktorstwo, teatr?
Nie ma takiej możliwości, to jest jak ty, próbujesz różne rzeczy w swoim życiu, masz jakiś zawód, masz jakąś pasję, masz jakieś działania, które tak naprawdę uzupełniają się i na siebie wpływają. Odpuściłem  kwestie medialne, nie angażuje się w to, koncentruje się, żeby pracować twórczo.
Aktorstwo dla Ciebie to twórcza forma ekspresji, wyrażenia siebie?
Moje drogi wywodzą się z różnych źródeł, są to trzy różne źródła: muzyka, aktorstwo i poezja. Moim założeniem od samego początku istnienia zespołu i tak naprawdę mojej świadomości estetyczniej, jest próba połączenia tych trzech estetyk i stworzenia własnego amalgamatu tej działalności. Rzeczy, które się teraz ukazują, moja solowa praca i praca zespołu Coma będzie odzwierciedleniem jakby tego procesu, który od piętnastu lat postępuje.
Dziękuję za rozmowę, życzymy samych sukcesów i czekamy na nową płytę Comy.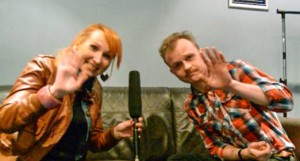 Rozmawiała Barbara Larysz