Andrzej Mańka – założyciel 5 O'CLOCK  Business & Finance Club. Biznesmen, specjalista od PR i marketingu. Autor 70 produkcji wideo i programów telewizyjnych, organizator ponad 100 seminariów, konferencji. Wydał wiele książek, kursów internetowych i publikacji na temat zdrowia finansowego, samorozwoju oraz mediów, marketingu, filmu i telewizji.
Założył pan serwis "Poles in the UK", do kogo on jest skierowany? Jaki ma cel?
Jestem pewien, że fundamentem satysfakcjonującego życia są wartości jakie wyznajemy, nasz system przekonań, sposób myślenia, nawyki. Kiedy 2 lata temu przeprowadziłem się do Londynu zauważyłem, że wielu moich rodaków być może nigdy nie wykorzysta w pełni swojego potencjału, bo ma nie do końca sprecyzowane cele, albo zamiast celów ma tylko dość mgliste marzenia i nie wierzy za bardzo w swoje możliwości w Zjednoczonym Królestwie. Postanowiłem więc założyć serwis i robić projekty dzięki którym każdy, kto szuka inspiracji do rozpoczęcia bardziej twórczego życia czy pogłębienia wiedzy o biznesie i finansach znajdzie sporo praktycznej wiedzy.

Jednak po kilku miesiącach pracy nad projektami "Poles in the UK" odkryłem, że właściwie takie same problemy mają Brytyjczycy i inne społeczności żyjące na Wyspach. Brak pomysłu na siebie, poczucie niespełnienia, czy brak praktycznych narzędzi do osiągania ambitnych celów finansowych i biznesowych to bardzo uniwersalne problemy, bynajmniej nie tylko polskie. Dlatego postanowiłem zrobić jeszcze jeden projekt, w całości anglojęzyczny, "The 5 O'CLOCK Business & Finance Club", który ma zbliżone cele i podobną misje do pierwszego, tyle, że inną grupę docelową. Jeszcze 10-15 lat temu "globalna wioska" była dla mnie tylko bardzo atrakcyjną metaforą, która pozwalała lepiej zrozumieć zmiany zachodzące w naszym świecie. Od dłuższego czasu jednak to już wspólna dla nas wszystkich rzeczywistość.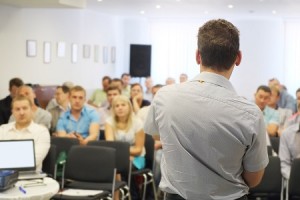 Czy warto planować swoje finanse? Dlaczego? Czy planowanie finansowe jest trudne, czy każdy może się tego nauczyć?
Jeśli nie planujemy finansów to na 100% będziemy mieli kłopoty. Będziemy tracili na  nieprzemyślanych wydatkach, pochopnie zaciąganych kredytach, czy niestarannych inwestycjach. Te straty w skali całego życia to są na ogół spore pieniądze. Jesteśmy istotami myślącymi i w naszym życiu dzieje się dobrze tylko wtedy, kiedy mamy nad nim kontrolę, kiedy nad nim panujemy. Podobnie z biznesem – żaden nie przetrwa najmniejszego kryzysu jeśli nie został dobrze zaplanowany.
Planowanie finansowe jest raczej łatwe. Właściwie to wystarczy wziąć udział w jednym – dwóch szkoleniach, przeczytać jeden podręcznik do planowania finansowego i regularnie, np. raz w tygodniu, poświęcić godzinę na finanse osobiste, aby dokonać radykalnej, niezwykle korzystnej zmiany. Czasami niewielkie zaangażowanie może spowodować ogromną różnicę. 
Czy nie lepiej po prostu wziąć kredyt na dom, spłacić go i żyć z emerytury?
Osobiście uważam, że to jedna z najbardziej katastrofalnych decyzji finansowych w życiu: wziąć kredyt na 20, czy 30 lat. Po pierwsze rujnuje to nasze finanse, bo w skali całego okresu spłacania takiego kredytu przepłacamy nawet dwu i trzykrotnie wartość nieruchomości. Po drugie nie mamy przecież pojęcia, czy za 10 lat – a nawet za rok! – nie zechcemy zamieszkać w zupełnie innym miejscu. Na ogół jednak taki kredyt hipoteczny skutecznie – i negatywnie – weryfikuje nasze ewentualne próby modyfikacji pierwotnych planów. Wydaje mi się, że nikt kto ma finansową wyobraźnię i wiedzę o tym, jak działają współczesne finanse nie zdecyduje się na spłacanie przez połowę dorosłego życia kredytu hipotecznego.
System emerytalny na całym świecie, świecie tonącym w długach, jest na granicy bankructwa. Lepiej więc rozglądać się za innymi rozwiązaniami, niż państwowa emerytura.
Planować swoje finanse najlepiej zacząć jak najwcześniej, ale czy można jeszcze coś zrobić powiedzmy w wieku 50 lat? Czy jest jakaś granica wiekowa, moment kiedy już jest za późno?
Z całą pewnością im wcześniej zaczynamy planować finanse i realizować jakiś sensowny finansowy scenariusz, tym nasz wysiłek, by np. zarobić pierwszy milion, jest mniejszy. Nie musimy też walczyć z chyba głównym naszym wrogiem, czyli złymi, na ogół utrwalanymi przez lata, nawykami finansowymi. Jednak na żadną, zwłaszcza dobrą zmianę, nie jest za późno. Nauczyć się finansów można i w wieku lat 70, a zarobić pierwszy milion będąc 75 latkiem. Kiedy bywam czasami na seminariach w Londynie, spotykam niekiedy na nich partycypantów płci obojga, którzy po przejściu na emeryturę mają ochotę nauczyć się czegoś nowego.
Jakie najczęściej popełniamy błędy finansowe? Jak się ich ustrzec?
Najczęstsze błędy finansowe wynikają z niewiedzy i z naszego przywiązania do rozmaitych przyjemności. Większość biznesów i wszystkie banki bogacą się na naszej ignorancji i słabościach. Cały świat, od kiedy rano włączamy telewizję przygotowując się do wyjścia do pracy, a potem radio w samochodzie, namawia nas do wydawania pieniędzy. W sposób szczególny widać to w okresie Bożego Narodzenia. Statystyczny Brytyjczyk wydał w 2014 roku 868 funtów na święta, a Polak 824 złote, co w relacji do średnich zarobków w Polsce i w Wielkiej Brytanii stanowi podobną, znaczącą ich część. Jeden i drugi będzie teraz spłacał zaciągnięte na tę okazję rozmaite pożyczki przez wiele miesięcy, chociaż przecież Boże Narodzenie z całą pewnością nie polega na zadłużaniu się.
Ten coraz bardziej zatrważający sposób myślenia o naszych finansach widać w popularnych reklamach. Na przykład w Tesco widziałem zapewnienie, że im więcej wydajemy tym więcej oszczędzamy! Faktycznie, jeśli sklep odda nam 5 funtów za każde wydane 100 to przy wydatkach rzędu 1 000 funtów "zaoszczędzimy" nawet 50 funtów. Podobne argumenty znajdziemy też w reklamach kart kredytowych czy wysoko oprocentowanych pożyczkach. Widząc tego rodzaju chwyty marketingowe można dojść do przekonania, że przestaliśmy już samodzielnie myśleć. Z pewnością edukacja finansowa jest właściwym antidotum na dominującą w naszym świecie ideologię konsumpcyjną.
Co jeśli już mamy długi? Od czego zacząć?
Od starannego planu finansowego. Taki plan musi zawierać bardzo precyzyjne dane. Na ogół nie wiemy ile dokładnie mamy długu. Bez planu finansowego nie mamy pojęcia ile wydajemy, ile i komu jesteśmy winni, ile wynoszą nas odsetki, ile jeszcze zostało rat itp. A ten rodzaj precyzyjnej wiedzy jest początkiem wychodzenia z kryzysu finansowego. Z całą pewnością, ci, którzy mają problemy finansowe powinni poszukać rady. To zdumiewające jak wiele spraw, które w samotności wydają się trudne lub wręcz niemożliwe do rozwiązania stają się proste, kiedy tylko zapytamy kogoś o radę.  Księga Przysłów 15:22 mówi: "Brak rady unicestwia zamiary, udają się one, gdzie wielu doradców."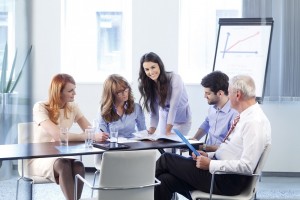 Organizuje Pan bardzo ciekawe szkolenia, czy może Pan powiedzieć coś więcej? Kiedy następne wydarzenie? Gdzie można Was znaleźć?
Przygotowałem kilka seminariów z planowania finansów osobistych z moim partnerem biznesowym dr Andrzejem Fesnakiem, a także rozmaite wydarzenia i konferencje. W zeszłym roku, po konferencji "Zdrowie Finansowe" w Londynie, doszliśmy do wniosku, że powinniśmy je realizować w wersji angielskiej.  Dla Polaków w Wielkiej Brytanii język angielski nie jest już żadną barierą. Mamy natomiast pewność dotarcia z naszą ofertą do znacznie szerszego odbiorcy niż gdybyśmy tylko mieli ofertę polskojęzyczną. Zachęcam do wizyty w naszym serwisie www.polesintheuk.co.uk
Jakie plany na przyszłość? Marzenia? Czego możemy życzyć?
Właśnie zaczynam blog o tym, jak zarobić pierwszy milion funtów. Chciałbym dowieść, że proces osiągania tak dużego celu, jak zgromadzenie pierwszego miliona funtów na koncie jest tak samo racjonalny i przewidywalny, jak przygotowania do startu w maratonie. Dlatego w tym samym czasie będę gromadził na koncie milion funtów i przygotowywał się do pierwszego w życiu startu w maratonie, w Londynie w 2017 roku. O tym jest mój najnowszy projekt, Let's Run This Business Together. Na osiągnięcie obu celów mam dokładnie dwa lata, do kwietnia 2017 roku! Przy czym nie chodzi w tym projekcie jedynie o zarobienie pieniędzy i start w maratonie. Myślę, że równie ważny, a może i ważniejszy, jest proces. Droga do celu. To, jak może ona zmienić życie, jak zbudować mnóstwo dobrych nawyków. Jakim ważnym być sprawdzianem dla siebie i być może inspiracją dla innych.
W maratonie zamierzam wystartować w bardzo konkretnym celu, charytatywnym. Pierwszy milion przeznaczę także na cele społeczne i charytatywne. Mam więc nadzieję, że szykują się w moim życiu dwa niezwykłe lata!
Dziękuję za naprawdę inspirującą rozmowę, życzę powodzenia w maratonie oraz osiągnięciu wszystkich zamierzonych celów.
Rozmawiał Dawid Słomian