"Dzisiaj w środku nocy dobijał się do mnie sąsiad! Uwierzycie?! O 3!!! Chyba zwariował! 
Miał szczęście, że nie spałem, bo jeszcze grałem na mojej perkusji!"
---
Czyli rozmowa z Adrianem Marczykiem – polskim perkusistą z Newcastle-upon-Tyne: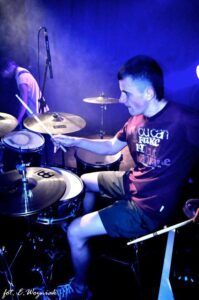 Adrianie, opowiedz nam o początkach swojej przygody z muzyką, dlaczego akurat perkusja?
Odkąd tylko sięgam pamięcią waliłem w domu czym popadnie i w co popadnie :). A tak serio, to chyba zaczęło się to od kaset mojego taty – takich zespołów jak: Iron Maiden, czy ACDC. Kredkami uderzając w biurko udawałem, że gram na perkusji .
Moja prawdziwa przygoda zaczęła się od nauki gry w lokalnym domu kultury, gdzie dzięki Markowi Sobczykowi (którego z tego miejsca bardzo serdecznie pozdrawiam) zacząłem prawdziwą przygodę z muzyką, a pierwszy zespół założyłem już w wieku 11 lat.
[gap height="5″]
Czym perkusja jest dla Ciebie, jaką muzykę lubisz grać najbardziej?
Od zawsze interesowały mnie ciężkie brzmienia i fascynacja muzyką rockową. Moja fascynacja przerodziła się w moją pasję, dlatego też całkowicie spełniam się w tym gatunku muzycznym i tą drogą chciałbym podążać.
Granie muzyki jest dla mnie czymś wyjątkowym i ciężko to opisać jednym słowem. To niesamowite uczucie, ten dreszcz, który przechodzi ci po plecach tuż przed wejściem na scenę, mega power!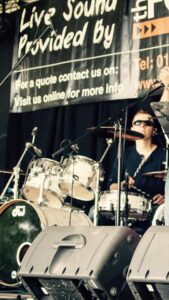 Myślisz, że my – Polacy – jesteśmy muzykalni? Mamy się czym pochwalić?
Jasne, choć jeśli chodzi o muzykę, to myślę, że nie jesteśmy doceniani. Tak naprawdę mamy wspaniałych muzyków, rewelacyjne płyty. Niestety jest też masa genialnych kapel niemogących się przebić na rynku muzycznym z dość prostyc powodów – mianowicie – z braku znajomości i braku wystarczających środków finansowych… Wiem! Brzmi to dość okropnie i drastycznie, ale niestety – taka jest szara rzeczywistość.
Czy trudno jest nauczyć się grać na perkusji?
Z nauką gry na jakimkolwiek instrumencie nie jest łatwo i wbrew pozorom nie każdy może grać.
Czy mi to przyszło z łatwością? Otóż nie. Wymagało to ode mnie wielu poświęceń. Kiedy moi rówieśnicy biegali po boisku z piłką, ja siedziałem w domu i ćwiczyłem.
Nie każdy o tym wie, ale początki gry na instrumentach są żmudne i męczące. Nie odrazu siadasz za bębny i zaczynasz grać. Musisz poświęcić wiele czasu, aby nabrać wprawy i stawać się coraz lepszym.
Trudno być artystą – muzykiem w dziesiejszych czasach?
Jak trudno być artystą to nie wiem, bo ja sam jestem tylko skromnym muzykantem :).
A tak na serio – to oczywiście, że nie jest łatwo. To bardzo ciężki kawałek chleba. Jeśli dojdziesz do momentu gdzie uda Ci się robić to co kochasz w życiu najbardziej i jeszcze móc z tego żyć – to jest to ogromny sukces!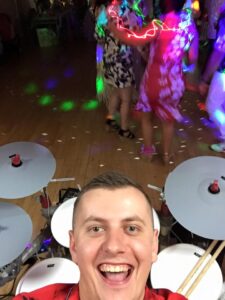 Obecnie grasz w polskim zespole, ale z tego co wiem, to jesteś na etapie szukania muzyków do wspólpracy przy Twoim kolejnym projekcie…
Tak. Obecnie mam przyjemność grać w polskiej kapeli "Pod Schodami".
Zagraliśmy kilka koncertów, które cieszyły się dużym powodzeniem. Został również zrealizowany materiał wideo o naszej kapeli – wraz z krótkim wywiadem, który mam nadzieję, że już wszyscy niebawem ujrzycie.
Ale w tym samym czasie jestem na etapie realizowania swojego solowego projektu, na którym chciałbym się skupić.
Mam nadzieję, że ten materiał pomoże w dotarciu do wszystkich muzyków w Newcastle i nie tylko.
Jakich muzyków poszukujesz, kto może się do Ciebie zgłąszać?
Na chwile obecną poszukuję wokalistkę oraz wokalistę z dobrą znajomością języka angielskiego, dwóch gitarzystów oraz gitarzystę basowego i  klawiszowca.
Zgłaszać może się każdy, nie ukrywam, że poszukuje osób na poziomie zaawansowanym, ale nie chciałbym, żeby to kogokolwiek odstraszało. Nie szukam wirtuozów.
Korzystając z okazji chciałbym podziękować Tobie Basiu, oraz całej redakcji portalu www.pozytywni.co.uk za możliwość realizowania tego materiału, zarazem chciałbym życzyć Wam dalszych sukcesów. Robicie kawał dobrej roboty!
Jak zainteresowane osoby mogą się z Tobą skontaktować?
Najłatwiej można się ze mną skontaktować przez e-mail: adrian.marczyk@icloud.com lub telefonicznie: 07538018392
Zdradzisz nam tajemnicę? Jakie są Twoje postanowienia noworoczne?
Skompletowanie kapeli to moje postanowienie, które będę realizował z wielkim zaangażowaniem. Jeszcze mam kilka, ale zostawię to (póki co) dla siebie z nadzieją ich spełnienia.
Masz coś do przekazania naszym rodakom w związku ze zbliżającym się Nowym Rokiem?
Wszystkim rodakom życzę zdrowych, spokojnych Świąt oraz samych sukcesów w nadchodzącym 2016 roku!
Pozdrawiam Wszystkich bardzo serdecznie!
Dziękujemy za rozmowę, życzymy jaknajszybszego skompletowania pełnego składu zespołu. 
 Barbara Larysz