,,Pracując nad wizją wnętrza, chciałem oddać klimat starego sklepu z antykami, miejsca eklektycznego, do którego można dostać się tylko przypadkiem.  Druga szansa na jego odnalezienie nigdy się nie zdarzy".  Baba Yaga to nowo otwarta restauracja w Newcastle upon Tyne, przeczytajcie czym kierował się nasz rodak, właściciel Pan Paweł Cybulski, tworząc w jej wnętrzu, niepowtarzalny, awangardowy styl. 
Na początku chciałabym zapytać jak to się stało, że mieszka Pan w Anglii, dlaczego wybrał Pan akurat ten kraj?
Prowadziłem swój biznes w Polsce, ale zawsze fascynowały mnie inne rynki i kultury, więc postanowiłem zbadać temat na miejscu.  Angielskie poczucie humoru i filozofia na życie z pewnością też przyczyniły się do mojej decyzji.  Przyjechałem więc w odwiedziny do mojego ojca chrzestnego Marka i wizyta się trochę przedłużyła…
Skąd pomysł na tak oryginalną, awangardową restaurację?  Z tego co wiem, to ma Pan już doświadczenie w prowadzeniu tego typu działalności, proszę opowiedzieć o swoich pierwszych krokach.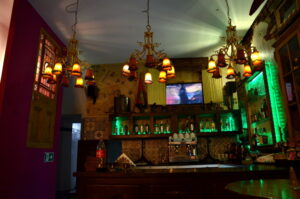 Odkąd pamiętam interesowała mnie dobra kuchnia i tętniące życiem miejsca.  Po przyjeździe do Newcastle, dopisało mi szczęście gdyż mogłem współpracować u boku samego Terry'ego Laybourne'a, w jednym z najlepszych hoteli w UK.  Interesują mnie również dzieła sztuki i antyki; jako dziecko kolekcjonowałem stare żelazka, wyszukiwałem rzeczy związanych z II wojną światową.  Swoje hobby rozwijałem również tu, w Newcastle, spędzając mnóstwo czasu w zaprzyjaźnionym domu aukcyjnym, gdzie potrafiłem wydać ostatnie pieniądze na coś, na co po prostu przyjemnie jest popatrzeć.To stamtąd właśnie pochodzi większość tych wspaniałych rzeczy, które można podziwiać w mojej restauracji.  Czuję się szczęśliwy, że mogłem połączyć wiele pasji w jedno.
Panie Pawle, na co dzień zajmuje się Pan handlem i renowacją antyków, proszę opowiedzieć o związku Pana pracy z restauracją Baba Yaga?
Pracując nad wizją wnętrza, chciałem oddać klimat starego sklepu z antykami, miejsca eklektycznego, do którego można dostać się tylko przypadkiem.  Druga szansa na jego odnalezienie nigdy się nie zdarzy. 
Ściany, na których widać warstwy czasu, miejscami odsłonięta cegła, komponująca się z podkładami kolejowymi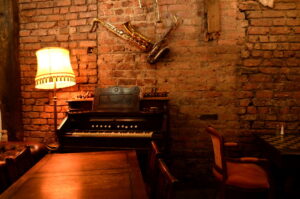 podtrzymującymi strop.  Trzyczęściowy kominek, który łączy różne style i epoki.  Bar zrobiony ze starej komody, lampy dorożkowe, łagodnie oświetlające wnętrze oraz tajemne drzwi ukryte w ścianie prowadzące donikąd.  To pierwsza odsłona Baby Yagi, a jest ich dużo więcej, wszystko zależy od spostrzegawczości oglądającego.   W jednym ze stołów mamy ukrytą szachownicę z ręcznie malowanymi figurami, gabloty kryją angielskie księgi kucharskie, kolekcje starych alkoholi, lampy naftowe, modele statków i samolotów.  Dowody burzliwej, aczkolwiek pięknej polskiej historii, opisane są w starych wojennych gazetach, które dopełniają charakter miejsca.
Pańska restauracja to nie tylko stylowo podane, smaczne jedzenie, ale niebanalny wystrój, dzięki któremu można poczuć się jak w 'polskiej piwnicy artystycznej', proszę opowiedzieć o artystycznych planach związanych z tym miejscem.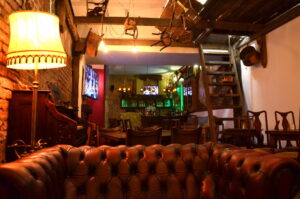 Tak, słuszna uwaga, staram się aby każdy element mojej wizji ze sobą współgrał, a to dotyczy również planów artystycznych.  Promujemy niezwykłych, lecz do końca nieodkrytych artystów zarówno z Polski jak i innych krajów, także jeżeli czujesz się na siłach, prosimy o kontakt!  Baba Yaga idealnie nadaje się na wernisaże i pokazy artystyczne, ale tych ostatnich nawet specjalnie nie musimy aranżować, gdyż atmosfera panująca w knajpie zachęca do wesołego spędzania czasu.  Nasi klienci niejednokrotnie porywają (na czas ograniczony) instrumenty muzyczne, które nagle ożywają i przestają tylko być elementem wystroju.   Tworzy się przyjazny, biesiadny klimat, pełen energii, wielokulturowy i swobodny.  I o to nam chodzi.  Mamy wiele planów, dotyczących sfery artystyczno – rozrywkowej tego wyjątkowego miejsca.  Na początku mogę wymienić najprostsze, takie jak, karaoke, pokaz lokalnych talentów oraz speed – dating na wesoło.  Pomysłów jest mnóstwo, na razie oceniamy potencjał, ale z pewnością nie raz zaskoczymy czymś czego Newcastle jeszcze nie widziało. 
W sprawach marketingowych oraz wizerunku medialnego knajpy doradza mi Kamil Królikowski, z którym współpracuję od wielu lat i mam do niego pełne zaufanie.Także jak mówią Anglicy: watch this space!
Chciałabym jeszcze spytać, jakie rady mógłby Pan przekazać innym chcącym otwierać tego typu biznes?
Proponuję się wyspać na zapas, bo snu na pewno będzie brakowało.  Ale mniej snu, to przecież więcej czasu na spełnianie marzeń.
Właśnie, czy restauracja 'Baba Yaga' jest spełnieniem Pańskich marzeń?
Tak, zdecydowanie.  Nie ma nic piękniejszego niż urzeczywistnienie wizji, z którą rozpoczynałem ten projekt.  Z przyjemnością patrzy się też w jaki sposób lokalna (i nie tylko) społeczność przyjęła koncept Baby Yagi.  Można powiedzieć, że mamy już swoich fanów i to naprawdę cieszy.
Jakie ma Pan plany na przyszłość, gdzie widzi się Pan za kilka lat?
Z respektem podchodzę do biznesu, dlatego też poświęcam każdą chwilę na dopieszczanie Baby Yagi, uważnie obserwuję co działa, a co można jeszcze ulepszyć.  A za kilka lat pewnie przyjdzie czas na nową bajkę.
Dziękuję serdeczne za wywiad, życzę samych sukcesów.
Barbara Larysz.