Za nami kolejny finał Wielkiej Orkiestry Świątecznej Pomocy.  Pozytywni przy tej okazji świetnie się bawili. Negatywni – jak zwykle mieli powód do narzekań. Narzekają zresztą do tej pory.  I każdy ma swoje zindywidualizowane spojrzenie na sprawę.
"Jurek Owsiak to złodziej, oszust, malwersant" – na kilka dni przed kolejnym finałem Wielkiej Orkiestry Świątecznej Pomocy "hejterzy" mieli pełne ręce roboty. Nie dość, że obrzucali błotem twórcę i lidera największej akcji społecznej w kosmosie, to jawnie nawoływali do bojkotu WOŚP. I pewnie natłok tych negatywnych informacji na temat Jurka Owsiaka niejednemu dał do myślenia. Mi również. Próbowałam odpowiedzieć sobie na pytanie, czy to dobrze że ten WOŚP jest, czy niekoniecznie.
Oto do jakich wniosków doszłam:
Gdybym była Jurkiem Owsiakiem też musiałabym z czegoś żyć. Gdybym miała na tyle siły wewnętrznej, tyle pasji, tyle chęci działania i pomagania innym – gdybym umiała z taką konsekwencją i systematycznością pracować i od kilkudziesięciu lat bez żadnych problemów porywać za sobą tysiące, jeśli nie miliony ludzi – to chciałabym być za to sowicie wynagradzana. Wielka Orkiestra Świątecznej Pomocy to dziecko Jurka Owsiaka, fundacja to jego pomysł, który od początku sam realizował, zarażając pasją kolejne osoby. Gdyby zabierał nawet połowę z tego, co uzbiera – byłoby to uczciwe. Tak samo, jak uczciwe jest zatrudnienie w fundacji swoich najbliższych.  Tez bym zatrudniła swoją rodzinę, przyjaciół i znajomych – jeśliby pracowali tak, jakbym sobie tego życzyła – byłabym z tego dumna. A Ty byś nie zatrudnił? (jeśli odpowiesz, że nie – sam siebie okłamujesz). Jurek Owsiak nie jest związany z żadną instytucją polityczną czy wyznaniową, nikomu nie obiecywał, że będzie żył w ubóstwie, że będzie zbawiał świat i nie będzie korzystał z efektów swojej pracy. Zasłużył na to, by korzystać.
Dziwi mnie ta wojna "hejterska". Znalazłabym wiele innych organizacji do "nie lubienia". Myśleliście może o polskim ZUS-ie? Miesiąc w miesiąc zdziera z ludzi wielkie pieniądze. Ludzie płacą, bo MUSZĄ. (Na Wielką Orkiestrę Świątecznej Pomocy nie muszą dać ani grosza. Dają ci, którzy chcą – korzystają wszyscy) . I taki ZUS nie patrzy, czy człowiek ma – czy nie ma. Zdziera, a potem i tak oferuje służbę zdrowia w karygodnej jakości, o wysokości polskiej emerytury nie wspominając. Kto gorszy? ZUS czy Owsiak?
Przez 23 lata organizacji finałów Wielkiej Orkiestry Świątecznej Pomocy nie wrzuciłam do puszek wolontariuszy żadnej pokaźnej kwoty. Były to raczej symboliczne sumy – takie, które wydałabym na pierdoły i nawet nie zwróciłabym na to większej uwagi. Przypuszczam, że ani mój domowy budżet ani większości wspierających orkiestrę nie ucierpiał poprzez tę akcję. Nawet jeśli utrzymanie fundacji i Jurka Owsiaka kosztuje – mam to w nosie. Dałam niewiele, a korzyści tysiące ludzi miały mnóstwo. Sprzęt dla szpitali to jedno, ale co równie ważne – w tym jednym dniu w roku jednoczy się cała Polska (od niedawna wielkie akcje organizuje również Polonia w Londynie – relacja z tego niesamowitego wydarzenia już wkrótce na pozytywni.co.uk). Koncerty, konkursy, zabawy, aukcje, akcje prospołeczne – tego wszystkiego bez wielkoorkiestrowej iskry po prostu by nie było.
Nie wiem, czy w każdym polskim szpitalu, ale na pewno w decydującej większości jest sprzęt zakupiony przez Wielką Orkiestrę Świątecznej Pomocy. To sprzęt najwyższej jakości, ratujący życie, służący badaniom i diagnostyce. Jakież było moje zdziwienie, kiedy po porodzie córki otrzymałam certyfikat badania słuchu sprzętem WOŚP. Wtedy zdałam sobie sprawę, że otrzymałam znacznie więcej niż przez tych dzieścia lat dałam.
Zatem drodzy "hejterzy" i wszyscy, którzy obrzucacie błotem Jurka Owsiaka. Zamilknijcie, z łaski swojej – nikt nie zmusza Was do wrzucania grosza do puszki wolontariuszy, nikt nie zmusza Was do udziału w kolejnych finałach i nikt nie zmusza Was do korzystania ze sprzętu ufundowanego przez WOŚP. Podpiszcie oświadczenie, że nie będzie korzystać ze sprzętu zakupionego przez orkiestrę i zajmijcie się, czymś pożytecznym. Może zlinczujecie ten polski ZUS? 😉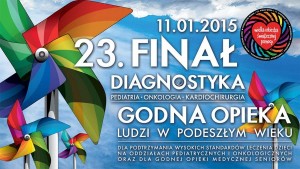 Natomiast wszystkich Pozytywnych do wspierania kolejnych finałów WOŚP – choćby symboliczną kwotą. Przy okazji zabawa przednia. Z pewnością żadna akcja prospołeczna nigdy wcześniej nie jednoczyła takiej liczby ludzi. Żaden inny naród na świecie nie zorganizował do tej pory czegoś takiego. Bez wsparcia rządu, bez wsparcia inwestorów i kapitału różnego pochodzenia. Nikt nie zorganizował takiej akcji wyłącznie wielkością serca – tak jak to uczynili Polacy. I niech orkiestra gra do końca świata i o jeden dzień dłużej – hejterom zabraknie konsekwencji, bo oni specjalizują się w akcjach sezonowych.
Do zobaczenia na kolejnym finale. Sie ma! J
Jaśko