Mariusz Biziweski, trenuje ITF Taekwondo od 91 roku, od trzech lat jest trenerem w swojej własnej szkole w Newcastle. Jego adepci na zawodach zdobyli łącznie 38 medali. Przełamują stereotyp praca- dom-praca. Na treningach dają z siebie 100%, przez co uczą się kontroli swojego ciała i umysłu, w każdej dziedzinie życia.
Chciałabym zapytać o podstawy ITF Taekwondo, na czym polega ta sztuka i jakie korzyści płyną z trenowania tej dyscypliny? Czy kobiety też mogą trenować?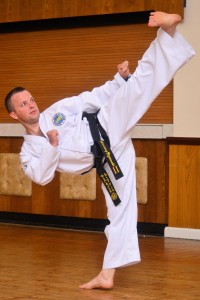 Taekwondo jest koreańską sztuką samoobrony, która zakłada pewien określony sposób myślenia i postępowania w życiu, wzmacnia cechy osobowości oraz rozwój psychofizyczny. Stałe powtarzanie, uczy cierpliwości i siły woli niezbędnej do przezwyciężenia każdej trudności. Ogromna siła wytworzona w ciele ćwiczącego, pozwala mu rozwinąć w sobie zaufanie do samego siebie, umożliwiające stawienie czoła każdemu przeciwnikowi o każdym czasie i w każdej sytuacji 🙂 Korzyści z trenowania są ogromne, jak z każdej dyscypliny sportowej. Jest to dynamiczny sport, i dobrze wpływa na fitness. Ponadto wzrasta pewność siebie, co wpływa na całe życie .
Taekwondo jest to koreańską sztuka samoobrony, w której używa  się rąk, nóg, dźwigni, uderzeń, kopnięć, cięć itd. Jest to light kontakt. Na zawodach można wybrać kilka rożnych opcji a mianowicie: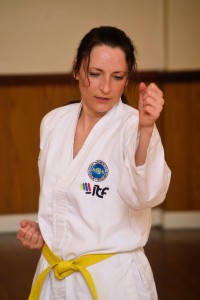 – sparingi – walka w całym "ekwipunku" – wszystkie uderzenia, czy kopnięcia powinny być kontrolowane
– rozbicia – w którym wykorzystujemy siłę do rozbić desek, cegieł, pustaków
– techniki specjalne do wysokich kopnięć
– układy – w których pokazuje się technikę, dokładność, wyczucie czasu, moc techniki.
Do mojej szkoły uczęszcza dużo kobiet, ok 70%. Są one bardzo dobrymi adeptami, nie bojącymi się wyzwań. Są szybkie i czasami bezwzględne w swoim dochodzeniu do celu. Płeć ładniejsza -mężczyźni są w mniejszości. J
Co spowodowało, że założyłeś szkołę Teakwondo właśnie w UK?
W 2007 roku po przyjeździe do UK, zacząłem trenować  Taekwondo w Whitley Bay. Była to kontynuacja pasji z Polski. Po zdobyciu czarnego pasa, narodził się pomysł, żeby otworzyć szkole w Blyth. Tam rozpocząłem pierwsze zajęcia. Było ciężko, bez pieniędzy, ludzi. Na stronie polnews zostało wystawione ogłoszenie i tak się zaczęło. Pierwsi chętni, pierwsze treningi. Nastepnie postanowiłem uderzyć w Newcaste i jego okolice przenosząc zajecia. Pomimo większego miasta natrafiłem na kolejne problemy a raczej obawy jakie mieli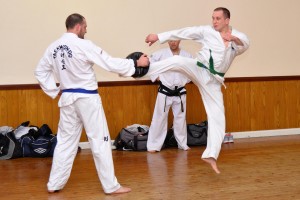 ludzie chcący zacząć trenować. Ich obawy związane były przede wszystkim z brakiem kondycji i elastyczności, dlatego tez bali się uczestniczyć w zajęciach. Zajęcia Teakwondo są dla takich właśnie osób! – "zdrowy nie potrzebuje lekarza"  – tutaj wszystkiego można się nauczyć . Nie ma tu miejsca na rasizm, czy inne uprzedzenia, obowiązuje równouprawnienie. Biały Dobok oznacza niewinność otwarcie się na wiedzę i tego oczekuję. Musisz być lepszy od siebie, nie od kogoś innego, poprzez ciężka pracę i zaangażowanie się w treningi. Nie ma miejsca dla ludzi, którzy chcą pracować na 50% , dajesz z siebie 100% ,albo należy zapisać się na pływanie 🙂
Twoja szkoła istnieje dopiero od trzech lat, a na swoim koncie macie już sporo sukcesów. Jak Ty odnosisz się do tych osiągnięć?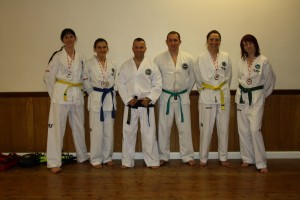 Tak, szkoła istnieje tylko 3 lata a na swoim kacie mamy 38 medali i tytuły mistrzów Anglii w kilku kategoriach wagowych. To bardzo duże osiągnięcie, w tak krótkim czasie!
Jako trener jestem bardzo zadowolony z osiągnieć ludzi, którzy trenują na moich zajęciąch. Niektórzy adepci są ze mną od początku założenia szkoły, niektórzy od roku, czy kilku miesięcy. Wszyscy trenują bardzo ciężko, pomimo wysiłku jaki wkładają w zajęcia są bardzo zadowoleni. Mi jako trenerowi zależy na tym, aby moi uczniowie wspinali się coraz wyżej i pokonywali swoje słabości, osiągając przy tym jak najwięcej.
Braliście udział w kilku zawodach w Anglii, Szkocji i Holandii, w sobotę (25.04.15) byliście na turnieju w Londynie, z czym wróciliście, w jakich dziedzinach braliście udział i kto reprezentował szkołę?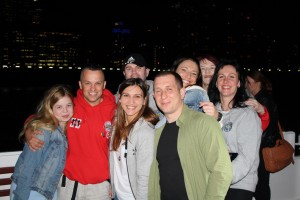 Na zawody jeździmy gdzie się da. Jeżeli fundusze, praca oraz obowiązki rodzinne pozwolą. W sobotę braliśmy udział w zawodach ROSE CUP'15 w Londynie organizowanych przez England Taekwondo Association.
Szkołę reprezentowali: Bernadetta Kamińska, Agnieszka Rzetelna, Sylwia Król, Ewa Downie, Rafał Kamiński, oraz Ja :-).
Braliśmy udział w konkurencjach ,mówiąc językiem Teakwondo były to tak zwane układy oraz sparingi.
Sobotni wyjazd do Londynu  po raz kolejny okazał się dla nas szczęśliwy i zdobyliśmy kolejne medale: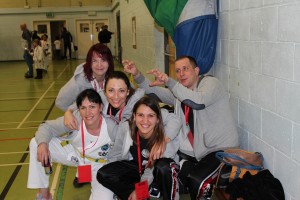 – Bernadetta Kamińska, zdobyła brązowy medal w układach oraz srebro w sparingach, pokonując w spektakularny sposób czarny pas -pierwszy Dan, sama jest posiadaczem niebieskiego .
-Agnieszka Rzetelna – złoty medal w sparingach ( pierwsze zawody ).
-Sylwia Król – srebrny medal w sparingach (pierwsze zawody ).
-Ewa Downie – brązowy medal w sparingach .
To kolejny sukces, z którego jestem dumny bo "dla takich chwil warto życ" J
Jak sobie radzą Polacy, czy Twoim zdaniem jesteśmy walecznym narodem?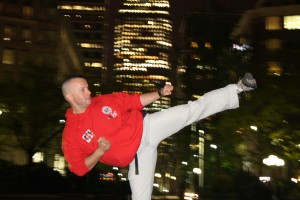 Szkoła jest elitarna. Tutaj trenują najlepsi, zdobyte medale są tego potwierdzeniem.
Polacy to naród bardzo waleczny i można to zaobserwować w każdej dziedzinie naszego życia od sportu po prace. Zawody są tego przykładem, na ostatnich zawodach w Londynie, Rafał Kamiński w pierwszej walce złamał kość palca, co pokazało zdjęcie RTG. Pomimo bólu, do końca uczestniczył w zawodach, walcząc z bólem oraz partnerami w kolejnych sparingach. Okazał się dużą determinacja i wytrwałością.
Czym Twoja szkoła Teakwondo jest dla Ciebie? Jak uważasz, co do tej pory, jest Twoim największym sukcesem?
Szkoła jest dla mnie tym czym dla rodziców małe dziecko, na które należy zwracać szczególną uwagę, dostarczać wrażeń zmysłowych oraz fizycznych. Skarcić jak trzeba lub wynagrodzić. Wciąż się rozwijamy,  jak na mały staż tej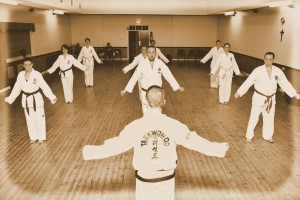 szkoły mamy duże sukcesy! Adepci byli egzaminowani przez mistrza Thomasa Denisa VII Dan z Londynu , który bardzo pozytywnie wypowiedział się na temat ich umiejętności.
Przypominam, że jesteśmy organizacja międzynarodową tzn., że certyfikaty ze stopniami są respektowane w każdym kraju. Ponadto spotykamy się razem na imprezach z rodzinami kilka razy w roku, jeździmy na zawody oraz przebywamy ze sobą 3 razy w tygodniu i jeszcze nie mamy siebie dosyć (chyba) to o czymś świadczy. Przełamujemy stereotyp ze tylko praca- dom-praca. Staramy się ufać sobie i polegać na sobie, co pomaga w życiu. Szanujemy siebie na wzajem.
Jakie są Twoje plany na przyszłość?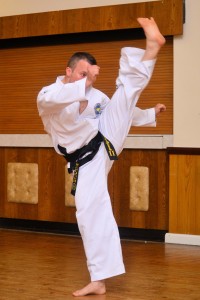 Plany na przyszłość to przede wszystkim rozbudowa szkoły, znalezienie sponsorów oraz własnej sali, obozy sportowe dla dzieci oraz ich rodzin. Jako trener powinienem wychować mojego następcę … Na chwile obecna kilku adeptów jest na dobrej drodze do tego celu. W maju wyjeżdżamy na tygodniowy obóz do Tunezji wraz z rodzinami, około 30 osób, gdzie będę prowadzić trening trzy razy w ciągu dnia. Pobyt będzie zakończony egzaminem na wyższy stopień.
Gdzie możemy Cię znaleźć?
Treningi odbywają się w :
Newcastle Upon Tyne ,NE5 3JR,
176 Stamfordham Road,
English Matryrs Catholic Church,
Trening dla dzieci:
Poniedzialek 18.00-19.00
Środa 18.00-19.00
Trening dla dorosłych:
Poniedziałek 19.00-21.00
Środa 19.00-20.30
Sobota 11.10-13.10
Email: mariusz.biziewski@gmail.com
Mobile: 07907450897
Dziękujemy za rozmowę, życzymy dalszego rozwoju szkoły i samych wygranych na turniejach.
 Barbara Larysz