Katarzyna Kołeczek – młoda, zdolna aktorka. Ledwie jej kariera zaczęła rozwijać się w kraju, a już przechwyciła ją Wielka Brytania. Kasię zapewne widzieliście już w niejednym polskim serialu czy filmie, lada moment stanie się rozpoznawalną twarzą w UK. Kręci tu film, w którym gra główną rolę. W przyszłym roku film wejdzie do kin. Warto go obejrzeć, by podziwiać nie tylko urodę Polki, ale przede wszystkim jej talent. Przyjrzyjcie jej się dobrze – to kolejna Pozytywna.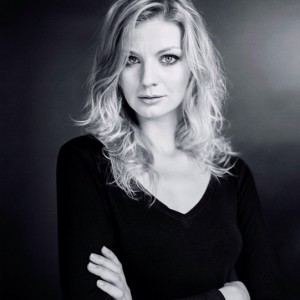 Wiele osiągnęłaś już w Polsce. Twoja kariera ciągle rozkwita. Skąd więc pomysł na Wielką Brytanię?
Do Wielkiej Brytanii latam już 5 lat. Po ukończeniu Akademii Teatralnej w Warszawie od razu dostałam angaż w Teatrze Polskim w Warszawie i na wakacje pojechałam na kurs aktorski do Berlina. Tak spodobała mi się praca w języku angielskim, że postanowiłam szukać innych ofert pracy. Niebawem po powrocie do Polski wygrałam casting do pierwszoplanowej roli w filmie produkcji Irlandii Północnej, zatytułowanej Cup Cake. Casting odbył sie przez Skype oraz musiałam wysłać nagranie kilku scen. I tak zaczęłam grać po angielsku.
A jak zaczęła się Twoja przygoda z aktorstwem?
Moja przygoda z aktorstwem zaczęła sie w liceum, gdzie często występowałam w kole aktorskim, śpiewałam i recytowałam wiersze. Postanowiłam wtedy, że będę zdawać do warszawskiej AT, do której dostałam się za drugim razem. A potem już poszło…
Jakie projekty realizujesz w Londynie?
Głównie są to projekty telewizyjne i filmowe, choć niedługo dołączę do mojego CV projekt teatralny w języku angielskim, który premierę będzie miał podwójną: w Londynie i Warszawie. Nie mogę jeszcze zdradzić szczegółów, by nie zapeszyć. Zagrałam dużą, znaczącą rolę w serialu BBC Father Brown, trzech filmach kinowych oraz w wielu filmach krótkometrażowych. Mam tez w planach sensacyjny film pełnometrażowy, w nieznanym mi jeszcze terminie, w 2015 roku.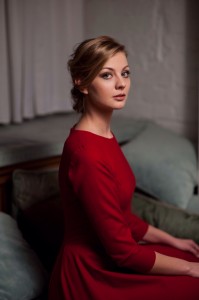 Co jest dla Ciebie najbardziej fascynujące i w czym się lepiej odnajdujesz: teatr, film, serial?
Kocham teatr, ale muszę się przyznać, że ostatnio znacznie bliższa mojemu sercu jest atmosfera planu filmowego. Jest to adrenalina, jakiej nie można porównać z niczym innym. Oczywiście używa się nieco innych środków aktorskich, ale film nauczył mnie większej świadomości ciała i głosu. Kamera wychwyci najmniejsze kłamstwo, a na scenie można pozwolić sobie zdecydowanie na więcej, na tzw. "szersze granie", tak by widz w ostatnim rzędzie nie czuł się potraktowany po macoszemu.
Co jest Twoim celem?
Spełnienie zawodowe i dzielenie tej radości z bliskimi.
Kiedy powiesz o sobie: "Jestem kobietą spełnioną. Osiągnęłam sukces"?
Kiedy będę miała tyle propozycji zawodowych, że nie będę w stanie podjąć wszystkich i będę mogła wybierać, w czym i co zagrać.
Co jest najważniejsze w dążeniu do celu?
Wytrwałość. Wiadomo, że nie zawsze jest łatwo, to jest okrutnie ciężki zawód. Wspaniałych aktorów jest cała masa, ciągle jesteśmy porównywani, zniechęceni. Trzeba wiedzieć precyzyjnie czego się chce i uparcie do tego dążyć.
A co Cię najbardziej motywuje? 
Sukces.
Jak się żyje w dwóch językach?
Zabawnie. W Anglii myślę po angielsku, w Polsce po polsku. Uwielbiam rozmawiać z Anglikami, mój akcent od razu się poprawia.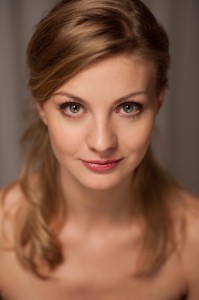 Co najbardziej podoba Ci się w kulturze Anglii, a co Cię najbardziej tu boli, co najbardziej przeszkadza?
Bardzo lubię brytyjską pewność siebie i to, że zawsze szuka się w drugim człowieku pozytywów, a nie przywar. Przeszkadza mi natomiast czasami brak szczerości czyli angielska etykieta, która zakłada powierzchowną uprzejmość.
Masz kontakt z brytyjską Polonią. Jak ją oceniasz? Czy to w większości ludzie sukcesu, z ambitnymi planami, czy raczej osoby, które wyjechały z Polski z przyczyn ekonomicznych, by tutaj zacząć życie od nowa, łapiąc się byle jakiej pracy?
Różnie to bywa, ale większość moich przyjaciół ma świetną pracę i z sukcesem pnie się po drabinie kariery – tyle, że zaczynali od gorszych prac niż mieli w Polsce.
Czy Wielka Brytania jest miejscem, gdzie można osiągnąć sukces?
Oczywiscie,że tak!
Łączysz Polskę z Wielką Brytanią. To chyba nie jest łatwe?
Był taki czas, że latałam do Anglii cztery razy w miesiącu, nie było to łatwe, ale chcieć to móc.
 Co będziesz robić za 10, 15, 20 lat? Jaki jest Twój plan na życie?
Grać, wychowywać dzieci, kochać ludzi, podróżować.
Gdzie w najbliższym czasie możemy Cię zobaczyć?
W Warszawie w Klubie Komediowym w kabaretowym spektaklu muzycznym "Fabularny przewodnik po rzeczywistości wolnorynkowej" oraz "Zniknięcie Baristki w ekspresie" oraz w Teatrze Polonia w "Jasiu i Małgosi" oraz "Czerwonym Kapturku". W Anglii w filmie, który właśnie kończę kręcić "Albert and Elizabeta", gdzie gram tytułową Elizabetę.
Czego, jako Pozytywni, możemy Ci życzyć?
Szczęścia i dużo dobrej pracy.
Tego zatem życzymy 
Sylwia Jaśko