Jakub B. Bączek – trener mentalny kadry narodowej siatkarzy Stéphane'a Antigi, przedsiębiorca, mówca, podróżnik i pisarz. Jego pasją jest pomaganie innym i nauczanie. Metody stosowane przez Jakuba są czasem kontrowersyjne, czasem zabawne – na pewno skuteczne. Będzie się o tym można przekonać już w najbliższym czasie. Jakub B. Bączek już w marcu spotka się z Polonią w Oxfordzie i w Londynie. Wspólnie z Jakiem Smolarkiem i Łukaszem Jakóbiakiem będzie inspirował i motywował.
Jakub B. Bączek swoją pierwszą książkę napisał w wieku 23 lat. Obecnie ma na koncie 11 wydanych książek oraz około 90 tekstów naukowych i publicystycznych. Promuje ideę wolności finansowej "pół na pół" – stara się pół roku spędzać za granicą, a przez drugą połowę pracować w dziedzinach, które kocha, np. w siatkówce, coachingu czy szkoleniach.
Jest m.in. autorem książki pt: "Jak zarobić pierwszy milion idąc pod prąd", a przecież wszyscy chcemy wiedzieć, jak to zrobić.
Zatem pytamy trenera Bączka:
Jak zarobić pierwszy milion idąc pod prąd?
Najprostsza metoda? Ciężko pracować i wierzyć w siebie. Ale przede wszystkim ciężka praca – nie znam łatwiejszego (paradoksalnie) sposobu.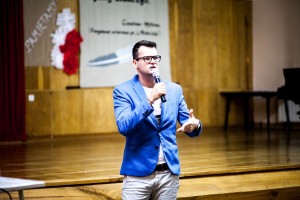 Jak sam zarobiłeś pierwszy milion? I skąd pomysł na podzielenie się wiedzą, wielu wydającą się wiedzą sekretną?
Pierwszy milion zarobiłem z kilku źródeł i jestem zwolennikiem dywersyfikacji przychodów na aktywne i pasywne. Aktywne przychody dały mi firmy, które zajmowały się głównie animacją czasu wolnego (można powiedzieć, że byliśmy jednym z pionierów tego kierunku w Polsce). Przychody pasywne pochodziły z moich inwestycji: w mieszkania na wynajem, w kursy e-learning, w e-booki itd. Te pieniądze "zbierały się" na koncie, chociaż nie poświęcałem czasu na te projekty. A czemu dzielę się tą wiedzą? Dziwne pytanie! Czemu miałbym się NIE dzielić???

O czym będziesz mówił podczas planowanych wykładów w Wielkiej Brytanii?
O marzeniach, zmianie nawyków mentalnych, o mojej pracy z najlepszymi siatkarzami świata i o motywacji. Trudno to opisać. Powiem tylko tyle, że ciśnienie pójdzie Wam do góry:)
Pasja, biznes czy życie? Co jest dla Ciebie najważniejsze?
Życie! Jak na razie nie widzę większej wartości niż miłość do innych ludzi i ich odwzajemnione uczucia.
Jak wyglądała Twoja droga do sukcesu?
Trzeba by paru książek, żeby na to pytanie odpowiedzieć:) Jestem w trakcie pisania kolejnej:)
Co mógłbyś poradzić Polakom, którzy są rozdarci pomiędzy swoim ojczystym krajem a Wielką Brytanią, pomiędzy życiem tam i tu?
Granice są przedłużeniem umysłu. Znacznie bardziej może nas frustrować i demotywować granica mentalna niż geograficzna. Zachęcam do przyjrzenia się temu, czego tak naprawdę w życiu chcę. A potem do szukania drogi i narzędzi, które tą drogę przyśpieszą. Jednym z nich jest trening mentalny – chyba najskuteczniejsza metoda, jaką sam dotychczas zastosowałem, nie tylko u siatkarzy Antigi.
Pozytywni.co.uk promują sukcesy Polaków w Wielkiej Brytanii. Jak oceniasz brytyjską Polonię?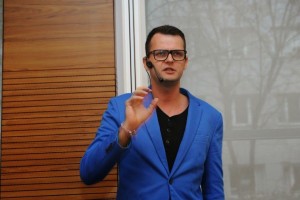 Czy zgodzisz się z nami, że media często powielają krzywdzące, stereotypowe opinie na nasz temat i tylko w niewielkim stopniu promują pozytywne aktywności Polaków?
Nie znam aż tak wielu Polaków w UK. Niemniej jednak nie lubię żadnych generalizacji – one zawsze są krzywdzące. Z drugiej strony, w każdej – odpowiednio licznej – grupie zdarzą się i ludzie kochani i debile. Tak jak w wykresie Gausa – takie są statystyki pewnie i wśród Polonii.
Jak wzmocnić pewność siebie i motywację Polaków za granicą? Jak sprawić, by nie czuli się gorsi od innych nacji i by zaczęli wierzyć w swoje nieograniczone możliwości?
O! Chętnie dam Wam to odczuć – na spotkaniu w Oxfordzie i w Londynie 🙂
Czego, jako Pozytywni, możemy Ci życzyć?
Pozytywnych wibracji i pożywnego pozytywizmu mojej wiedzy dla innych!
Tego zatem życzymy
I zapraszamy Pozytywnych z Wielkiej Brytanii na spotkanie z trzema doskonałymi mówcami. Bilety na to motywujące spotkanierozchodzą się jak świeże bułeczki. Przypominamy że event jest darmowy, ale na wydarzenie trzeba się zarejestrować. Miejsc w Oxfordzie już zabrakło. Spieszcie się, by jeszcze zdążyć zarezerwować Londyn, bo zostało ich naprawdę niewiele! Zarezerwować miejsce można pod adresem:
https://www.eventbrite.com/e/pasja-biznes-i-zycie-event-w-londynie-tickets-15632651682

Wydarzenie organizowane przez:
Dagmara Chmielewska
współorganizatorzy:
Greenwich University Polish Society
Oxford University Polish Society
http://www.oxpolsoc.com/
OPA – Oxford Polish Association
http://opaoxford.org/
Polish Success Centre
http://www.polishsuccesscentre.com/
Hurricane Of Hearts
www.hurricaneofhearts.com
Jaśko