Zbliża się kolejny finał Wielkiej Orkiestry Świątecznej pomocy – po raz kolejny organizowany w Londynie przez Hurricane of Hearts. Niemal wszystko dopięte jest już na ostatni guzik. Plan imprezy przygotowany, gwiazdy już stroją instrumenty i ćwiczą wokal, by jak najlepiej zaprezentować się przed londyńską publicznością. Tam, już 11 stycznia, spotkają się tysiące Pozytywnych. My też tam będziemy.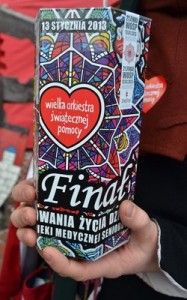 To będzie już czwarty finał Wielkiej Orkiestry Świątecznej Pomocy, organizowany w Londynie przez "Hurricane od Hearts" – każdy kolejny jest bardziej spektakularny.
– Ta akcja doskonale wpisuje się w filozofię Pozytywnych. To bowiem namacalny dowód na to, że Polacy potrafią się zjednoczyć, potrafią zrobić coś, co zaskakuje cały świat. W ten jeden dzień w roku, podczas finału Wielkiej Orkiestry Świątecznej Pomocy, pokazujemy że jesteśmy ponadprzeciętni, że potrafimy współpracować ponad podziałami. Cała Polska tym żyje, a to z czego powinniśmy być jeszcze bardziej dumni, to organizacja polskiego finału w Londynie, na obcej ziemi, w obcym środowisku. Organizacja finału WOŚP tutaj w odmiennych od Polski warunkach jest przecież trudniejsza niż organizacja jakiejkolwiek akcji w kraju. Dlatego obiema rękoma podpisujemy się pod tym genialnym wydarzeniem, nad którym od wielu miesięcy pracuje cały sztab ludzi – mówi Tomasz Frontczak, współtwórca portalu www.pozytywni.co.uk.
Organizatorzy przyznają, że początki organizacji finału WOŚP w Londynie nie były łatwe. Dlatego każde ręce do pomocy były na wagę złota.
– Organizacja każdego finału WOŚP to dla nas zawsze ogromne wyzwanie. Początki, faktycznie, nie należały do najłatwiejszych, ale z ogromną siłą i determinacją, z wielkim pokładem zapału i zaangażowania realizowaliśmy cel. Teraz każdy kolejny finał jest już łatwiejszy. Coraz więcej osób chce nam pomagać i każdą ofertę pomocy przyjmujemy z radością – mówi Dagmara Chmielewska, założycielka "Hurricane of Hearts" i pomysłodawczyni skopiowania finału Wielkiej Orkiestry Świątecznej Pomocy na grunt brytyjski.
Każdego roku londyński finał budzi większe zainteresowanie. Żeby wszystko działało jak należy potrzebna jest jednak osobowość, ktoś kto nakręci wszystkie trybiki w machinie i w prawi ją w ruch.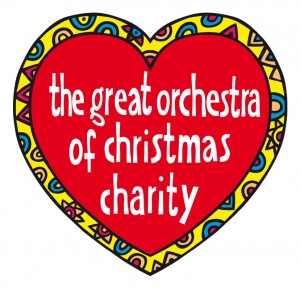 – Taką osobą jest właśnie Dagmara. To nasz brytyjski – wypisz, wymaluj – Jurek Owsiak.  Z jej pasją i zaangażowaniem możemy zrealizować każdy cel. Tworzymy zgraną drużynę. I zaplanowaliśmy na zbliżający się finał mnóstwo atrakcji. Każdy znajdzie coś dla siebie, niezależnie od wieku. Zapraszamy do zapoznania się z programem finału i do udziału w nim. Pokażmy całemu światu, że Polacy potrafią się zjednoczyć i być razem – mówi Jakub Smolarek z brytyjskiego sztabu Wielkiej Orkiestry Świątecznej Pomocy.
Jak na polską imprezę przystało, na scenie wystąpią polskie gwiazdy.
– Na sobotę zaplanowaliśmy koncert Czesław Śpiewa Solo Act, na  niedzielę smerfne hity dla Dzieci, a wieczorem zespoły takie jak Out, Czarno Czarni, Big Cyc, no i oczywiście cięższe Woodstockowe granie czyli zespół Kabanos oraz bardzo znana w świecie ciężkiej muzyki, grupa Hunter – zachęca Jakub Smolarek.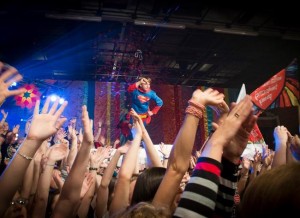 Nie pozostaje nam nic innego, niż zaprosić wszystkich Pozytywnych z każdego pozytywnego zakamarka Wielkiej Brytanii, by już 11 stycznia przybyli do Londynu i dobrze się bawili, promując dobry wizerunek Polonii, a przy okazji wspierając szczytny cel. Niech tego dnia będzie głośno o Polakach w Londynie. I wreszcie głośno ze względu na nasz entuzjazm, zapał i wielkie serce.
[gap height="10″]Do zobaczenia pod wielko orkiestrową sceną.
Sie ma!!!
SJ