Andrzej Zagdan – założyciel facebookowej grupy Be Creative, stworzonej z myślą o artystach amatorach, to człowiek, od którego pozytywna energia, wręcz emanuje. Przeczytajcie, jak Andrzej daje upust swojej kreatywności, malując obrazy oraz poznajcie Be Creative, kto wie może i Wy znajdziecie odwagę na publikację swojej twórczości.
Jak zaczęła się Twoja przygoda z Wielką Brytanią? Jak wyglądały początki?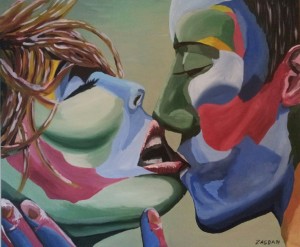 Przygoda z Wielką Brytanią…hmmm. Sam nie wiem jak opowiedzieć. To chyba był szereg zbiegów okoliczności. Pierwszy raz tu przyjechałem w 2002r. pracując jeszcze w Polsce w firmie transportowej. Fakt że, spodobało mi się tutaj, ale nie na tyle żeby rwać się do wyjazdu. Co ciekawe, pierwszą dostawę jaką miałem, to była dostawa do Birtley, to chyba taki chichot losu. Przez myśl mi wtedy nie przeszło, że kiedyś będę tu gdzieś mieszkał.
Po kilku perturbacjach z pracą w Polsce postanowiłem poszukać szczęścia za granicą. Najpierw była słoneczna Italia, ale niestety tam tylko słońce było fajne. Potem przyszedł pomysł na Wielką Brytanię. To był 2006 rok. Brytyjskie firmy transportowe chłonęły każdą ilość kierowców więc wchłonęły też mnie. No i tak już zostało.
Opowiedz nam proszę, swoją historię związaną ze sztuką?
Jak dla mnie to bardzo ciekawe pytanie. Wypadałoby napisać, że sztuka to był mój konik od najmłodszych lat i od małego żyje z farbami, pędzlami, węglem i ołówkiem za pan brat. Niestety muszę Was rozczarować. Tak nie było. Fakt że, gdzieś tam jeszcze w podstawówce udało mi się wygrać kilka konkursów a ludzie mówili, że mi nawet dobrze wychodzi to rysowanie. Niemniej jednak przez długie lata ta moja pasja była ukryta gdzieś w czeluściach moich zainteresowań. Tak naprawdę dopiero dwa lata temu zacząłem rehabilitację własnych umiejętności. W ramach tejże rehabilitacji wybrałem się do Sunderland College na kurs Painting and Drawing. Zacząłem od niezgrabnych kroków ołówkiem, potem węglem, aż przyszedł czas na farby. To co robię i w jaki sposób, jednym się podoba bardziej, innym mniej, ale to już chyba jest wpisane w ten rodzaj kreatywności. Kilka moich obrazów wisi już u ludzi w domach i jest to dla mnie chyba największa nagroda za to co robię. Dla mnie mniej liczy się twór niż sam akt tworzenia. Kocham malować, rysować, uwielbiam spędzać w ten właśnie sposób mój wolny czas, choć niestety nie posiadam go zbyt wiele.
Skąd pomysł na grupę Be Creative?
Be Creative to grupa, która ściśle połączona jest z moją dość krótką historią ze sztuką. W pewnym momencie zapragnąłem pokazać w szerszym gronie moje prace. No i nasunęło się pytanie: Gdzie? Młodzi artyści amatorzy mają bardzo ograniczony dostęp do galerii, czy do ośrodków kultury. Eventów dla amatorów też można ze świeczką szukać. Internetowe galerie takie jak: deviantart są ok, ale prace giną w oceanie tysięcy innych. Postanowiłem więc, skorzystać z możliwości jakie daje (a jakże) Facebook i otworzyć grupę dla ludzi, którzy chcą pokazać owoce swojej pasji, a nie bardzo mają gdzie. W założeniu planowałem grupę dla 150-200 osób. W tej chwili mamy w grupie ponad 650 i cały czas przybywa. Mamy u nas malarzy, muzyków, poetów, fotografów, ludzi zajmujących się decupag-em, odnawiających stare meble oraz posiadających inne ciekawe pasje. Są szydełkujące i robiące biżuterie panie, a nawet jest mama człowieka, który odbywa obecnie z własną żoną podróż dookoła świata i dostarcza nam ich sprawozdania z przygód.
Jak również, jest mnóstwo ludzi, którzy się naszym poczynaniom bacznie przyglądają.
Kogo macie w teamie? Co prezentujecie? Jesteście dla siebie przyjaciółmi, czy obiektywnymi krytykami sztuki?
Nasz team to ja oraz dwie wspaniałe dziewczyny, bez których chyba grupy by nie było. To Kasia Pietrucha i Ewa Niemiec. Dziewczyny – torpedy jeśli chodzi o promocje i reklamę grupy. Jestem przekonany, że jeśli istnieje grupa np: Polacy w Burkina-Faso to jest tam też reklama Be Cretive. To przede wszystkim one zajmują się przyciąganiem nowych grupowiczów.
W pewnym sensie jesteśmy sobie przyjaciółmi, choć nasza znajomość to tylko znajomość online, ale takie mamy czasy. 
Nie możemy nazwać siebie krytykami sztuki. Nasza grupa nie zajmuje się krytyką. Proszę zwrócić uwagę, że większość z nas to amatorzy. Bardziej skupiamy na zachęcaniu ludzi do posiadania i rozwijania pasji. Nieumiejętna krytyka może zdruzgotać chęci do robienia czegokolwiek, szczególnie u początkujących.
Wielu ludzi wybiera Be Creative jako pierwsze miejsce gdzie w  ogóle przyznają się do swojej twórczości. Malarze, czy fotografowie z reguły nie mają oporów do chwalenia się swoimi pracami. Zupełnie inaczej wygląda sprawa z poetami. Często piszą latami do szuflady i najnormalniej w świecie wstydzą się pokazać swoje wiersze. Czy wyobrażasz sobie krytykę w takiej sytuacji? Ja wiem. Być może to wygląda trochę bałwochwalczo, ale wydaje mi się, że większość z nas potrzebuje zachęty. Daj Boże, na krytykę przyjdzie czas.
Jaką przyszłość widzisz dla Waszej grupy?
Nie zastanawiałem się tak naprawdę nad przyszłością i rozwojem grupy. Mam nadzieję, że będzie rosnąć i przybędzie nam wielu udzielających się artystów.
Natomiast znając zapędy, zaangażowanie i determinację Kasi i Ewy to ja się sam boję.
Jak myślisz, Polacy to utalentowani i uwrażliwieni na sztukę ludzie? Chętnie dzielą się swoją twórczością?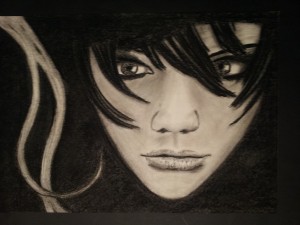 Polacy są mega utalentowani i wrażliwi. Problem polega na tym, że zainteresowanie sztuką (malarstwem, poezją, literaturą klasyczną) niestety odbierane jest trochę jako obciach. Otwieramy się dopiero w zamkniętych grupach, ewentualnie anonimowo gdzieś na forach internetowych. To samo dotyczy własnej kreatywności. Coś na zasadzie: A po co ja to będę pokazywać? Na pewno się nie spodoba. I cyk za szafę albo do szuflady. Nawet sobie nie chcę wyobrażać ile prawdziwych talentów w ten sposób się zmarnowało i marnuje w dalszym ciągu. To kolejny powód, dla którego powstało Be Creative.
Poza tym jeśli chodzi o nas Polaków to mamy we krwi wszystko- róbstwo. Jeśli facet jednocześnie jest mechanikiem, elektrykiem, hydraulikiem i ogrodnikiem to czemu nie poetą czy malarzem. I nie ma najmniejszego znaczenia, czy dobrym, czy mniej dobrym. Najważniejsze to posiadać pasję.
Opowiedz nam o swojej wystawie w Liverpool?
To też fajna historia i dowód na pożyteczność grupy Be Creative. Pewnego razu, gdzieś, pod którymś postem powiedziałem, że oddaje swoje prace znajomym za darmo jeśli tylko się komuś podoba. Pewna Pani z galerii Makeover Beauty and Art z Liverpool zapytała, czy zanim porozdaje wszystkie, to może chciałbym pokazać je właśnie u nich. Wstępnie się umówiliśmy, że wystawa odbędzie się w kwietniu. Nie będę ukrywał, że nie mogę się doczekać, bo jest to dla mnie dość ważne wydarzenie. Właśnie jestem w trakcie przygotowań, co sprawia mi ogromną przyjemność.
Więc jeśli ktoś będzie miał ochotę pooglądać moje prace to serdecznie zapraszam wraz z organizatorami do galerii:
Makeover Beauty and Art.
2E Marlborought Road
Liverpool
Powiedz, gdzie widzisz się w przyszłości? Jakie masz plany?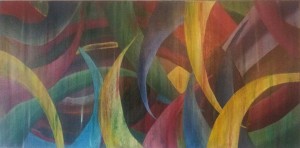 Obecnie znajduje się na tak niskim stopniu zaawansowania jako artysta, więc byłoby grzechem snucie planów związanych z moim malarstwem. Mam nadzieję, że będę mógł dalej rozwijać swoją pasję i że będę w tym coraz lepszy. Na razie wszystko rozwija się w sferze marzeń, które puki co, chciałbym zostawić dla siebie.
Z całego serca zapraszam wszystkich chętnych, do grupy Be Creative. Warto pokazywać swoją twórczość. Bo jak, nie teraz to kiedy?
https://www.facebook.com/groups/BeCreativePL/
Zapraszam również do odwiedzin mojej strony.
https://www.facebook.com/zagdanart
A na koniec chciałbym przytoczyć słowa pewnego człowieka, Pana Adama Razika i życzyć wszystkim pięknego i kreatywnego życia.
Dziękujemy, ze rozmowę, życzymy dalszego rozwoju, coraz więcej członków grupy i samych sukcesów w przyszłym życiu. Pozdrawiamy, Pozytywni.co.uk.
Barbara Larysz