Marcinie, jesteś wszechstronnie uzdolniony, powiedz, która dziedzina sztuki jest Ci najbliższa i której chcesz się najbardziej poświęcić?
Szczerze mówiąc, nie jest łatwo odpowiedzieć na to pytanie, ponieważ to wymaga dokonania wyboru, co nie jest łatwe, a na dodatek zobowiązuje do pracy i ciągłego rozwijania i wręcz "pielęgnowania" danej zdolności. Fotografia jest nie przypadkowo tym rodzajem sztuki, któremu ostatnio poświęcam sporo czasu, a dlatego, że daje nieograniczone możliwości wyrażania się w tym medium, możliwości, jakie daje światło zarówno naturalne, jak i sztuczne w postaci lamp studyjnych, świec czy zwykłej żarówki są nieograniczone. Oprócz światła i cienia dochodzi praca z przestrzenią, mam tu na myśli zarówno przestrzeń studyjną, plenerową czy też miejską, dodatkowo mamy wiele innych elementów, które możemy wykorzystać podczas sesji fotograficznej, jedyne co nas w zasadzie ogranicza to nasza wyobraźnia.
Druga dziedzina sztuki, którą sobie bardzo cenie i wręcz, bez której nie potrafię żyć, jest — muzyka, a dokładnie mówiąc gra na instrumencie, jakim jest gitara basowa, na której gram już co najmniej 13 lat. Powrót na scenę "rockową" jest moim największym marzeniem, miałem to szczęście, że grałem z wieloma wspaniałymi muzykami, którzy grają do dziś i paru z nich odniosło i odnosi spore sukcesy na rynku muzycznym, i to gdzieś we mnie jest i "krzyczy", z tego się nie da wyrosnąć. Ostatnio pojawiła się nadzieja na powrót na scenę, ale jak to się wszystko potoczy, to się wszystko jeszcze okaże.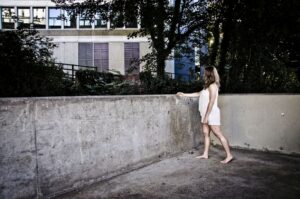 Opowiedz nam o swoich początkach, dorastaniu, rozwoju, dlaczego znalazłeś się w UK i jak wyglądały Twoje pierwsze kroki w tym właśnie kraju?
Moje początki ze sztuką sięgają szkoły średniej, wówczas byłem młodym i zbuntowanym nastolatkiem, który był strasznie zafascynowany muzyką metalową, która inspirowała mnie do rysunku, na ogół tematyka rysunku była dość "mroczna", ale dała mi podstawy późniejszego rozwoju w kierunku rysowania portretów.
W międzyczasie powstał mój pierwszy zespół "Reunion", w którym to graliśmy covery zespołów takich jak Genesis, Pink Floyd, Deep Purple, Black Sabbath i wiele innych. Był to okres, w którym poznałem wiele osób zajmujących się kulturą, ale również mediami. Pożyczoną "cyfrówką" robiłem pierwsze zdjęcia głównie to były pejzaże, abstrakcie itp. Równolegle z tym rozwijałem rysunek i malarstwo, uczestnicząc w zajęciach plastycznych, co zaowocowało dostaniem się na studia plastyczne w Lublinie.
Okres studiów to czas w którym, bardzo mocno się interesowałem, malarstwem martwej natury, aczkolwiek daleko mi było do klasycznych wzorców, gdyż to, co mnie bardzo inspirowało to, było malarstwo abstrakcyjne, które bardzo wpływało na to, w jaki sposób malowałem, notabene muzyka elektroniczna Klausa Schulza pomagała zupełnie zapomnieć o świecie rzeczywistym. Po około roku studiów powstał zespól "Loom" to był projekt, w którym skupiliśmy się na autorskim materiale, co zaowocowało wydaniem płyty "Tkanina" w 2010 roku. W międzyczasie zrezygnowałem ze studiów na rzecz pracy w agencji reklamowej jako grafik komputerowy, gdzie pracowałem przez okres około 2 lat, po czym postanowiłem wyjechać, do Wielkiej Brytanii gdzie mój brat był tu już od kilku lat. Powód, dla którego wyjechałem nie jest oryginalny, raczej ten sam, który dotyka wielu naszych rodaków, czyli finansowy. Na początku nie było łatwo, ponieważ z Polską mnie łączyło wiele rzeczy, zarówno tęsknota za rodziną, jak i za tym, co tworzyłem, wówczas istniejącym jeszcze zespołem Loom, czy też praca jako grafik komputerowy. Moje pierwsze kroki skłaniały się ku temu, żeby znaleźć, jakąś prace z nadzieją, że kiedyś wrócę do tego, co mi sprawia największą satysfakcje, kontakt z polonijnymi organizacjami dał mi energie do działania, przez co doszło do współpracy w różnych projektach, i co kontynuuje do dziś.
Współpracowałeś z organizacja PEGAZ, z Polskim Klubem, brałeś udział w wielu wystawach, projektach, powiedz nad czy teraz pracujesz?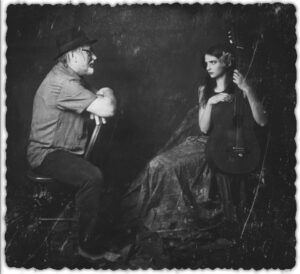 Obecnie to nad czym pracuje to jest projekt we współpracy z Grażyną Winniczuk, z którą pracujemy nad zrealizowaniem książki obejmującej zarówno poezje, jak i fotografie, za które ja jestem odpowiedzialny, są to ilustracje do poezji napisanej przez Grażynę. Jest to projekt długoterminowy, ponieważ realizacja tego łączy się z fotografowaniem modelek, a to wymaga też odpowiedniego przygotowania przed każdą z sesji fotograficznych. Równocześnie jest też kilka innych projektów, w których w większy lub mniejszy sposób uczestniczę.
Opowiedz nam więcej o EM Studio?
Em Studio jest to projekt we współpracy z Edwardem Sułkiem, a głównie skupiający się na produkcji video na YouTube. Na obecna chwilę jest to jeszcze w fazie początkowej, ale chcemy, zrealizować kilka pomysłów, nad którymi obecnie pracujemy. Tematyka jest różna zarówno jest literatura, poezja, ale także będą to odmienne tematy, jak historia Newcastle Upon Tyne.
Zdradź nam tajemnicę, czym fotografowanie jest dla Ciebie, i gdzie się widzisz w tej dziedzinie za kilka lat?
Fotografowanie jest dla mnie sposobem, wyrażania tego, co nie wyrażalne, tego, czego nie da się przedstawić za pomocą słów. Projekt "Kobiety", który realizowałem na wystawę 8 marca 2015 roku, szczególnie oddaje charakter tego, czym jest dla mnie fotografia. W projekcie tym zabierałem modelki w przestrzeń miejską gdzie za pomocą odpowiedniego kadru i światłocienia tworzyliśmy obrazy pewnej rzeczywistości, czasem surrealistycznej, czasem emocjonalnej, była to odpowiedz na moje postrzegania tego, jak zmienia się świat, a w szczególności jego duch. Moim marzeniem odnośnie fotografii,  jest być niezależnym fotografem, który wystawia swoje fotografie w galeriach artystycznych, chciałbym żeby ktoś kiedyś w historii fotografii chociaż wymienił moje nazwisko. Póki co, zamierzam kontynuować to co robię i dążyć do realizacji swoich marzeń.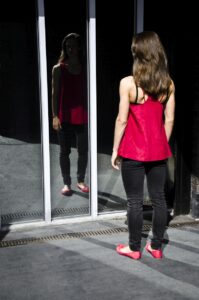 Gdzie szukasz inspiracji? Jakie emocje towarzyszą Ci podczas Twojej pracy?
Inspiracji szukam dosłownie wszędzie, zarówno jak w samej fotografii innych artystów, jak i winnych dziedzinach sztuk wizualnych, ale też w muzyce i w otaczającym nas świecie.Muzyka jest mi bardzo bliska, przez co czasami nawet ją wykorzystuję w trakcie sesji, żeby osiągnąć najlepszy efekt oraz żeby model zrozumiał moją wizję fotograficznę. Podczas sesji staram się odkrywać na nowo przestrzeń, która mnie otacza, nadać jej nowy charakter i w nią wpasować modela. Każda sesja jest pełna nieoczekiwanych momentów, gdyż odnalezienie właściwego kadru zajmuje zwykle chwile, po czym następuje magiczna chwila, w której powstają najlepsze ujęcia, to jest bardzo ekscytujące i uzależniające w pewien bardzo pozytywny sposób. To jest zawsze odkrywanie czegoś na nowo, nowe spojrzenie na ten sam świat.
Czy mógłbyś poradzić naszym rodakom, jak szukać w sobie determinacji w realizacji własnego spełnienia, pasji?
Żeby odkryć własną pasje albo talent, nie możemy się bać, być odkrywcą własnego "ja", na chwile zapomnieć o całym otaczającym nas świecie, włączyć ulubiona muzykę (najlepiej przy zgaszonym świetle) i wtedy zobaczymy to, co naprawdę kochamy. Będzie to w pewien sposób reminesencja naszego życia, naszych wspomnień, doświadczczeń a wtedy odkryjemy to, co naprawdę chcemy robić. Determinacja do działania będzie tylko wtedy kiedy to, co robimy według nas samych ma sens, jeśli coś nas nie pociąga zupełnie do końca to nie będziemy zdeterminowani, żeby to kontynuować. Nie każdy będzie artystą, ale i nie każdy może być mechanikiem, ale jeśli ktoś chce rozwijać swoja pasje to najlepsza radą jest inspirowanie się od innych, czytanie o danym temacie, oglądanie filmów o ludziach, którzy odnieśli sukces, nie tylko w dziedzinie, którą my sami się zajmujemy, ale też w innych sferach to bardzo motywuje. Ważne jest, aby też dążyć do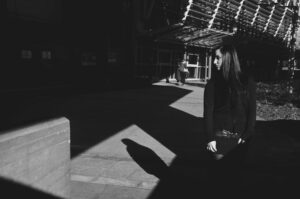 tego, żeby być najlepszym, nawet jeśli tego nigdy nie osiągniemy, ponieważ najważniejszą jest droga, która podążamy.