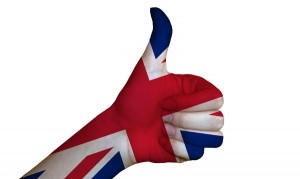 Uśmiech, skinięcie głową lub niezobowiązujące "how are you doing" w urzędzie, sklepie czy pracy jest elementem zaskoczenia dla niemal każdego Polaka przylatującego do Anglii. Jednymi z pierwszych doświadczeń podczas poszukiwania pracy, załatwiania formalności czy zakupów jest właśnie to poczucie bycia dostrzeżonym i potraktowanym indywidualnie.Wiele relacji po pierwszym kontakcie z angielską rzeczywistością od strony nowego mieszkańca brzmi mniej więcej: " wow, ludzie w agencji byli pomocni, nie to co w naszych urzędach"
Pomimo faktu, że uprzejmość Brytyjczyków jest ich cechą narodową i zarazem jedną z najczęściej im przypisywanych to spotykając się z serdecznością w środowisku pracy i usług nie raz czy dwa a stale, doznajemy pewnego kulturowego szoku. Brytyjski takt objawia się także w starannym doborze słów i rozwiniętych zdaniach nawet w przypadku nagłych, niespodziewanych lub drastycznych sytuacji. Przeszkadzając Anglikowi usłyszymy raczej "To nie jest najlepszy moment, porozmawiajmy później" zamiast krótkiego i suchego "potem" lub "zaraz". Choćby gotował się w środku, nie doświadczymy tego ani nie odczujemy a już na pewno nie od razu.
O Anglikach powstały miliony dowcipów podkreślających właśnie charakterystyczną uprzejmość, powściągliwość a nawet sztywność obyczajów ale jak angielska etykieta odbija się na emigrantach z Polski? My, naród mający w swojej burzliwej historii impulsywnych i (choć gościnnych i hojnych) to czasem nieokrzesanych sarmatów, stoimy wobec tradycyjnego Brytyjczyka w pewnym kontraście. Nie trzeba nawet podpierać się historią aby wiedzieć, że Polacy, pomimo wielu zalet to naród niecierpliwy, temperamentny i niestety skłonny do malkontenctwa.
Kiedy po raz pierwszy wylądowałem w Anglii z zamiarem podjęcia pracy, złapałem się na tym, że na zwykłe "how are you?" odruchowo chciałem odpowiadać zgodnie z prawdą i sytuacją, kompletnie zapominając, że odpowiedzią na to pytanie zawsze jest "I'm fine", choćbym właśnie wracał z pogrzebu. Pytający zresztą tak naprawdę nie oczekuje żadnej innej odpowiedzi. On to pytanie zada każdemu, poprzedzając je miłym uśmiechem i wrażeniem autentycznej serdeczności. Podobnie rzecz ma się z dziękowaniem czy wyrażaniem współczucia, bo nagle można poczuć się tak, jakby naprawdę obcy ludzie przejmowali się naszym losem.
To nie hipokryzja ani dwulicowość a wieloletnia tradycja i wychowanie. Oni po prostu tacy są. Stykając się z wyrazami angielskiej uprzejmości codziennie, choćby stały za tym tylko zasady, szybko zauważamy, że wraz z mijającym czasem….jesteśmy szczęśliwsi! Autentycznie szczęśliwsi.
Zjawisko to ma solidne podstawy naukowe a odpowiadają za nie neurony lustrzane. To dzięki nim uruchamia się w nas proces naśladowania zachowań osób w grupie lub społeczności w jakiej spędzamy większą ilość czasu. Neurony lustrzane odpowiadają też za uczucie empatii i tak zwanej empatii ruchowej czyli naśladowania gestów podpatrzonych u innych. Odkrycia tej zależności dokonano we Włoszech pod koniec lat dziewięćdziesiątych podczas badań nad korą ruchową mózgu makaków. Naukowcy stwierdzili wtedy niemal identyczną reakcję mózgu, kiedy po jedzenie sięgał badacz jak wtedy, kiedy makak robił to sam. Oznaczało to, że zwierzę było w stanie postawić się w sytuacji badacza i de facto współodczuwać jego działania. Te same obszary aktywne są również u ludzi i spełniają taką samą funkcję.
Neurony lustrzane odpowiadają za przyswajanie nowych informacji poprzez naśladowanie ale są również kluczem w kontaktach międzyludzkich. Wchodząc między Anglików, prędzej czy później zaczniemy przejmować pewne wzorce zachowań. Zaczniemy dostrzegać, że sami chętniej i przyjaźniej rozmawiamy z innymi, zauważając, że naprawdę niewiele potrzeba, żeby jakość codziennego życia uległa znaczącej poprawie.
Wiele osób stwierdzi pewnie, że widząc comiesięczne angielskie zarobki łatwo jest się uśmiechać ale to tylko część prawdy. Z brytyjskim spokojem o wiele łatwiej skupić się na ważnych sprawach a jest to możliwe kiedy otaczają nas opanowani i uprzejmi ludzie, którzy budują nasze wewnętrzne poczucie normy, do której się dostosowujemy automatycznie.
Przykłady można mnożyć w nieskończoność, gdyż proces ten jest niezwykle istotny dla rozwoju człowieka. Z tego powodu ważny jest dobór środowiska w jakim zamierzamy osiąść na dłużej. Zostało udowodnione, że przebywając przez długi okres czasu w towarzystwie osób z nadwagą sami mamy zwiększone prawdopodobieństwo przybrania kilku dodatkowych kilogramów. Nie biorą się one jednak powietrza a z przejmowania, niekiedy podświadomie, nawyków zaobserwowanych u puszystych znajomych. Podobnie ma się sprawa w przypadku osób wiecznie niezadowolonych z życia. Wysłuchując skarg i narzekania, sami zaczynamy szukać "dziury w całym".
Nasz mózg, po odpowiednim czasie, uznaje tą grupę za pewien punkt wyjścia, który uważa za "ustawienia domyślne" i dostosowuje do niego swoje czynności. Dokładnie to samo dzieje się kiedy odpowiadamy uśmiechem na uśmiech w angielskim sklepie lub przeprowadzimy zabarwioną pozytywnymi emocjami rozmowę w urzędzie, co z punktu widzenia polskich realiów wydaje się prawie niemożliwe. Otoczeni aurą życzliwości powoli nią nasiąkamy i dzielimy się z innymi.
Sam przyjazd na Wyspy nie jest gotową receptą na szczęście i nie zmieni świata w minutę ale z pewnością w otoczeniu nastawionym życzliwie z zasady łatwiej jest to szczęście dostrzec w morzu możliwości jakie czekają na każdego emigranta.
Wojciech Zwoliński