Szymon Niestryjewski – przedsiębiorca, doradca, księgowy. Przyjechał do Wielkiej Brytanii, bo z tygodniowej wypłaty chciał kupić meble. W Polsce musiałby na to pracować kilka ładnych miesięcy, jeśli nie lat. Jak już do UK przyjechał – tak tu został. Rozkręcił firmę i radzi sobie doskonale. Planuje kolejne biznesowe przedsięwzięcia. Oto kolejny Pozytywny.
Polskie biuro księgowe w Wielkiej Brytanii – to dobry sposób na biznes?
– Każdy sposób na biznes jest dobry. Można produkować wkładki do obuwia i również się tym cieszyć. Wszystko jest uzależnione od tego, czy lubimy to, co robimy. Należy się cieszyć i czerpać przyjemność z pracy, którą wykonujemy, czy z biznesu, który mamy. Ciężko by prowadziło się biznes, kiedy codziennie rano człowiek by był zły, że ma wyjść z domu i iść do firmy czy pracy.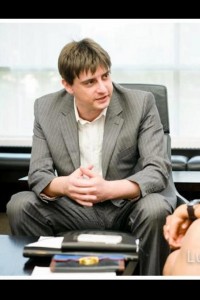 W czym specjalizuje się Pana firma?
 – W księgowości , ale to jest zbyt rozlegle i wąskie określenie tego, czym się zajmujemy. 80% przedsiębiorców, którzy do nas się zgłaszają, tak naprawdę potrzebują porady co robić , czym się zająć. Bardziej nasze porady zajmują się doradztwem biznesowym, niż księgowością. Jeśli chodzi o nasze specjalizacje, zajmujemy się w dużej mierze VAT międzynarodowym. Obsługujemy wiele polskich firma, które muszą się zarejestrować na VAT w UK z racji przekroczenia wymaganych progów podatkowych. Sporo mamy firm z UK, które wchodzą na rynek polski i potrzebują kogoś, kto pomoże im w poruszaniu się po polskim rynku. Co prawda nie zajmujemy się księgowością polską, ale współpracujemy w paroma firmami księgowymi z Polski, które nam pomagają. Na pewno nie zajmujemy się "optymalizacją ZUS" –  jesteśmy legalnie działającym biurem i takim, które nie oszukuje klienta.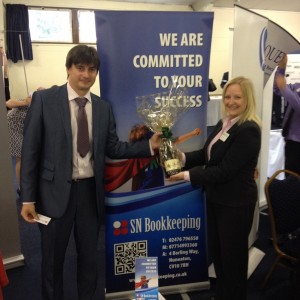 Wygląda na to, że nie tylko życie jest łatwiejsze w Wielkiej Brytanii, ale również prowadzenie własnej firmy. Czym się różni księgowość firmy w Polsce od firmy w Wielkiej Brytanii? Jakie są podstawowe i znaczące różnice?
 Jest jedna ważna różnica. Urząd w UK nie przeszkadza w prowadzeniu działalności, w Polsce w wielu kwestiach niestety US jest kłopotem dla firm. Księgowość sama w sobie jest taka sama, tylko podatki są inne i podejście do spraw dotyczących rozliczeń. Jest łatwiej i dlatego jest przyjemniej prowadzić dzielność w UK niż w Polsce. Na pewno obciążenia podatkowe w UK są niższe oraz lepiej rozłożone w czasie. Polski przedsiębiorca na samym początku zmaga się z tym, jak opłacić zobowiązania do państwa, natomiast w UK podatki do państwa płaci się w późniejszym terminie, co ułatwia zarządzanie finansami firmy. Każda firma potrzebuje kapitału a szczególnie na początku działalności, wiec to jest dość widoczna różnica pomiędzy Polską a UK.
Skąd pomysł na ten biznes?
 Od zawsze byłem blisko finansów, dokumentów. Dlatego jak szukałem parę lat temu swojego miejsca w UK, zdecydowałem się, aby robić to, co lubię i nie zastanawiać się, czy znajomość języka mi na to pozwoli , co powie otoczenie. Było to również spowodowane tym, że nie za bardzo nadaje się i nie lubię pracy fizycznej.
Wróćmy może do początków. Jak to się stało, że tutaj, w Wielkiej Brytanii, postanowił Pan budować swoją przyszłość? 
 Troszkę przypadku , troszkę zmęczenia tym, co było w Polsce. W ówczesnym czasie mój brat był w UK , pracował fizycznie za prawie najniższe wynagrodzenie. Po jednej z rozmów z nim powiedział, że właśnie kupił sobie wyposażenie do pokoju za mniej więcej równowartość wynagrodzenie tygodniowego. W tym samym czasie wspólnie z partnerką myśleliśmy o tym samym w Polsce, tylko przy dwóch pracujących osobach zastanawiałem się na kredytem na zakup wyposażenia. Dało to do myślenia, że coś jest nie tak. Ponadto troszkę byłem już zmęczony tym, że w Polsce ciągle trzeba "walczyć" i nic z tego nie wychodzi.
Co było dla Pana największym problemem po przyjeździe do UK?
Tak naprawdę kłopotów czy problemów nie miałem. Język oczywiście, ale to tylko na początku, czasem denerwował brak zrozumienia niektórych procedur, aby cos zrobić. Ale więcej było pozytywnych rzeczy, które mnie zaskoczyły niż negatywnych. Aktualnie wydaje mi się, że jest jeszcze łatwiej przyjechać do UK niż parę lat temu.[gap height="5″]
Jakie są Pana plany na najbliższe lata? Co jeszcze chce Pan osiągnąć?
Plany są duże – będę je realizował przez najbliższych 10 lat. Na pewno chcielibyśmy się przenieść do Włoch, aby tam mieszkać, rozwinąć firmę księgową. Chcemy być największą firmą księgową (bookkeeping) na West Midlands. Bardzo mocno wchodzimy z naszymi usługami na rynek dla anglojęzycznego klienta, co daje nam już ponad 50 % naszego portfolio. Są w tym roku jeszcze plany aby uruchomić kolejne 2 firmy z innej branży, spowodować aby firmy mogły się rozwijać i pracować bez mojej obecności, abym miał czas na rozwój innych przedsiębiorstw. I przejść na emeryturę w wieku 50 lat. Myślę ze jest to fajny wiek, aby już nie pracować a realizować plany i marzenia.
Gdzie w Wielkiej Brytanii możemy znaleźć Pana i Pana firmę? 
Firma znajduje się Nuneaton , jest to koło Coventry. Najłatwiej jest nas znaleźć w intrenecie (www.snaccounts.co.uk), dziś większość kontaktów z klientami jest poprzez internet, telefon. Coraz mniej jest spotkań z klientami bezpośrednio , nowe technologie do tego się przyczyniają.
Życzymy zatem spełnienia marzeń i realizacji ambitnych przedsięwzięć!
Pozytywni!