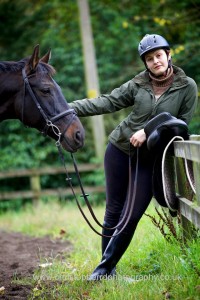 Na angielskiej dalekiej wsi, tuż przy Szkocji znaleźliśmy niezwykłą Pozytywną. Niezwykłą, bo to osoba, która doskonale potrafi władać niebanalnym  językiem – językiem koni. Agnieszka Gruszczyńska – trenerka koni i jazdy konnej, szefowa kuchni w jednym z angielskich lokali, opowiada nam o swojej największej miłości…
Skąd w Tobie miłość do koni?
Konie są piękne i silne, jednak pomimo swojej potęgi, potrafią zupełnie podporządkować się człowiekowi. Konie fascynowały mnie odkąd pamiętam. Nigdy nie miałam lalek, same koniki 🙂! Zaczęłam naukę jazdy konnej w wieku 9 lat; uczę się do tej pory – i nie sądzę, żebym kiedykolwiek przestała. Nawet czyszczenie koni sprawia mi ogromną frajdę.
Czym zajmowałaś się w Polsce, a co robisz w Anglii?
W Polsce zajmowałam się wszystkim po trochu – jak większość młodych Polaków. Jednak zawsze starałam się wiązać moją pracę z końmi, jak i poświęcać im jaknajwięcej mojego wolnego czasu. Brałam udział w wielu zawodach skokowych – bardzo lubiłam konkurować z innymi jeźdźcami na padoku. Angażowałam się również w organizację zawodów skokowych.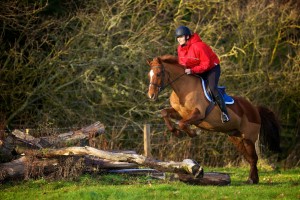 W Anglii – od samego przyjazdu (4 lata temu) zajmuję się treningiem koni, przygotowując je do tradycyjnych pogoni za lisem. Choć nie do końca są one zgodne z tradycją, co akurat mnie cieszy. Dawniej – pogoń za lisem polegała na wypuszczeniu sfory psów, które tropiły lisa. Jeźdźcy podążali za sforą do momentu, w którym psy rozszarpywały lisa. Dziś jednak taka forma polowań jest w Wielkiej Brytanii nielegalna, dlatego przed pogonią rozpylany jest na jej trasie zapach wydzielany przez lisy. Sfora podąża za syntetyczną wonią – nie za żywym zwierzęciem; dzisiaj więc – pogonie za lisem pełnią funcję czysto rekreacyjną i sportową. Trening koni biorących udział w polowaniach to mix wszystkich sportów jeździeckich. Konie muszą być przygotowane do przeskakiwania różnych przeszkód (płotów – często bardzo wysokich, obalonych konarów drzew, strumieni itp.), muszą być w świetnej kondycji – gdyż taka pogoń trwa często aż do zmierzchu. Muszą się również świetnie prezentować. Pogonie za lisem to dość prestiżowa rozrywka, dlatego wszelkie przygotowania muszą być na najwyższym poziomie.
Od zeszłego roku pełnię również rolę sędziego na międzynarodowych zawodach konnych; w horse trials (co jest odpowiednikiem polskiego WKKW).
Opowiesz nam więcej o pogoniach za lisem? Jak to wygląda?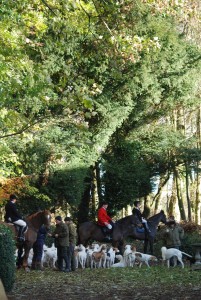 W sezonie – pogonie są organizowane dwa razy w tygodniu (w naszej okolicy), w różnych miejscach. Około godziny 10 zjeżdżają się okoliczni jeźdźcy – w różnej liczbie, ale zazwyczaj jest ich około 30. Przed rozpoczęciem pogoni 'Master' ogłasza reguły i zasady obowiązujące podczas pogoni. Na rozpoczęcie pogoni czekają również psy – sfora licząca około 30 psów (u nas – rasy english foxhound). Wszystko rozpoczyna się po sygnale trąbki – który udziela master polowania.
Na początku psy podążają za jeźdźcami, prowadzonymi przez mastera. Do momentu, w którym psy podejmą ślad – syntetyczną woń, rozpyloną wcześniej. Od tego momentu jeźdźcy na koniach podążają za sforą pokonując przeszkody, które napotykają na drodze.
W czasie pogoni jest też kilka postojów, podczas których jeźdźcy mogą coś zjeść, czasem również coś wypić ;).  Podczas całego dnia, nierzadko pokonujemy ponad 20km. Dlatego właśnie – konie muszą być dobrze przygotowane i w świetnej kondycji.
[gap]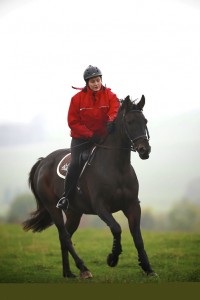 Jak Ci się pracuje z końmi angielskimi? Rozumieją Cię? 😉
Z końmi rozumiem się bez słów ;). Są natomiast pewne różnice w hodowli koni. Po przyjeździe bardzo mnie dziwiło, że konie które trenuję – cały rok stoją na łąkach. Stajnie wykorzystywane są jedynie do przygotowania konia do jazdy. Jeżeli natomiast chodzi o jeźdźców – to Anglicy są bardzo restrykcyjni pod względem stylu jazdy. Koń i jeździec zawsze muszą wyglądać elegancko.
Co jest Twoim największym sukcesem w UK?
Sukcesem jest ogromne zadowolenie moich klientów i zaufanie z jakim powierzają mi konie, których wartość jest zwykle dość pokaźna. Częste rekomendacje dodają mi wiary we własne możliwości i doświadczenie.  Wierzę, że największe sukcesy dopiero przede mną.
[gap]Co było dla Ciebie największą trudnością po przyjeździe do UK?
 Na pewno bariera językowa, jednak w mojej codziennej pracy nie miało to większego znaczenia. Jak wspominałam wcześniej – z końmi rozumiem się bez słów. Jednak ze względu na barierę językową – i dyskomfort z tym związany, jakiś czas temu postanowiłam poszukać dodatkowo 'zwykłej' pracy – z ludźmi. I zaczęłam od "zmywaka". Bardzo mi to pomogło pod względem znajomości języka; dzięki czemu dziś poza treningiem koni, jestem również szefem kuchni 🙂 – przy czym odnalazłam w sobie kolejną pasję jaką jest gotowanie.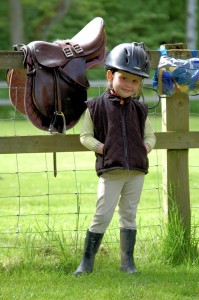 Jaki jest Twój życiowy cel?
Wydaje się, że nasza sześcioletnia córka zaraziła się moją pasją do koni; Chciałabym pomóc jej w rozwoju tej pasji, żeby odnosiła w tej dziedzinie sukcesy (rzecz jasna – jeżeli sama będzie tego chciała). Mam również nadzieję pomóc odnaleźć tak dużą pasję naszemu synkowi (i niekoniecznie musi to być jeździectwo).Chciałabym również za kilka lat otworzyć dużą szkołę jeździecką. Co prawda – uczę w tej chwili kilkoro dzieci, jednak nie na taką skalę – na jaką bym chciała. Marzy mi się też własna restauracja. Trochę ciężko to będzie ze sobą połączyć – myślę jednak, że się uda. Resztę marzeń-celów na razie zachowam dla siebie ;).
[gap]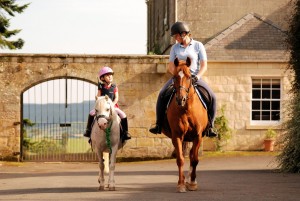 Uczysz dzieci jazdy konnej. Łatwiej uczyć dzieci, czy dorosłych?
Zdecydowanie dzieci!
Dlaczego tak jest?
Dzieci o wiele szybciej się uczą. Słuchają poleceń i nie dyskutują nad ich sensem; są za słabe, żeby siłowo zmuszać konia do wykonywania poleceń – więc bardzo szybko opanowują techniczne aspekty jazdy konnej. No i przede wszystkim – nie udają "Cowboy'ow" 😉
Co możesz poradzić Polakom szukającym swojego miejsca w Wielkiej Brytanii?
Znajdźcie swoją pasję i podążajcie za nią! Nie bójcie się wyzwań i pamiętajcie, że większość Anglików jest pod wrażeniem naszych zdolności do adaptacji – co niekoniecznie wszystkim się podoba. Szybko dostosowujemy się do nowej rzeczywistości i często – po niedługim czasie, stajemy się lepsi w tym czym się zajmujemy niż rdzenni mieszkańcy Wysp. Dlatego, bez względu na jakąkolwiek krytykę realizujcie swoje marzenia i bądźcie z siebie dumni.
[gap]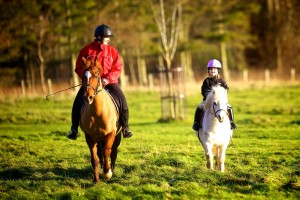 Czego możemy życzyć najlepszej trenerce jazdy konnej, zaszytej na odludziu północnej Anglii?
Jazda konna to zajęcie do którego potrzebne jest nienaganne zdrowie, więc bardzo konwencjonalnie powiem, że zdrowia :). I, żeby jaknajrzadziej padało u nas, dzięki czemu treningi będą przyjemniejsze.
[gap]Życzymy zatem dużo zdrowia, słońca i dalszych sukcesów!
Jaśko
zdjęcia: Christopher RD