Kamila Rowińska – mówca motywacyjny, trener, coach, master facylitator, autorka 5 książek z dziedziny rozwoju osobistego m.in: "Kobieta Niezależna", "Buduj swoje życie odpowiedzialnie i zuchwale" oraz "Dziennik coachingowy. 365 pytań od Twojego coacha".
Przez 13 lat ze spektakularnymi sukcesami zarządzała zespołem 3500 osób, współpracując z koncernem kosmetycznym. Ciężkie doświadczenia osobiste, związane ze śmiercią bliskich osób oraz diagnozą guzów piersi okazały się czynnikiem transformacyjnym w życiu Kamili. W 2010 r. zdecydowała się założyć Rowińska Business Coaching i skoncentrować się na pomaganiu innym w dokonywaniu pozytywnych zmian w życiu. Od tego czasu przeprowadziła setki szkoleń, a podczas sesji coachingowych pomogła tysiącom osób uwolnić swój potencjał, odnaleźć motywację, zwiększyć pewność siebie, samodyscyplinę i wykształtować umiejętności przywódcze.
Współpracuje zarówno z osobami prywatnymi, jak i przedsiębiorcami. Specjalizuje się w szkoleniach z budowania swojej wewnętrznej siły, sprzedaży, budowania zespołu, komunikacji asertywnej.
Czym cechuje się kobieta niezależna?
Kobieta Niezależna w mojej interpretacji to taka kobieta, która może pozwolić sobie na życie zgodnie z własnymi wartościami, bez konieczności godzenia się na kompromisy, które jej uwłaczają. To kobieta, która może polegać na sobie. Kobieta, która dba o swoją stabilizację finansową. Świadoma swoich atutów, wykorzystująca możliwości. Taka, która nie powierza swojego życia w rękach innych ludzi, najczęściej mężczyzn. Samodzielna, odważna, żyjąca w zgodzie z sobą. Taka, która troszcząc się o rodzinę, pamięta, że również jest jej częścią, dbająca o swoje potrzeby.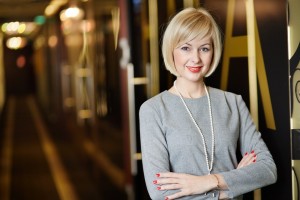 Czy kobietom jest trudniej w biznesie niż mężczyznom? A może jest odwrotnie? Jakie kobiety mają atuty?
Z jednej strony trudniej, z drugiej łatwiej. Przed kobietami stoi wiele wyzwań w drodze do niezależności finansowej. Po pierwsze kulturowo wciąż są wychowywane przede wszystkim na matki i żony. Od najmłodszych lat kreuje się w nich rolę "pomocnicy". Już w małej dziewczynce utrwala się przekonania, że osiąganie, konkurowanie nie jest dla niej. Dziewczynkom powtarza się , że przewodzenie jest dla chłopców, a dziewczynki mają być przede wszystkim grzeczne, miłe i pomocne. Te przekonania w późniejszych latach powodują, że kobiety często chcą być asystentkami i pomocnicami, a nie osobami, które przejmują kierownictwo. Kobietę bardziej niż mężczyznę "ściga" zegar biologiczny i jeśli marzy o założeniu rodziny to bardzo często w najlepszym czasie z punktu widzenia budowania swojej kariery, decyduje się ona ją przerwać. Często to kobieta po urodzeniu dziecka zostaje w domu, a kariera partnera staje się priorytetem. Bywa, że już tak zostaje i w kolejnych latach mężczyzna zarabia dużo więcej od swojej partnerki. Kiedy więc nadchodzi dylemat kto zaopiekuje się dzieckiem podczas choroby, ferii lub wakacji, z reguły jest to kobieta. To ona również z reguły głównie dba o dom. Chęć bycia jak najlepszą żoną i matką, a co za tym idzie duża ilość obowiązków powoduje, że kobieta czuje się przytłoczona i już nie ma energii na to, aby dodatkowo intensywnie pracować zawodowo. Oczywiście nie od dziś wiadomo też, że statystycznie kobieta zarabia mniej niż mężczyzna, na tym samym stanowisku. Trudniej jest też kobiecie zaistnieć jako ekspertowi. Ten sam artykuł przedstawiony jako napisany przez mężczyznę jest uznawany za wartościowszy niż wtedy, gdy zostanie przedstawiony jako napisany przez kobietę. Z drugiej strony, te kobiety, które pomimo początkowych trudności zdecydują się na budowanie swojego biznesu, niezwykle często osiągają sukcesy. Kobiety są bardzo sumienne, rozważne, mają doskonale rozwiniętą inteligencję emocjonalną. W kontaktach z ludźmi, widzą i słyszą więcej niż mężczyźni, szybko nawiązują relacje, wykazują się niezwykłą lojalnością. Doskonale potrafią łączyć fakty i działać wielotorowo. Kobiety często nie działają tak agresywnie jak mężczyźni, natomiast z moich obserwacji wynika, że budują bardzo stabilne firmy.
Jak rozpoczęła się Twoja droga do niezależności?
Bardzo wcześnie musiałam zacząć zarabiać na siebie dlatego swoją drogę do stabilizacji finansowej rozpoczęłam już jako nastolatka. Prowadziłam zajęcia aerobiku w klubie osiedlowym, prowadziłam korepetycje, byłam konsultantką firmy Avon i Oriflame. Ta ostatnia działalność stała się szybko moim biznesem. Gdy tylko poznałam możliwości zarobkowe w firmie Oriflame, rozpoczęłam działania na większa skalę. Już w pierwszym roku działalności awansowałam i byłam najmłodszym Dyrektorem Klubu Oriflame Działalność biznesową zawsze łączyłam z innymi: najpierw ze szkołą i studiami, potem z wychowywaniem dzieci i rodziną. Dziś mam już zbudowaną firmę szkoleniową, jednocześnie otrzymuję dochody pasywne z moich dotychczasowych działań i inwestycji dlatego pracuję mniej niż kiedyś.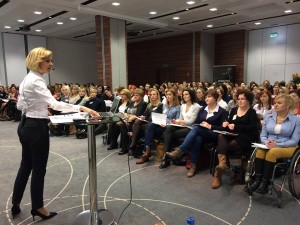 Czy mężczyźni boją się kobiet sukcesu?
Nie ma na to pytanie jednoznacznej odpowiedzi. Są tacy, którzy się boją, i tacy, którzy traktują życie z taką kobietą jak wyzwanie. Jeśli miałabym jednak pokusić się na uogólnienia, to wielu boi się, ponieważ są to kobiety z reguły bardzo wymagające. Dodatkowo dla niektórych z nich nie do pomyślenia jest fakt, że kobieta zarabia więcej niż mężczyzna. Są też mężczyźni, którzy chcą się opiekować kobietą w związku, przewodzić jej i tak wyobrażają sobie partnerskiej relacji. Każdy znajdzie, to czego szuka. Ja natomiast znam ogromną ilość kobiet sukcesu i wiem, że nie ma powodu aby się ich obawiać:). Oczywiście są stanowcze, samodzielne i niezależne w biznesie, natomiast tak samo jak każdy z nas mają w sobie wiele miłości, ciepła i pasji, które mogą wnieść w relację.
Czym dla Ciebie jest sukces?
Sukces to doskonalenie się w kluczowych dla mnie obszarach/wartościach. Moje najważniejsze wartości to: rodzina, miłość, zdrowie, rozwój duchowy i zawodowy, odpowiedzialność, niezależność i piękno. Czuje, że osiągam sukces wtedy, gdy utrzymuje wysoki poziom i rozwijam każdą z moich wartości.
Gdy rozwijam moją rodzinę, spędzam z nią czas, aktywnie uczestniczę w naszych rytuałach i tworzę naszą wspólną historię.
Gdy pielęgnuję miłość do moich najbliższych i do samej siebie.
Gdy dbam o swoje zdrowie, fizyczne i psychiczne. Odżywiam się świadomie i traktuję swój organizm z miłością. Dbam o czystość mojego umysłu i siłę wewnętrzną.
Gdy rozwijam się, realizując swoją życiową misję. Wspierając swoich klientów i mój zespół w osiąganiu ich celów, jednocześnie realizując własne. Podczas warsztatów z moimi mentorami, lektur i pracy nad sobą.
Gdy przyjmuję odpowiedzialność za swoje decyzje, w chwilach trudnych poszerzając w ten sposób swoją strefę komfortu. Rezygnując jednocześnie z obwiniania innych, oceniania i stosowania wymówek dla siebie.
Gdy pielęgnuję swoją mentalną i finansową niezależność. Poprzez pozostawanie wewnątrzsterowną, słuchającą swojej intuicji osobą, odporną na manipulacje oraz poprzez odpowiedzialne traktowanie swoich zasobów finansowych.
Gdy dbam o otaczające mnie piękno. Gdy otaczam się pięknymi widokami, pięknymi umysłami, zapachami, smakami, słowami, muzyką, energią, którą starannie dobieram i pielęgnuję.
Łączenie tych wartości przy jednoczesnym braku wewnętrznej zgody na wzmacnianie jednej kosztem innych jest dla mnie wyzwaniem.Uczucie sukcesu towarzyszy mi więc wtedy, gdy osiągam w tej dziedzinie balans. Idąc zgodnie z filozofią Dalajlamy, dbam, aby być lepszą nie od kogoś innego, ale od siebie, z dnia poprzedniego.
Do kogo kierujesz swoje szkolenia?
Współpracuje zarówno z osobami prywatnymi, jak i przedsiębiorcami. Specjalizuje się w szkoleniach z budowania swojej wewnętrznej siły, sprzedaży, budowania zespołu i komunikacji asertywnej. Moimi klientami są więc zarówno prezesi i założyciele firm, jak i początkujący przedsiębiorcy oraz ich zespoły.
Jakie masz plany na przyszłość?
Zawodowo moja przyszłość to przede wszystkim rozwój i kolejne przygody. Niedawno wróciłam z Phoenix ze szkolenia z Blairem Singerem i Mackiem Newtonem. Planuję postawić koleje kroki w swoim rozwoju zawodowym i fizycznym z ich udziałem. Wciąż będę zwiększała zasięg działania mojej firmy.
Jeszcze w tym roku powstanie kolejne szkolenie na bazie moich doświadczeń, będzie to szkolenie trenerskie.
Zbieram też materiały do mojej kolejnej książki.
Prywatnie wraz z mężem i dwójką synów będziemy nadal realizowali nasze marzenia o podróżach i najprawdopodobniej jeszcze w tym roku wyprowadzimy się za granicę, aby doświadczyć życia w innej kulturze. Jesteśmy niezmiernie podekscytowani tymi planami.
Kamilę będzie można zobaczyć w Londynie 9 Maja 2015, zapraszamy na szkolenie:
http://www.kobietaniezalezna.uk/pozytywni
Więcej o Kamili Rowińskiej znajdziesz na www.RowinskaBusinessCoaching.com