Czy Polacy rzeczywiście mają tendencję do narzekania, współczesny Polak to człowiek pogrążony w marazmie? Czy naszymi cechami narodowymi są głównie: wyuczona bezradność, stawianie się w roli ofiary, permanentnie złe samopoczucie i obwinianie innych? Jakie jest Wasze zdanie w tej sprawie i jak Wy sobie radzicie w dzisiejszym świecie? Oto kilka moich pomysłów:
Kontroluj ilość negatywnych wiadomości w swoim życiu!
Dobrze wiesz, że dzisiejsze media nastawione są na skandal, awanturę i piszą głównie o ludzkim nieszczęściu. Niektórym pomaga, kiedy ograniczają napływ negatywnych wiadomości w ich życiu. Jeżeli nie znosisz polityki i wiesz, że wpływa na Ciebie dołująco, po prostu jej nie czytaj. Nie martw się, w dzisiejszych czasach nie ominie Cię żadna ważna wiadomość, jeżeli zmieni się coś, co będzie Ciebie dotyczyć, dowiesz się tego od znajomych, czy rodziny. Wiem od moich znajomych, że ciągle śledzenie poczynań rządu Camerona, wcale im nie pomaga, wpływa na nich depresyjnie, skoro tak, to trzeba to wyeliminować! Spróbuj, może i w Twoim przypadku pomoże.
Kontroluj liczbę negatywnych ludzi w swoim życiu!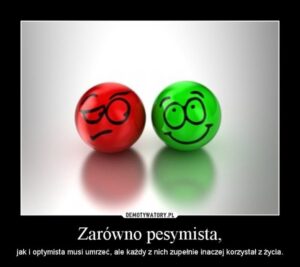 Pamiętaj, że Twój nastrój zależy od ludzi, którymi się otaczasz. Masz dość narzekania, przerwij to, odejdź. Pokochaj ludzi uśmiechniętych i pozytywnych. Ciągłe ślęczenie i narzekanie w kręgu emigranckich tematów, nigdy nie pozwoli Ci się wyzwolić.
Żyj świadomie!
Medytuj, wyrzuć z głowy wszystkie, niepotrzebne śmieci, weź głęboki oddech, zjedz na powietrzu, zauważ kawałek błękitnego nieba, śpiew ptaka i ciesz się tą kilkusekundową chwilą, w której nie miałeś myśli ciągnącej Cię w dół.
Praktykuj pozytywizm!
Tak jak wszystkiego, odpowiedniej postawy w życiu, też można się nauczyć, nie myśl sobie, że każdemu innemu przychodzi to łatwiej. Jemu, to dobrze…, on taki po prostu jest…; g…o prawda, on też nad sobą pracował, nic nie przychodzi od razu, praktykuj! Małymi krokami zmieniaj swoje nastawienie, apgrejduj się, ucz się tolerancji, wyrozumiałości i szerokimi oczyma szukaj pozytywnych cech w drugim człowieku. Nie bój się bliskości, otwórz się przed innymi, obnaż swoje paranoje.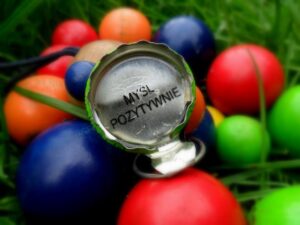 Akceptuj!
Wielu z nas nie jest odporna na zmiany w naszym życiu. Co musisz zrobić, to nauczyć się akceptować, że zmiana nastąpi. Nie słyszałeś, że: jedyną stałą w życiu jest zmiana? Prawda jest taka, że nieustannie przechodzimy zmiany, zarówno te dobra i te złe. Przyjmując, że zmiany są częścią życia, możesz pomóc sobie, bliskim, możesz w końcu się zrelaksować i być bardziej tolerancyjny dla swojego otoczenia. Jeśli jesteś w złej sytuacji, przyjmij to do wiadomości, zaakceptuj i spróbuj wypracować nowy plan działania. Prawdziwa wartość życia to umiejętność zgody i akceptacji, także doświadczeń trudności. Ważne tylko, by cierpienia nie kontemplować zbyt długo, nie obnosić się ze swoim bólem, nie zarażać innych swoim malkontenctwem.
Pozdrawiam, Barbara Larysz.