Tradycyjnie, na początku, chciałabym, aby opowiedziała nam Pani o swoich początkach przygody z Yogą.
Wydaje mi się, że joga towarzyszy mi od zawsze; już jako dziecko siadałam w pozycji "kwiatu lotosu", ciągle wyginałam ciało, uwielbiałam chodzić boso… Kiedy pierwszy raz trafiłam na zajęcia, tak naprawdę po latach wahań, wiedziałam, że odnalazłam swoje przeznaczenie… Na początku tylko na moje własne potrzeby, ale kiedy zajęcia kilka razy w tygodniu przestały być dla mnie wyzwaniem i ciągle czułam niedosyt, trafiłam na kurs nauczycielski… szybko jednak okazało się, że jest to coś, czemu chcę poświęcić swoje życie… i tak się stało! Zrezygnowałam z mojej pracy zawodowej by stanąć boso na macie i zarażać tym innych, bo dzięki moim uczniom ja sama mogę pogłębiać moją wiedzę i praktykę. Uważam, że im więcej dajesz innym, tym więcej otrzymujesz. Mistyk indyjski Hazrat Inayat Khan, twierdził, że żyjemy jakby w pałacu luster – każda "wysłana w przestrzeń" emocja, myśl, życzenie prędzej czy później do nas wrócą w tej czy innej postaci.
Jest Pani trenerką Yogi od kilku lat, proszę powiedzieć nam czym Yoga jest dla Pani ?
Uczę już ponad 6 lat, w Polsce przez 5 lat miałam własne studio jogi.
Joga jest dla mnie wszystkim; to dla mnie styl życia, moja pasja, praca, zdrowie i kondycja. Dzięki jodze poznałam wielu wspaniałych ludzi, odwiedziłam wiele pięknych miejsc, a to dopiero początek tej drogi… przejście na emeryturę mi nie grozi 🙂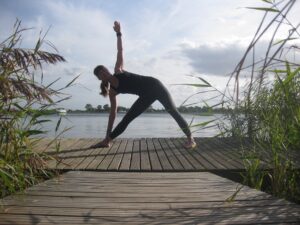 Yoga jest zwykłą gimnastyką, czy wręcz przeciwnie – sztuką życia, samokształcenia i samokontroli?
W jodze piękne jest to, że może być wszystkim… To my sami decydujemy czym joga będzie dla nas; może być to tylko aspekt fizyczny, czyli zwykła gimnastyka; ale możemy też zagłębić się w filozofię jogi, w jej wartości, a jeśli okażą się one zgodne z naszymi przekonaniami, może ona stać się istotną częścią naszego stylu życia.
Yoga jest dla każdego?
Jak najbardziej. Szczególnie metoda wg której nauczam, tj. metoda Iyengara jest bardzo uniwersalna. Dzięki pomocom takim jak klocki, koce, paski a nawet krzesła wiele pozycji może być z łatwością praktykowanych nawet przez starsze osoby bądź też takie, które borykają się z różnego rodzaju ograniczeniami. Sekwencja w jakiej są ułożone pozycje zawsze zakłada pewien rodzaj stopniowania trudności, więc tu również każdy może praktykować zgodnie ze swoimi możliwościami.
Teraz chciałbym  zapytać się o Pani początki w UK? Jak się Pani tutaj czuje, czy Yoga pomaga Pani w tęsknocie za Polską?
Odkąd pamiętam chciałam mieszkać za granicą i w końcu po wielu latach udało mi się to zrealizować. Przyjechałam do Edynburga z dziećmi w czerwcu 2015r. i od razu poczułam się tutaj jak u siebie. Dzieci też łatwo się zaaklimatyzowały. Na pewno znajomość języka i moja praca zawodowa to ułatwiły, a także fakt, że mieszka tu moja siostra z rodziną.
Tęsknota była i jest, ale właśnie dzięki jodze, mojej pasji i pracy, nie jest to problem. Moja decyzja o wyjeździe była świadoma, podyktowana ciekawością świata, rozwojem na wielu płaszczyznach a to jest możliwe tylko wtedy, kiedy wyjdziemy ze swojej strefy komfortu.
Czuję się spełniona prywatnie i zawodowo; rozwijam się, poznaję nowych ludzi, miejsca… to głęboki proces uczenia się, poznawania siebie i to bezustannie mnie zachwyca 🙂
Czy Pani zdaniem Yoga jest w stanie pomóc w rozwoju osobistym, w osiąganiu założonych celów…?
Uważam, że jak najbardziej. Joga to nieustająca praktyka, dyscyplina, kontrola, a nawet ujarzmienie, szczególnie umysłu. Poprzez ciało oddziałujemy na nasz umysł, stajemy się bardziej świadomi, dokonujemy wyborów w zgodzie z sobą, a to zawsze prowadzi do szeroko pojmowanego sukcesu.
Ciężko jest zmotywować ludzi? Polacy chętnie ćwiczą Yogę?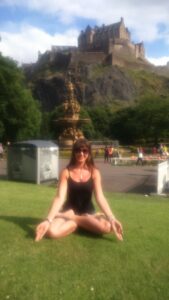 To bardzo indywidualna sprawa i tutaj nie ma znaczenia narodowość. Mówi się, że do jogi trzeba dojrzeć; ludzie z różnych pobudek trafiają na zajęcia i jeśli okażą się one zgodne z ich oczekiwaniami, z reguły zostają już z jogą na długo, czując jak pozytywny wpływ ma ona na ich samopoczucie.
Jakie są Pani plany na przyszłość, gdzie widzi się Pani za kilka lat?
Planuję dalej udoskonalać mój warsztat nauczycielski w metodzie Iyengara, chciałabym uzyskać na tej ścieżce kolejne stopnie. Otworzyć własne studio jogi, aczkolwiek nie wiem czy tu, w Edynburgu, czy w innym kraju, bo możliwości jest wiele, a mnie pociąga cieplejszy klimat 🙂
Gdzie można Pania spotkać?
Aktualnie lekcje Yogi prowadzę w Edynburgu w Union Yoga . Więcej informacji na stronie internetowej  www.omyogacentre.com
Można znaleźć mnie na Facebook: OM Yoga Izabela Bysiak
Lub napisać do mnie na adres e-mail: izabela.bysiak@gmail.com
Dziękujemy bardzo za wywiad i życzymy dalszych sukcesów. 
Barbara Larysz.