Gaby Winn to niezwykle utalentowana kobieta, która mimo iż pisze całe życie, dopiero trzy lata temu, odważyła się podzielić swoją twórczością ze światem. ,,Pisanie wierszy dla mnie to wgląd w siebie i poza siebie. To szukanie punktów odniesienia, kondensowanie myśli, uczuć", tak mówi o procesie tworzenia autorka. Zapraszamy do poznania kolejnej pozytywnej, naszej rodaczki, która dzieli się z nami sekretami swojej twórczości.
Czy pamiętasz, czas i okoliczności, w których napisałaś swój pierwszy wiersz?
Chyba tak jak niemal wszyscy- byłam chyba bardzo mała. Wydaje mi się, że każdy jako dziecko ma swoje próby poetyckie, tylko większość przestaje pisać a ja przy tym zostałam. Na pewno było to coś rymowanego. Nie jest to najprzyjemniejsze doświadczenie, ponieważ zablokowało mnie to na wiele, wiele lat. Chyba pokazałam wierszyk ojcu, gdyż ten od tamtego czasu mnie zaczął wyśmiewać. Ojciec był agresywnym tyranem i alkoholikiem. Pisałam nadal, ale już nigdy nic nikomu nie pokazałam. Odważyłam się dopiero w 2012 roku! Wyobrażasz więc sobie, iż było to dla mnie nie lada odkryciem i zaskoczeniem, iż moje wiersze nawet kilku osobom się spodobały. Przełamałam w sobie strach przed wyśmianiem.
Czym jest dla Ciebie pisanie? Jakie emocje towarzyszą Ci podczas pisania?
Pisanie wierszy dla mnie to wgląd w siebie i poza siebie. To szukanie punktów odniesienia, kondensowanie myśli, uczuć. To walka pięknego języka z językiem potocznym, zwłaszcza kiedy język polski zamienia się w mieszankę polsko-angielską. To również zaproszenie do gry tego, kto czyta, bo tak już jest, iż wiersz potrzebuje czującego czytelnika aby żył. Często mam tak, że najpiękniejsze wiersze przychodzą tuż przed samym snem. Są tam, w tej fazie kiedy jeszcze myślę ale nie mogę ruszyć ciałem. Za każdym razem jest obietnica doskonełej formy bez wysiłku, niestety nie mogę w żaden sposób ich zapisać ani zapamiętać! Niestety każdy wiersz jest jest jak wyciąganie igły ze stogu siana, tych a nie innych słów, znaczeń z całej masy słowno myślowej.
Gdzie leży źródło Twojej inspiracji?
Źródło jest we mnie i wokół mnie. Podobno wszystko już zostało napisane, więc nie sądzę, abym była bardzo oryginalna ale często inspirują mnie zasłyszane lub przeczytane słowa, czasami film, muzyka, sytuacje te wymyślone i obserwowane i to co czuję. To jest tak, iż nagle coś we mnie zaczyna kiełkować, zaczynam pisać prawie bez sensu a w miarę przepisywania wyłania się prawdziwe sedno tego, co chcę wyrazić. Ja piszę w brudnopisach a dopiero potem wklepuję w komputer, kiedy to już wiersz jest prawie skończony. Potem musi on odleżeć swoje, znowu zaglądam, sprawdzam, czy forma, słowa pasują.
Twój ostatni tomik wierszy pt. Opuszczony Dom, poświęcony jest Sejnom, małemu miasteczku na północno-wschodniej granicy państwa, z którego pochodzisz, czy wiersze z tego tomiku, poświęcone są tematyce tęsknoty, z którą każdy imigrant się boryka, czy może tematyka jest zupełnie inna?
Opuszczony Dom to tomik bardzo osobisty. Nawiązuje w nim głównie do mojego dzieciństwa, do Sejn, gdzie spędziłam pierwsze dwadzieścia lat mojego życia.  William Golding  powiedział, iż dzieciństwo to choroba, z której się wyrasta. W pewnym sensie jest to prawda, jako dorośli już nigdy nie będziemy przeżywali pewnych rzeczy tak samo. Biorąc pod uwagę to, co przeszłam w dzieciństwie, cieszę się, że wyrosłam. Z drugiej strony to były najpiękniejsze lata, najbardziej kolorowe, swobodne, tajemnicze i odkrywcze. A przynajmniej to, co nie było w nich złe. Tomik z pewnością nie odzwierciedla tęsknoty do Polski, to nie jest tęsknota emigranta i chęć powrotu, chociaż jest jeden wiersz do tego nawiązujący. Ja bardzo dobrze się czuję poza granicami Polski, nie tylko w Anglii ale chyba gdziekolwiek w cywilizowanym świecie czułabym się dobrze i znalazła swoje miejsce.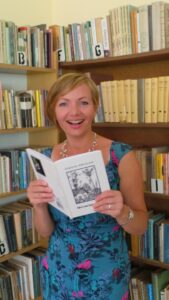 Opowiedz o swoich planach na ten rok, o pierwszej z serii Picture Book dla dzieci z rymowaną bajką.
Pierwsza część przygód małego człowieczka o imieniu Cosik już praktycznie jest w obu wersjach językowych i zaczynam ją promować od września. Kolejna opowieść jest w tej chwili tłumaczona. Nie wiem jeszcze ile ich będzie. To dziwne, ale pisząc wiersze dla dorosłych raczej nigdy nie rymuję, ale dla dzieci niemal zawsze tak. Jako dziecko uwielbiałam rymowane wiersze, wyrosłam na Tuwimie i Brzechwie. Są też inne wiersze dla dzieci. które mam nadzieję ujrzą wcześniej czy później światło dzienne. No i rozpoczęliśmy pracę nad albumem erotyków.
Uchyl nam rąbka tajemnicy…proszę.
– Ten pomysł przyszedł mi do głowy całkiem niedawno i to jest praca być może nawet na rok. Oczywiście mam już sporo wierszy związanych z tą tematyką, ale pomyślałam sobie, że pięknie byłoby dołożyć do tego subtelne, ciekawe zdjęcia. Marcin Orchowski wydał się idealnym kandydatem na fotografa, ponieważ można przy nim czuć się swobodnie, a to bardzo ważne przy tego typu zdjęciach. Ma też mnóstwo znakomitych pomysłów i praca z nim jest niewątpliwie przyjemnością. Osoby biorące udział w zdjęciach nigdy nie miały do czynienia z tego typu fotografią, więc wszysko musi być taktowne a Marcin taki właśnie jest. Pomysłów na zdjęcia jest mnóstwo, chodzi mi o to, aby były one symboliczną ilustracją wierszy. Sama jestem ciekawa, co się z tego wyłoni. Myślę, iż będziemy na bierząco relacjonować na moim blogu na stronie grazynawinniczuk.com lub gabywinn.com, mam nadzieję, iż strona wkrótce zacznie funkcjonować. A na koniec, kiedy już książka się ukaże, będziemy mieli wystawy. Lecz nie to jest najważniejsze- ważniejszy jest sam proces kreowania i tworzenia.
Oprócz pisania, zajmujesz się jeszcze kilkoma innymi rzeczami, szyjesz, pracujesz w bibliotece, czy chciałabyś, żeby pisarstwo zajęło kiedyś sto procent Twojego życia?
Sto procent? To byłoby nudne. Lubię zajmować się wieloma rzeczami, czasami na raz. Lubię odkrywać, uczyć się- nie powiem, że potrafię na przykład szyć, bo ciągle się tego uczę w dodatku sama- ale eksperymentuję, bawię się, wymyślam. Wymyśliłam specjalną kieszonkę do trzymania identyfikatora i do zawieszenia na smyczy, która okazała się na tyle oryginalna, iż Intelectual Property Office przyznało mi prawa oryginalności wzoru. Kiedy kupię nowy materiał nie mogę się doczekać, kiedy coś z niego zrobię. Może to jest taka terapia na moją impulsywność?
Który z Twoich wierszy jest Ci najbliższy?
Wszystkie i żaden. Nie jestem pewna czy jakiś noszę w sercu. Puszczam je w zapomnienie, chyba nie potrafiłabym wyrecytować żadnego! Z drugiej strony, każdy wypłynął ze mnie, każdy coś znaczy. Jedne lubię mniej, inne więcej, jedne zawsze będą schowane, inne nie. Często czytam moje wiersze i staram się być zwyczajnym czytelnikiem, choć to ogromnie trudne.
Nie nazywasz siebie pisarką, czy związane jest to z naszą narodową mentalnością, jak myślisz dlaczego tak trudno jest nam uwierzyć we własne talenty?
Myślę, iż jest to związane z naszą polską mentalnością. Może młodsze pokolenie już takie nie jest i całe szczęście, ale ja przecież wychowywałam się w czasach komunizmu. Nie wychylaj się było przecież codziennością. Zresztą nawet polskie szkolnictwo za moich czasów, nie rozwijało w żaden sposób kreatywności i twórczego myślenia. Tego nauczyłam się nie mając w dzieciństwie wielu zabawek- trzeba było je sobie wymyślić, zrobić. Dorastanie w małym mieście miało swoje dobre strony- pełna swoboda a wkoło lasy i jeziora, dużo dzieciaków takich jak ja. Nie było dorosłych, którzy by chcieli, abyśmy jakieś talenty rozwijali. Dbaliśmy o to sami. Jeśli ktoś chciał nauczyć się grać na gitarze, zbierał puszki na sprzedaż, kupował instrument a potem dzielił się nim z innymi, i tym czego się nauczył. A polska mentalność jest dziwna. My musimy nauczyć się, że bycie Polakiem to nic złego, że nie jesteśmy gorsi. Zajęło mi to sporo lat aby zwyczajnie stać się obywatelem świata. Popatrz na byle Anglika, nawet ten mało wyksztalcony jest dumny z tego kim jest.
Rzeczywiście trudno mi siebie nazwać pisarką czy poetką, może znowu wiąże się to z tym, iż jest takie przekonanie, że trzeba odnieść jakiś niebywały sukces. Skłamałabym, gdybym powiedziała, iż wcale mi na tym nie zależy, że piszę sama dla siebie. To nieprawda i nie wierzcie nikomu, kto tak mówi. Piszę i chcę, aby wiersz żył, a do tego potrzebuje czytelnika. To jest prawda, do której dochodziałm całe lata.
Opowiedz jeszcze, proszę o swoich marzeniach związanych z pisarstwem.
Marzę o tym, aby nigdy nie zabrakło mi weny! Marzę, iż pewnego dnia przejdę koło Watersones a w oknie zobaczę wystawę moich książek, także tych dla dzieci! I będą je ilustrowali tacy wspaniali artyści jak Quentin Blake. I chciałabym aby dzieci przed snem prosiły swoich rodziców- Mamo, poczytaj mi Cosika!
wierny pies
wracam tam i dziwię się tym kilku
na wskroś ulicom
jak można nigdy stąd nie wyjechać
zbudować życie wokół kilku miejsc…
korzenie zapuścić wokół bijącego źródła
czy nie wyjeżdżając byłabym szczęśliwsza?
myślałam
jeśli znajdę takie źródło
zapuszczę korzenie wokół niego
odwiedziłam kilka miast
państw, gnałam szukając
miejsca, gdzie wszystko będzie inne
ono było, ale zawsze
gdzieś tam
to gdzieś tam stało się
i jest tu, teraz, dzisiaj
daleko od korzeni
daleko od miasteczka
z wonnymi łąkami, z rzeczką
o przekornej nazwie Marycha
daleko od sosnowych lasów
skwierczących latem w upale
daleko od koszmarów dzieciństwa
tego wiernego psa
czasami jego wycie
dociera aż tutaj
Dziękuję bardzo za wywiad, życzymy samych sukcesów i spełnienia Twoich wszystkich marzeń związanych z pisaniem.
Barbara Larysz