Sala wypełniona po brzegi, doskonała – polska muzyka, mnóstwo pozytywnej energii i wspaniałych ludzi z chęcią do zabawy – tak właśnie wyglądała pierwsza w historii Polska Noc, zorganizowana przez pozytywni.co.uk w Newcastle. To była doskonała zapowiedź kolejnych imprez dla najlepszych emigrantów na świecie – dla Polaków.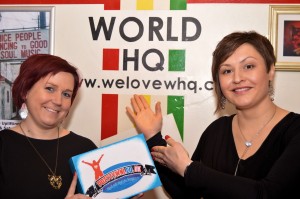 Niedzielna noc wypełniona była mnóstwem atrakcji. W samym centrum dowodzenia światem – World Headquarters – mieliśmy zaszczyt bawić się na pierwszej, organizowanej przez pozytywni.co.uk imprezie dedykowanej polskiej społeczności w Newcastle upon Tyne. To była niezapomniana noc, pełna pozytywnych wibracji, ludzi i doświadczeń.
– Właśnie takiej imprezy nam brakowało – mówi Kasia, jedna z uczestniczek zabawy. – Przyszłam tutaj, bo chciałam pobawić się przy polskiej muzyce, chciałam poczuć się jak kiedyś, w Polsce – dodaje – i to właśnie się Wam udało, mam nadzieje, że będzie więcej takich imprez w przyszłości.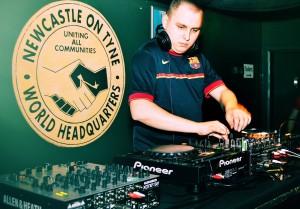 Ta noc, to było istne tornado pozytywnych emocji, ludzie, z niesamowitą łatwością i uprzejmością wspólnie bawili się przy świetnej muzyce, granej przez polskiego DJ'a  – DJ`a Pablo. W barze dostępna była paleta polskiego alkoholu, który cieszył się ogromną popularnością.
– Fajnie to wszystko zorganizowaliście – mówi Tomek – podoba mi się to, że mogę pic polskie piwo. I najlepsze jest to, że wszyscy mówią tu po polsku.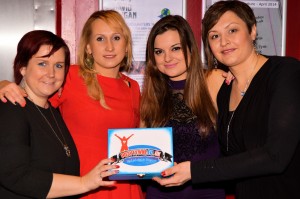 Podczas zabawy, odbył się konkurs, w którym po odpowiedzi na pytanie, kto jest organizatorem Polskiej Nocy (POZYTYWNI.CO.UK), można było otrzymać ręcznie wykonane, przez Jaśko Factory, pozytywne skrzyneczki. Było bardzo wesoło i emocjonująco, a skrzyneczki trafiły do Marty, rodem z Hiszpanii i Marcina ze Śląska, który na tę pozytywną imprezę przyprowadził całą swoją paczkę.
– Ślązaki dają czadu! Super impreza, a jak Ślązak takie rzeczy mówi, znaczy, że tak jest i z tym dyskutować nie można. Wszystko pięknie, tylko częściej tak chcemy – mówił Marcin.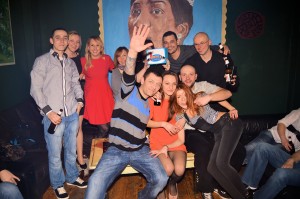 Wszyscy jesteśmy mile zaskoczeni liczbą uczestników, co więcej -zaangażowanie i pasja, z jakimi bawiliście się na tejpierwszej  polskiej pozytywnej  imprezie udowadnia, że było warto.
– No tego się nie spodziewaliśmy. Myśleliśmy, że jak już przyjdą Polacy, to skończy się to jakąś burdą. A tu nic takiego się nie wydarzyło. Dobra muzyka, uprzejmi ludzie, fajna zabawa. Nie mieliśmy za dużo pracy  – to dla nas miła odmiana. Pozytywni – częściej organizujcie takie imprezy – mówił po zakończeniu Polskiej Nocy jeden z angielskich ochroniarzy, stojących na bramce.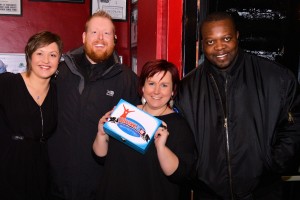 Jeśli zatem Pozytywnych jest tak wielu,  już teraz zapowiadamy kolejne imprezy i eventy. Zdecydowanie w niedalekiej przyszłości zaprosimy Was na kolejne Polskie Noce, uwzględnimy Wasze sugestie, co do muzyki i może razem zaplanujemy jakieś ekstra, tematyczne imprezy.
Wszystkie informacje znajdziecie na naszej stronie pozytywni.co.uk. Zapraszamy do polubienia i śledzenia naszej strony, bo warto być pozytywnym!
Dziękujemy za wspólną zabawę i zapraszamy na następne.
Barbara Larysz