Dzieje się, dzieje – rzekłby klasyk opisując wydarzenia w Wielkiej Brytanii organizowane przez Polonię. Tym razem zapraszamy Was do Manchesteru na warsztaty pod hasłem "Gdzie tkwi siła kobiety". I właśnie kobiety są adresatkami naszego zaproszenia.
Najpiękniejsze w życiu jest to, kiedy odkrywasz szczęśliwą SIEBIE. Jak szukać w sobie tej siły?  "Gdzie tkwi siła Kobiety?".  Jeśli chcesz uzyskać odpowiedzi na te pytania, zapisz się na to wielkie wydarzenie, które otworzy Ci oczy na sprawy na pozór oczywiste.
Już 22 lutego, dwie wyjątkowe kobiety sukcesu, przekażą Ci 365 kilogramów pozytywnej ENERGII czyli po 1 kg energii, na każdy dzień roku, byś stała się od NOWA… piękna, szczęśliwa i silna.
Zapraszamy do Manchesteru, do Woodhouse Park Lifestyle Centre w godzinach 13.00-17.00[gap height="20″]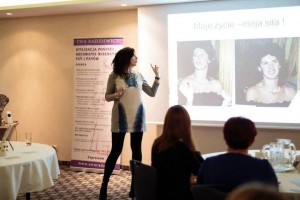 Tego dnia, otrzymasz magiczną energię od Ewy Radziewicz, która udowodni Ci, że Twoja SIŁA KOBIETY tkwi w Twoim umyśle i w Twoim wizerunku. Będzie to jedyna okazja, gdzie teoria zostanie potwierdzona praktyką. Zobaczysz realną, prawdziwą metamorfozę wyjątkowej kobiety, BiznesWoman, Marzanny Olejniczak, która dzięki wykreowaniu wizerunku, utworzyła imperium swojego biznesu na rynkach międzynarodowych. Otrzymasz też potężną dawkę energii i wiedzę, która udowodni, że SIŁA KOBIETY tkwi w najcenniejszych darach życia. Po tym spotkaniu będziesz naładowana od stóp do głów inspirującą energią!
[gap height="20″]
KOSZT WYDARZENIA :
£45.00, albo UWAGA !
jeżeli zaprosisz swoją siostrę, przyjaciółkę, znajomą czy koleżankę, to każda z Was zapłaci po £30.00 !
albo
jeżeli zabierzesz dwie osoby ze sobą, to każda z Was za zakup tej potężnej, nowej energii zapłaci tylko po £22.00!
To jeszcze nie wszystko,
Dla uczestniczek tego niecodziennego wydarzenia, mamy do rozlosowania wiele wspaniałych nagród- niespodzianek, w tym jedna NAGRODA GŁÓWNA -INDYWIDUALNY WARSZTAT WIZERUNKOWY Z Ewą Radziewicz!
Już dziś możesz zakupić bilety i zarezerwować swoje miejsce:http://biznesmama.co.uk/events-2/organised-by-us/
Spotkanie poprowadzą:
Ewa Radziewicz –Personal Couch, Ekspert d/s kreowania wizerunku, Stylista,Aranżator wnętrz, Szkoleniowiec, Wykładowca, Promotor Zdrowia, Dietoprofilaktyk. EwaRadzi… organizuje wykłady , warsztaty i spotkania edukacyjne indywidualne i grupowe. Buduje wartość osobową, a to powoduje zmiany nie tylko zewnętrzne, wizerunkowe, ale przede wszystkim wewnętrzne.
Marzanna Olejniczak – Z wykształcenia pedagog, obecnie Dyrektor Regionalny i Lider Top 10 szwajcarskiej firmy Vianesse, Terapeuta naukowej koncepcji żywieniowej, Trener zdrowego stylu życia Organic Way, BiznesWoman, Kobieta – Natura i BiznesMama.
Organizatorki:
BiznesMama – Marlena Wawrzenczak
Women for Women – Marzanna Olejniczak i Ewa Radziewicz
Numer telefonu kontaktowego: +447835479204 lub +447716097195