Polak potrafi – Damian Kutryb jest na to najlepszym dowodem. To jeden z niewielu facetów, którzy na rurze tańczą lepiej niż kobieta. Mało tego, mądre kobiety, które chcą zadbać o swoją figurę, ustawiają się do niego w długich kolejkach. Damian – kolejny z Galerii Pozytywnych – to młody, zaledwie 24-letni Polak, który podążając za swoją pasją, otworzył w Manchesterze Polską Szkołę Tańca i Fitness. Instruktor Pole Dance, Fitness, Zumby oraz Gimnastki I Akrobatyki dla dorosłych. Człowiek z pasją do Rury i Akrobacji Cyrkowych.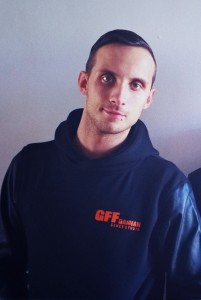 Jak to się stało, że facet uczy m.in. tańca na rurze?
Pole Dance kojarzy się głównie z kobietami – między innymi przez lap dance, od którego tak bardzo chcemy się uwolnić. Mężczyźni są w tej dyscyplinie mniej znani i chcąc wyróżnić  się  od reszty znajomych ćwiczących standardowo na siłowni, poszedłem na pierwsze zajęcia i z tamtym dniem narodziła się we mnie pasja do rurki. Przygodę z pole dance zacząłem trzy lata temu, kiedy do UK przywędrowała moda na taniec na rurze. Rurka jest niewdzięczną partnerką. Po treningu czujesz się jak poobijany kijem. Mnóstwo siniaków na ciele. Obtarć, które czasami są nie do wytrzymania i po prostu rezygnujesz w trakcie. Nie poddając się doszedłem do poziomu instruktora.
Czy w Wielkiej Brytanii jest duże zainteresowanie pole dance, fitnessem, zumbą czy innymi akrobacjami?
Pole dance, czyli potocznie taniec na rurze, powoli wychodzi z cienia i pod­bija serca kobiet i mężczyzn na całym świecie. Z dnia na dzień zwięk­sza się grono fanów tej dyscy­pliny sportu. Pole Dance czy Pole Fitness na dzień dzisiejszy jest bardzo popularną formą aktywności ruchowej w Wielkiej Brytanii, jak również na świecie zaraz po Zumbie czy Aerobiku.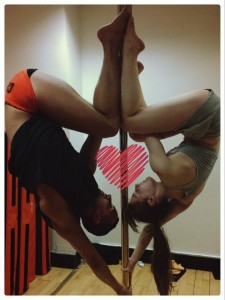 Kto tańczy lepiej? – Angielki czy Polki?
Nie można tego podzielić, kto tańczy lepiej a kto gorzej. Ważne jest kto z jakim zaangażowaniem poświęca się tańcu i ile czasu spędza trenując. Każdy jest dobry w tym co kocha!
To teraz trochę przeszłości – skąd się Pan wziął w UK? I dlaczego akurat Anglia?
Znalazłem się tutaj przypadkiem. Po ukończeniu szkoły średniej spakowałem walizki, wybrałem miasto, kupiłem bilet i jestem. Powodem była jedynie chęć nauki języka.
Jakie były Pana początki tutaj?
Początki były trudne. Nie ukrywajmy. Podstawowy język angielski i obawy zaprowadziły mnie do fabryki z Polakami, gdzie dziennie stałeś przy taśmie produkcyjnej po 10-12 godzin. Po kilku miesiącach ciężkiej pracy, stwierdziłem, że czas na naukę języka i zmianę. Przechodziłem przez hotele, fast foody i sklepy. Po trzech latach zacząłem odnosić malutkie sukcesy.
Skąd pomysł na założenie Polskiej Szkoły Tańca i Fitness?
Pomysł  narodził się po pierwszym występie publicznym, kiedy oglądający zapytali mnie: gdzie mogą nauczyć się tego, co zaprezentowałem. Pomyślałem, fajnie by było zarażać ludzi swoją pasją we własnej szkole. Tak dzień po dniu załatwiałem formalności i we wrześniu 2014 otworzyłem GFFdamian Dance Studio. Ze względu na to, że jestem Polakiem, bez zastanowienia utworzyłem również klasy w języku polskim.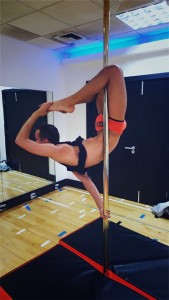 Gdzie się Pan tych wszystkich aktywności nauczył?
Tego wszystkiego nauczyłem się tutaj w Anglii. Uczęszczałem do wielu szkół, jak również sam ciężko pracowałem w domu. Ukończyłem kursy instruktorskie w szkole Pole Dance w Manchester, kursy Fitness oraz jestem uczestnikiem szkoły akrobatycznej i cyrkowej. W dalszym ciągu podnoszę swoje umiejętności i kwalifikacje korzystając z warsztatów prowadzonych przez światowych atletów.
Co jest Pana największym życiowym sukcesem?
Moim największym życiowym sukcesem jest właśnie moja szkoła. Udowodniłem sobie i innym, że nie muszę harować w fabryce za marne grosze, lecz mogę relizować swoje pasje, jednocześnie zarabiając na tym.
Wielu kobietom wydaje się, że taniec na rurze to domena wyłącznie striptizerek. Ten sport staje się jednak coraz bardziej popularny. Dlaczego warto ćwiczyć pole dance i inne akrobacje?
POLE DANCE to jedna z najbardziej wszechstronnych dziedzin tańca / sportu jaka obecnie istnieje. Taniec pomaga  uwierzyć w siebie, a elementy sportowe umożliwiają zbudowanie kondycji i sylwetki. Pole Dance to przede wszystkim rodzaj fitnessu – sposób na zdrowe i wysportowane ciało oraz dobrą zabawę. Pole Dance w wielu aspektach jest jednak lepszy od zwykłego aerobiku czy siłowni – po pierwsze nie nudzi się i przede wszystkim wciąga, ponieważ można wprowadzać przeróżne układy i codziennie ćwiczyć inne parte ciała. Już po ok. tygodniu intensywnych ćwiczeń  zauważysz, że Twoja sylwetka zmienia się. Za każdym razem, kiedy opanujesz kolejną figurę, kolejny ruch, poczujesz jak duże są to zmiany. Kiedy zaczniesz ćwiczyć dowiesz się o istnieniu mięśni, o których całkowicie już zapomniałeś.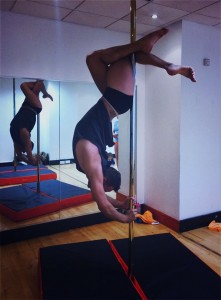 POLE DANCE wzmacnia i kształtuje sylwetkę, zwłaszcza ramiona, uda i pośladki. Poprawia się elastyczność i koordynacja, a tkanka tłuszczowa ulega spaleniu. Rośnie wytrzymałość i siła. Pole dance to korzyści nie tylko dla ciała. Uczestnictwo w zajęciach podnosi poczucie własnej wartości i pewność siebie. Poza tym, to po prostu świetna zabawa przy muzyce.
Jakie ma Pan plany na przyszłość? Czy Pana szkoła i sport to wszystko?
Plany na przyszłość to rozbudowanie obecnego studia oraz utworzenie nowych szkół w innych miastach Wielkiej Brytanii. Zdrowy styl, sport i studio to moje całe życie. Nie wyobrażam sobie, jak mogłoby być inaczej.
Gdzie możemy Pana znaleźć?
Prowadzę zajęcia w centrum Manchester. Moje wygibasy mogą państwo obejrzeć w klubach, w których tańczę oraz na różnego rodzaju pokazach, gdzie mamy zaszczyt bywać jak również  zapraszam na mojego facebookowego fan page'a, do galerii ze zdjęciami : www.facebook.com/gffdamiandancestudio
Czego Pozytywni mogą Panu życzyć?
Pozytywni mogą mi jedynie życzyć samych sukcesów, dalszego samozaparcia i dyscypliny na treningach.
Tego zatem życzymy
Jaśko