Dawid Słomian – współtwórca portalu Pozytywni, członek zarządu organizacji charytatywnej "Help for Poles in the UK" zajmującej się pomocą Polakom w Wielkiej Brytanii, wolontariusz "Oxfordshire Mind" – organizacji promujacej zdrowie psychiczne, brał udział w tworzeniu akcji "Pomaganie jest trendy 2" – charytatywnym projekcie z udziałem wielu znanych osobistości, właściciel "The Pheromone Shop" – sklepu online z syntetycznymi feromonami. Propagator rozwoju osobistego.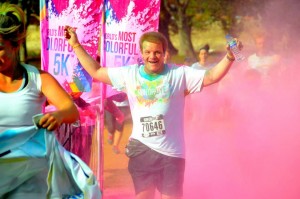 Witaj, jesteś bardzo aktywnym człowiekiem, ale może zacznijmy od najnowszego projektu – jak powstali Pozytywni.co.uk?
Cześć, nie będę tutaj dopowiadał jakichś większych idei. Wraz z moim przyjacielem Tomkiem Frontczakiem doszliśmy do wniosku, że mamy już dość negatywnych informacji na nasz temat, serwowanych niemal codziennie przez media Polonijne w Wielkiej Brytanii…codziennie czytamy jak to jakiś Polak kogoś pobił bądź okradł – albo co najgorsze – rząd chce nam odebrać prawa do kolejnych zasiłków. Tego typu informacje tworzą negawny obraz nas samych, i jak mamy być lubiani, jeśli mamy złe zdanie na własny temat? I tak po wielu rozmowach Tomek zaproponował, że powinniśmy zacząć temu przeciwdziałać, postanowiliśmy docierać do ludzi którzy jednak robią coś fajnego na emigracji – i jak się okazało jest to niezwykle proste zadanie, takich ludzi są ogromne rzesze, nie rozumiem dlaczego przez tyle czasu niewiele się o tym mówiło.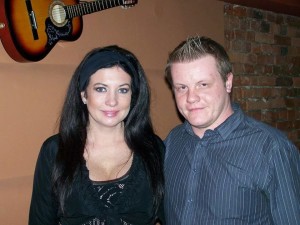 Czy macie jakieś plany na przyszłość?
Wiele, myślę że nie sposób ich tutaj wszystkich wymienić. Na pewno będziemy dalej promowali wszystkich Pozytywnych, chcemy również inspirować Polaków do działania, uważam, że wielu z nas nie wykorzystuje swojego potencjału, dlatego zależy nam aby do nich trafić i pokazać im, że jeśli będą zdeterminowani i wytrwali, to mogą spełniać nawet te najbardziej szalone marzenia. Poza wywiadami planujemy również zamieszczać poradniki dla ludzi, którzy chcą się rozwijać. No i oczywiście chcemy trafiać do naszych rodaków poprzez różnego rodzaju imprezy – targi biznesowe, projekty charytatywne, koncerty, szkolenia rozwojowe czy też imprezy sportowe – nie chcę tutaj za wiele zdradzać gdyż nie lubię rzucać słów na wiatr, ale mamy kilka ciekawych projektów nad którymi pracujemy i wkrótce zamieścimy więcej informacji na ich temat – jedyne o czym mogę wszystkich zapewnić to, że rok 2015 będzie rokiem pozytywnym i będzie należał do pozytywnych ludzi!
Czekamy z niecierpliwością! Prowadzisz również własny biznes – powiedz nam co to są te feromony?
Feromony są to chemiczne substancje lotne, wytwarzane przez organizmy, są podstawą lomunikacji bezzapachowej. Te środki chemiczne, odpowiadają między innymi za łączenie się par w okresie godowym. Ludzie również wytwarzają feromony. Odpowiednie dla naszego gatunku.
Kto kupuje feromony?
Krótko mówiąc – wszyscy. Feromony mają bardzo szerokie zastosowanie, mogą być przydatne zarówno w życiu prywatnym jak i w biznesie. Są produkty, które zwiększają pociąg seksualny, oraz takie które pomagają nam zdobyć zaufanie drugiej osoby, może stosować je każdy niezależnie od wieku czy płci. Feromonów nie należy jednak traktować jako magicznego specyfiku czy też miłosnego eliksiru – są one dodatkiem do naszej osobowości. Nie będę rozpisywał się na ten temat, zainteresowanych zapraszam do mojego sklepu – www.thepheromoneshop.co.uk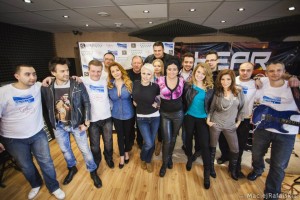 Dużo działasz charytatywnie, opowiedz nam coś o tym.
Tak, to prawda! Nie chcę zbytnio wdawać się w szczegóły, uważam że pomaganie innym jest naszym obowiązkiem. Nigdy nie powinniśmy przechodzić obojętnie obok potrzebujących, nie zawsze jesteśmy w stanie wspierać innych finansowo, ale czasem wystarczy fizyczna pomoc, czy też dobre słowo. Nie musimy od razu robić wielkich rzeczy, czasem warto rozejrzeć się dookoła, może starsza sąsiadka potrzebuje żeby ktoś jej zrobił zakupy, a może nasz kolega z pracy ma dopresję i potrzebuje o tym porozmawiać…naprawdę pomagać można na wiele sposobów, nie tylko poprzez wielkie akcje charytatywne- chociaż jeśli macie takie możliwości to również do tego serdecznie zapraszam, dawanie jest naprawdę czymś wspaniałym! Działalność tego typu wpisuje się w ideę pozytywnych i dlatego niebawem zaczniemy również rozwijać się w tym kierunku.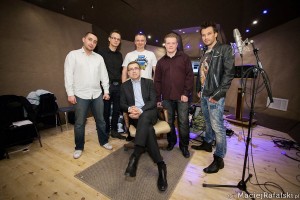 Czym jest dla Ciebie sukces?
Nie ma jednej, sprawdzonej definicji sukcesu, myslę że jest to bardzo indywidualna sprawa. Dla mnie jest to osiąganie założonych celów oraz robienie tego, co przynosi nam satysfakcję, wielu ludzi nie ma tego przywileju, pracują na stanowiskach których nienawidzą, nie są spełnieni ani finansowo ani emocjonalnie. Ważne jest jednak, aby pamiętać, że można osiągać wszystko czego pragniemy – ale najpierw trzeba w to uwierzyć.
Co w takim razie możemy zrobić, aby osiągnąć ten sukces?
Myślę że najpierw musimy wiedzieć czego tak naprawdę chcemy, wyznaczyć sobie jakiś cel. Wielu ludzi popełnia błąd, zaczynają od złej strony, mówią że gdyby więcej zarabiali to byliby szczęśliwi – to nieprawda! Przede wszystkim proponuję wyrzucić ze słownika "gdybym" i zastąpić je słowem mogę, należy dokładnie zwizualizować swój cel – co chcemy robić, ile zarabiać, jakie chcemy aby było nasze prywatne życie – a potem zacząć szukać drogi do ich osiągnięcia, ustalić plan i się go trzymać. Planowanie i determinacja są moimm zdaniem kluczem.
Opowiedz nam o swoich marzeniach.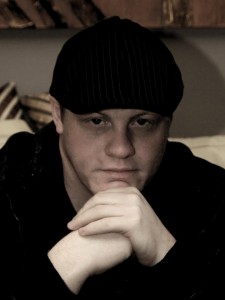 Jasne…marzy mi się mały XVI-wieczny zameczek w Szkocji, najlepiej na jakimś odludziu, tak żebym mógł tam czasem uciec i schować się przed światem, tylko w gronie najbliższych mi ludzi, okrążyć świat i przejechać Stany samochodem – wiem że wszystkie spełnię w odpowiednim czasie, póki co, chcę pomóc jak największej ilośći osób.
Na kim się wzorujesz?
Nie wzoruję się na nikim, ale mogę Ci powiedzieć kto mnie inspiruje – przede wszystkim biznesmeni tacy jak Jim Rohn, Richard Branson czy też Alan Sugar, są to ludzie którzy zbudowali wielkie korporacje od zera, jeśli mam słuchać czyichkolwiek rad, to będą to przede wszystkim rady takich ludzi. Ważny jest też rozwój osobisty i tutaj przchodzą mi na myśl dwa Polskie nazwiska – Michał Wawrzyniak i Mateusz Grzesiak.
Życzę dalszych sukcesów.
Dziękuję, ja ze swojej strony zapraszam wszystkich do dalszego śledzenia Pozytywnych, zapewniam, że wiele będzie się działo! Koniecznie polubcie nas na Facebooku – http://www.facebook.com/pozytywni.co.uk
Rozmawiała Sylwia Jaśko