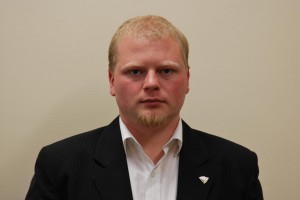 Każdy z nas chce żeby nam się żyło dobrze. Marzenia są tak różne, ilu ludzi na ziemi. Jedni chcą mieć piękny dom, inni ekstra samochód, inni rodzinę… etc. Mamy dużo marzeń, dużo planów, dużo chęci, jednak niekiedy brakuje nam wytrwałości by tym planom sprostać. Nic w życiu nie ma za darmo… Nic nie przychodzi też samo! Liczenie na ''łut szczęścia'' też może się okazać zgubnym rozwiązaniem. Dlatego trzeba działać… Konsekwentnie i sumiennie działać! Wówczas i inne czynniki będą nam przychylne. I tylko tak możemy zrealizować marzenia i nawet dogonić te o których już dawno zapomnieliśmy…
Dariusz Malacha, właściciel firmy zajmującej się nieruchomościami, współtwórca bloga fridomiacy.co.uk , przedsiębiorca i inwestor jest przykładem człowieka, który spełnia swoje marzenia.
Jak to się stało że znalazł się Pan w UK?
Przyjeżdżałem do UK już wcześniej w trakcie wakacji na studiach. Po skończeniu studiów wiedziałem już, ze nie zostanę w Polsce i wyjechałem prosto do Anglii. Było to 8 lat temu. W międzyczasie zrobiłem prawo jazdy na ciężarówki. Po przyjeździe do UK praktycznie w ciągu kilku tygodniu założyłem pierwszą firmę i podnajmowałem kierowców ciężarówek (siebie też) do rożnych firm i agencji. 
Zajmuje się Pan nieruchomościami. Jakie były początki Pana działalności. Z jakimi trudnościami musiał się Pan zmagać?
Początki działalności… Hmm to była mała firma budowlana. Stwierdziłem wtedy, że dlaczego mamy remontować czyjeś nieruchomości, jeżeli możemy remontować własne…
Czy warto inwestować w zakup nieruchomości? Kiedy najlepiej dokonywać zakupu?
Oczywiście, ze warto inwestować w nieruchomości. W ogóle warto oszczędzać i inwestować, a nie tylko konsumować wszystkie zarobione pieniądze. Na państwowe emerytury raczej nie ma co liczyć, więc samemu trzeba zadbać o przyszłość swoją i swojej rodziny. W skrócie: najlepiej kupować kiedy wszyscy sprzedają, bo wtedy nieruchomości są najtańsze.
Na co warto zwracać uwagę przy zakupie nieruchomości?
Najlepiej kupować bezpośrednio od sprzedającego z pominięciem agencji. Wtedy możemy wynegocjować najlepsze warunki dla obu stron. Bardzo ważna jest lokalizacja no i oczywiście cena. Lepiej kupić najgorszy dom na dobrej ulicy, niż najlepszy dom w kiepskiej dzielnicy.
Jeśli nie nieruchomości to czym by się dzisiaj zajmował? Miał pan jakiś plan awaryjny?
Wciąż prowadzę drugi biznes. Gdybym nie zajmował się nieruchomościami to pewnie zająłbym sie sprzedażą lub marketingiem sieciowym, bo lubię pracę z ludźmi. Jeśli chodzi o plan awaryjny to mam polisy na życie, inwestuje w srebro i sam zarządzam swoją emeryturą. Zawsze też można wyemigrować gdzieś dalej…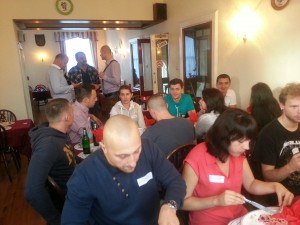 Jak możemy zaoszczędzić na budowie?
Swojego domu nie budowałem, gdyż po rodzinie będę miał dwa domy w Polsce, a więcej mi nie trzeba. Najprościej zaoszczędzić na budowie w Anglii zatrudniając po prostu polska ekipę budowlaną.
Jaki styl budowy Pan osobiście preferuje?
Taki, który przynosi największy zysk! (śmiech)
W Polsce wybudowanie domu, wiąże się z wzięciem kredytu często na całe życie. A jak to wygląda w Anglii. W ile lat przeciętny Kowalski może dorobić się domu swoich marzeń?
To zależy z jakiej perspektywy się na to patrzy. Jeśli ktoś ma ochotę pracować całe życie na jeden dom to – jest to jego wybór. Ja wolę, żeby kredyty za moje nieruchomości płacili najemcy lub inwestorzy. Przeciętnemu Kowalskiemu dorobienie się domu marzeń zajmie pewnie całe życie, bo na to sie nastawia. Ludzie niejednokrotnie nie potrafią dostosować swoich marzeń do własnych możliwości finansowych i popadają w złe długi. Własny dom to niestety wbrew opinii większości nie jest inwestycja, bo nie przynosi żadnych przychodów, tylko generuje straty. Fajnie w życiu mieć marzenia, ale tak naprawdę to trzeba mieć cele i dążyć do ich realizacji.
Nieruchomości to specyficzny i wymagający rynek. Często życie zawodowe jest przenoszone na grunt prywatny. Telefony, nagłe spotkanie, etc. Jak Pan sobie radzi z natłokiem obowiązków? 
Staram się delegować zadania i zatrudniać podwykonawców.
Jakie są Pana plany życiowe i zawodowe?
Chcę zbudować portfolio nieruchomości, które pozwoli na dostatnie życie mnie i mojej rodzinie. Dzięki czemu nie będziemy przywiązani do jednego miejsca na świecie, tylko będziemy mogli podróżować i zamieszkać gdzie nam sie spodoba.
Wymarzone wakacje…?
Lot na Marsa.
Bez wątpienia osiągnął Pan spory sukces. Jaka jest na to recepta?
Ciężka praca, niejednokrotnie po 18 godzin na dobę, wytrwałość, umiejętność oszczędzania i inwestowania. Bardzo ważne jest też wsparcie rodziny. Sukces nie rodzi sie z dnia na dzien. Trzeba latami dążyć do celu, a potem ustanawiać nowe – tak by dogonić wszystkie marzenia…
Rozmawiała Katarzyna Bińczyk

Zdjęcia za zgodą Dariusza Malachy