Dana Parys – White – poetka, pisarka, autorka przekładów sztuk teatralnych, artykułów i recenzji publikowanych w angielskich, kanadyjskich i austriackich pismach polonijnych (min. "Pamiętnik Literacki", "Dodatek Literacki" Dziennika Polskiego, "Voice", "Ekspresje"). Autorka tekstów piosenek, m. in. londyńskiej piosenkarki Ewy Becli, Michała Bajora, zespołu Lubelska Federacja Bardów. Od 1993 roku mieszka na stałe w Anglii, a od dzisiaj poszerza Galerię Pozytywnych.
Co Panią skłoniło do przyjazdu do Anglii? I właściwie dlaczego właśnie Anglia?
Do Anglii przyjechałam w styczniu 1993 roku, aby studiować język angielski (udokumentowana znajomość tego języka w postaci Cambridge Certificate dawała wtedy znacznie lepsze szanse utrzymania się na powierzchni polskiej rzeczywistości). Doskonale pamiętam mój pierwszy dzień w Londynie. Na trawnikach kwitły wtedy stokrotki, gołębie pluskały się w fontannie na Trafalgar Square, studenci wygrzewali się w słońcu, poopierani o lwie zady przy pomniku Nelsona, a mnie rozpierała radość. Miałam pół roku na zdanie egzaminu i powrót do domu. Dostanie wizy studenckiej nie było wtedy łatwym zadaniem. Trzeba było udowodnić, że ma się po co wracać do kraju. Miałam chyba wtedy buzię niewinnego dziecka, które nie wytrzyma długo bez mamusi (haha), więc wjechałam do Anglii bez przeszkód.
Jak się tu Pani odnalazła? Jak wyglądały Pani początki na brytyjskiej ziemi?
Anglia nie jest krajem, na który można być obojętnym. Londyn albo się kocha albo nie znosi. Mnie urzekł od pierwszego wejrzenia. Potem poznałam inne zakątki Wielkiej Brytanii i dosyć szybko stwierdziłam, że TU mogłabym żyć. W podjęciu tej decyzji bardzo dopomógł mi dyrektor College'u, w którym zaczęłam studiować, mój obecny mąż (haha).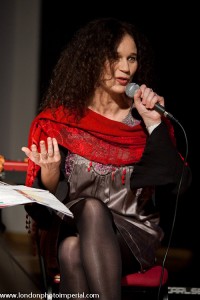 Adaptacja do warunków życia w Anglii potoczyła się jak zjazd z wysokiej ślizgawki zaraz po deszczu – na początku taki zjazd wydaje się jak ekscytujący "piece of cake" do momentu, kiedy to mokre spodnie nie stawią czoła sile grawitacji i przylgną na dobre do ślizgawki. Proste elementy życia okazały się skomplikowane, bo wyuczone w innym kraju (i nie myślę tu o dwuczłonowych kranach, o lewostronnym ruchu ulicznym czy konieczności dodawania "please" na końcu zdania, by nie brzmiało grubiańsko, jak rozkaz). Chodzi o różnice w mentalności, zasadnicze różnice w sposobie przekazywania informacji i reagowania na wiadomości. W sposobie podejścia do przyjaźni, sąsiedztwa, konceptu "banku przysług", czyli ja tobie a ty mnie…itede.
Będąc żona Anglika przez ostatnie 20 lat, dopiero teraz widzę całą gamę różnic społecznościowych. Wiem już jak wiele trzeba się nauczyć, jak wiele też oduczyć, by rozumieć środowisko angielskie i dobrze się w nim czuć. Najlepszą metodą adaptacji do nowych warunków życia jest skok do basenu wypełnionego lokalną kulturą i zwyczajami. Kiedy zaczęłam pracować w wydawnictwie muzycznym Jazzwise Publications, a potem w Mnisterstwie Spraw Wewnętrznych (Home Office) z ludźmi o różnorodnym przekroju klasowym, dopiero wtedy uświadomiłam sobie, że nawet bardzo dobra znajomość języka nie wystarczy, by się wzajemnie rozumieć.To mąż tłumaczył mi podstawy mentalności brytyjskiej, a ja ciągle się dziwiłam, jak dziecko, które pierwszy raz jedzie pociągiem.
Co było dla Pani najtrudniejsze po przyjeździe do UK?
Nie miałam problemów z adaptacją do nowych warunków życia, bo wszystko wydawało mi się fascynująco ciekawe. Może dlatego, że takie mam usposobienie. Niepewność, czy obcy grunt pod nogami nie przeraża mnie, wręcz odwrotnie.
To co było dla mnie najtrudniejsze to ograniczony kontakt z rodziną w Polsce i tęsknota za polskim powietrzem i przestrzenią. Brakowało mi rodziców, brata, przyjaciól, wycieczek do lasu na jagody czy grzyby, żaglowania po polskich jeziorach i wypraw w Bieszczady. Czasami chodziłam do polskiego sklepu (a nie było ich wtedy wiele, jedyny w południowej części Londynu był na Streatham), żeby popatrzeć na polskie produkty lub posluchać polskiego języka. Moje kontakty z Polakami urwały się, kiedy skończyłam naukę w College'u i przeprowadziłam się do mojego męża. Dopiero kiedy urodził się nasz syn, poznałam Kasię i jej rocznego synka poprzez klinikę zdrowego dziecka na Sreatham. Potem dołączyłam do Związku Pisarzy Polskich i to otworzyło nowy, polonijny rozdział w moim życiu.
Poetka, pisarka, autorka przekładów sztuk teatralnych, artykułów i recenzji publikowanych w angielskich, kanadyjskich i austriackich pismach polonijnych, autorka tekstów – sporo tego wszystkiego. Co jest Pani najbliższe i co tworzy się Pani najlepiej?
Na początku były piosenki. Tworzyłam je głównie przed dużym lustrem. Stanowiły część kreacji artystycznej w zestawieniu z ruchem i luźną formą wizażu. Niestety, piosenki nie przetrwały, bo nie umiałam ich wtedy zapisać. Dla usprawiedliwnienia dodam, że miałam 4, może 5 lat.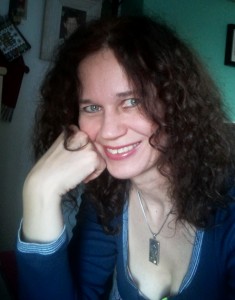 Wiersze pojawiły się dopiero, kiedy ogarnęła mnie konieczność uporania się z tęsknotą, o której wcześniej wspomniałam. Siedząc w domu z synkiem, miałam wiele czasu na myślenie. Parę takich myśli spisałam w luźne wersy i wysłałam wiersze na międzynarodowy konkurs poezji Fundacji Młodej Polonii. Zajęłam wtedy 3 miejsce. Potem był szereg innych konkursów i nastepne nagrody. To była dla mnie forma potwierdzenia, że to co piszę ma jakąś wartość literacka. Potem postanowiłam spróbować innych form ekspresji. Owocem eksperymentu z prozą była "Emigrantka z wyboru" i szereg krótkich opowiadań opublikowanych w pismach literackich. Po jakimś czasie okazało się, że najbliższa mojemu sercu jest jednak piosenka. Tłumaczenia sztuk teatralnych podsunęły mi pomysł na własne programy literacko-muzyczne. Dlatego też cztery lata temu założyłam wspolnie z aktorką, Izabelą Wilczyńską i pianistą, Tomkiem Chudym luźną formację artystyczną DNA Artist Bar, która regułarnie prezentuje programy autroskie w Jazz Cafe POSK i innych klubach londyńskich.
Jaka tematyka dominuje w Pani twórczości? O czym najchętniej Pani pisze?
To pytanie zadaje mi niemal każdy dziennikarz, z ktorymi rozmawiam. Dlatego też, tym razem po prostu zacytuję siebie:
"Piszę o codziennych huśtawkach uczuć, pragnień, tęsknot, podniet i o ludziach wokół nas, którzy tą huśtawką bujają. O ciemnej i jasnej stronie bycia, czyli o tragikomedii naszej mikroskopijnej egzystencji we wszechświecie. Jednym słowem – o życiu"
Kiedy odnalazła Pani swoją drogę zyciową i zamiłowanie do szeroko pojętej kultury?
Myślę, że dosyć często to droga naszych pasji sama nas odnajduje, nawet jeśli z niej umyślnie zboczymy. Jako dziecko byłam bardzo kreatywna i spontaniczna w swoich zamiłowaniach, bo dzieci takie są. Kochałam muzykę, piosenkę, grałam na różnych instrumentach dopóki nie doszedł do głosu rozsądek szepczący mi do ucha, że z tego solidnego chleba nie będzie. Dlatego studiowałam nauki ścisłe i do tej pory pracuję też jako analityk w Home Office. To jednak okazało się nie wystarczające. Życie musi wypełniać pasja (chociażby tylko częściowo). Gdyby ludzie mogli robić to co kochają, to niepotrzebne by były antydepresanty na świecie. Niepotrzebne też by były sztuczne "pocieszacze", ani konieczność kurczowego trzymania się wiary, że to może pieniądze nas uszczęśliwią.
Który z utworów, wykonywanych przez Michała Bajora jest Pani autorstwa? Jak się Pani pracowało dla tego artysty?
Piosenka, którą napisałam dla Michała Bajora nosi tytuł "Sobowtór". Utwór powstał po tym, jak Michał opowiedział mi o swojej przygodzie w górach, kiedy próbował udawać własnego sobowtóra. Historia była przezabawna i myślę, że udało mi się uchwycić satyryczny klimat w tej piosence. Praca z Michałem była samą przyjemnością. To artysta, który dokładnie wie, czego chce. Żałuję, że okoliczności natury technicznej nie pozwoliły nam na dalszą współpracę.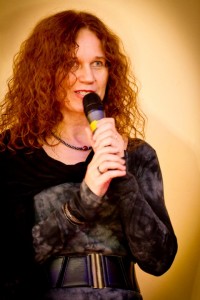 Od wielu lat głośno w Polsce mówi się o kryzysie kultury. Ludzie nie czytają, nie chodzą do teatrów. Jak Pani, jako twórca tekstów literackich, postrzega ten problem?
Uważam, że obecna sytuacja kryzysowa w sferze kultury jest absolutnie naturalna konsekwencją rozwoju naszej zautomatyzowanej cywilizacji. W obecnych czasach my głównie przyciskamy guziki, robimy dziesięć rzeczy na raz, skracamy godziny snu, jemy fastfoody, próbujemy być supermanami. Jak w takich czasach znaleźć chwilę na kontemplację utworu literackiego, który wymaga od nas przemyślenia, analizy i wyciągnięcia wniosków? Kiedyś poezja była źródłem mądrości życiowej, odkrywała tajemnice duszy, nauczała, pocieszała, przewodziła. Teraz po to jest internet. Szybki, wszystkowiedzący i podający mądrości życiwe na tacy praktycznego zrozumienia i zastosowania.
Czy mnie to martwi? Nie! Myślę, że jedne formy kultury wypierają drugie. Kiedyś słuchano muzyki barokowej na klawikordzie, teraz się rapuje. Jesli ludzie nie chodzą do teatru, to być może należy zmienić repertuar albo formę przekazu. Jesli nie czytają wierszy, to może należy je podawać w bardziej atrakcyjnej konwencji, chociażby piosenki lub instalacji artystycznej. Sztuka ma pomagać nam żyć, dodawać skrzydeł, poić i karmić naszą duszę. Ale żeby docierała do jak najwiekszej rzyszy, musi iść z postępem i popytem.
Co chce Pani jeszcze w życiu osiągnąć?
Lily Tomlin, amerykańska pisarka i aktorka, powiedziała kiedyś: "The road to personal success is always under construction". Dlatego też, póki co – buduję. Poczucie, że nie marnowałam czasu na naszej pięknej planecie Ziemia, będzie moim największym osiągnięciem. Uważam, że kreatywność jest głównym zadaniem i celem ludzkości. Wszyscy mamy jakieś talenty i nie wolno nam ich zakopywać.
O czym Pani marzy?
Wierzę, że nasze życie jest takie, jakie myślimy, że będzie. To nasze myśli kreują nasz własny świat. Dlatego niczym nie ograniczam swoich marzeń. Są jak nieboskłon – nieskończone. Są ukryte między wersami moich piosenek i wierszy i niech tam zostaną (haha).
Gdzie możemy zetknąć się z Pani twórczością?
Najbardziej zachęcam do przyjścia na jeden z naszych programów pod egidą DNA Artist Bar. Najbliższy odbędzie się w niedzielę, 31 maja na scenie teatralnej The Bedford, na Balham (poludniowy Londyn). Jeśli ktoś interesuje się poezją, to są w sprzedaży moje tomiki wierszy (polecam księgarnie w POSKu) lub drogą internetową. Niestety, nakład powieści: "Emigrantka z wyboru" został wyczerpany, ale być może jest gdzieś jeszcze w drugim obiegu.
Informacje o moich wszystkich pozycjach książkowych można znaleźć na Wikipedii lub na Google Sitespod moim nazwiskiem.
Dziękuję za rozmowę a czytelnikom życzę by szli za głosem swoich pasji. Czy będzie to własnoręcznie upieczony rogalik, napisana książka czy zbudowany most – nie ma to większego znaczenia. Najważniejsze jest poczucie, że się coś stworzyło. To nadaje życiu sens.