Damian Marcinkiewicz – informatyk, pasjonat rozwoju osobistego. W Londynie założył firmę IT4BIZSolutions. Bardzo aktywny działacz Polonijny, zgodził się opowiedzieć trochę o sobie i dać nam kilka ciekawych rad.
Damianie, każdy ma swoją historię i dlatego lubimy o to na początku pytać, powiedz nam jak to się stało, że jesteś w Wielkiej Brytanii?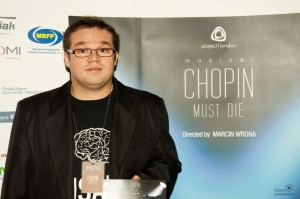 To w sumie, zakręcona i dość skomplikowana historia. Nie wdając się w szczegóły – powodów było co najmniej kilka. Jednym z nich było to, że czułem, że chce coś zmienić w swoim życiu, zacząć podróżować, zwiedzać świat, poznawać nowych ludzi i się rozwijać.
Powiedz nam coś o sobie, czym się zajmujesz?
Obecnie rozkręcam swoją firmę IT4BIZSolutions.com i to jest moje główne zajęcie. Współpracuję również z Polskim Uniwersytetem Na Obczyźnie w Londynie, który jest najstarszą polską uczelnią wyższą poza granicami polski i obchodził ostatnio 75lecie działalności. Oprócz tego udzielam się w różnych organizacjach polonijnych i charytatywnych, m.in. już 11 stycznia 2015r po raz 4. będę wspierał organizację finału WOŚP w Londynie.
Gdybym miał odpowiadać od początku moją historię to by pewnie zajęło zbyt dużo czasu, więc postaram się opowiedzieć w skrócie nie zagłębiając się zbytnio w historię (śmiech). Jeszcze na studiach, mieszkając i pracując w Polsce jako informatyk, chciałem robić różne projekty tylko przerażała mnie polska biurokracja i opresyjność urzędów. Po przyjeździe do Londynu okazało się, że nic nie dzieje się bez przyczyny, bo po jakimś czasie zacząłem poznawać wspaniałych ludzi, którzy realizowali swoje plany, w tym biznesowe i pokazali mi, że pod kątem prowadzenie firmy w UK urzędy działają zupełnie inaczej niż w Polsce. Gdy podczas luźnych rozmów ze znajomymi opowiadałem o tym, co robiłem w Polsce, o swoich planach i o tym co chciałbym robić, większość z wielkim entuzjazmem mnie zachęcała i dopingowała. Zdecydowałem więc, że chcę tutaj, w Londynie, realizować to, co od zawsze chciałem robić i co jest moją pasją, czyli wykorzystywać różne narzędzia IT do realizacji planów i marzeń innych ludzi o posiadaniu swojej firmy. Robię to głównie poprzez pomoc w zaistnieniu w Internecie, ale również wsparcie marketingowe, sprzedażowe oraz administracyjne firmy narzędziami IT.
Czy prowadzenie własnej firmy jest trudne?
To zależy czy ma się doświadczenie czy nie. Jeśli się go nie ma – tak jak ja na początku, to jest oczywiście trudniej bo biznes to nie tylko praca – to styl życia. Aby rozwinąć swoją firmę trzeba najpierw samemu rozwinąć swoje kompetencje, wyrobić sobie odpowiednie nawyki, które są wręcz niezbędne do ciągłego rozwoju. Również bardzo trudne, a wg mnie nawet trudniejsze od wyrobienia sobie nowych nawyków jest pozbycie się starych, szkodliwych nawyków i ograniczających przekonań, które blokują nasz potencjał i kreatywność.
Fajne w biznesie jest jednak to, że wszystkiego można się nauczyć – wystarczy tylko ciężko pracować i nigdy się nie poddawać.
Jakieś rady dla tych, którzy chcą zacząć, ale jeszcze się wahają?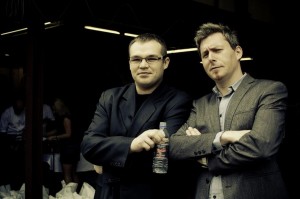 Trudno mi dawać jakieś rady bo sam jestem na początku tej wspaniałej przygody zwanej biznesem ale myślę, że warto skorzystać z prostego ćwiczenia, które ja sam kiedyś zrobiłem i które mi pomogło podjąć decyzję. Mianowicie odpowiedzieć sobie na kilka pytań:
1. Czy gdybym dzisiaj wygrał 1 mln funtów to jutro przyszedłbym znowu do tej samej pracy, w której jestem dzisiaj?
2. Gdybym dzisiaj dowiedział się, że jestem śmiertelnie chory i zostało mi 0.5 roku życia, to czego robiłbym więcej a z czego całkiem zrezygnował?
3. Gdy zamykam oczy i patrzę 15lat w przyszłość to gdy myślę o swojej pracy, o swojej rodzinie, przyjaciołach, statusie majątkowym, zdrowiu itd. to co czuję? Czy jestem zadowolony z obrazu, który widzę czy mam poczucie, że coś poszło nie tak i gdybym mógł to bym to zmienił?
4. Wyobraź sobie swój pogrzeb, nie spiesz się. Zobacz jaka jest pogoda, jakie są kolory kwiatów i wsłuchaj sie w głosy ludzi, którzy przyszli na Twój pogrzeb – co mówią na Twój temat?
Wydaje mi się, że zadanie sobie na spokojnie tych pytań i szczere odpowiedzenie na nie z głębi podświadomości może pomóc podjąć wiele ważnych życiowych decyzji. Ja się nauczyłem, że warto w życiu zaufać intuicji.
No tak, to na pewno, ale kiedy mamy już na siebie pomysł, to od czego zacząć?
To też dłuższy temat. Ale w skrócie zakładając, że już wiemy czego chcemy to:
1. Przygotuj plan oparty na zasadach SMART
2. Przygotuj sobie prostą analizę SWOT – tak dla siebie
3. Nie baw się w perfekcjonizm – PO PROSTU ZRÓB PIERWSZY KROK – jeszcze tego samego dnia.
Na zarejestrowanie działalności masz 3 miesiące, nie skupiaj się na tym na początku. Po prostu zobacz czy jest zainteresowanie Twoją ofertą, czy masz klientów, a przede wszystkim czy masz frajdę z tego co robisz.
No i oczywiście pierwsze 2 punkty OBOWIĄZKOWO PISEMNIE!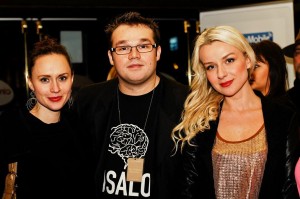 Czy masz jakiś sposób, aby zwiększyć szanse na osiągnięcie sukcesu?
Na pewno wytrwałość i determinacja pomimo przeciwności losu i niepowodzeń. W sumie ciężko mi podać jakiś jeden wybrany przepis lub złotą regułę, poza tym co podałem wcześniej, że jak się kiedykolwiek poddamy to nigdy nie dopniemy swego. Mi pomaga czytanie biografii ludzie którzy osiągnęli sukces w różnych dziedzinach. Po pierwsze jest to genialne studium przypadków, które można odnieść do swojego życia, ale przede wszystkim niesamowita dawka motywacji i wiary w marzenia. Musimy też pamiętać, że decydując się na zostanie kapitanem swojej firmy, trzeba być gotowym na wzięcie za nią odpowiedzialności pod każdym względem a to wymaga nieustannego rozwoju i ciągłego poszerzania swoich kompetencji.
Każdy z nas na kimś się wzoruje, czy możesz nam zdradzić kto jest Twoim idolem bądź mentorem?
Jest ich bardzo wielu, każdy w innej dziedzinie. Na pewno jedną z takich osób jest moja mama, która pomimo tego, że od piątego roku życia wychowywała mnie i siostrę sama, nie poddała się mimo wielu ciężkich chwil i przekazała nam najważniejsze wartości w życiu dzięki, którym dziś jesteśmy tym kim jesteśmy.
Jakie masz plany na przyszłość?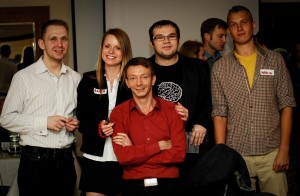 Cała masa! Nie chcę zdradzać bo nad niektórymi już pracuję, niektóre są długoterminowe i jeszcze daleko do ich realizacji.
Najbliższe to w każdym razie to dalszy rozwój obecnego projektu i start następnych w najbliższych miesiącach oraz powodzenie najbliższego Finału WOŚP już w styczniu 2015.
Życzymy powodzenia! Na pewno masz jakieś marzenia?
Również cała masa, ale z czasem zauważyłem, że im bliżej do nich tym bardziej znikają z listy marzeń, a wchodzą na listę konkretnych planów do realizacji.
Dziekuję serdecznie za ciekawą rozmowę!
Rozmawiał David Slomian