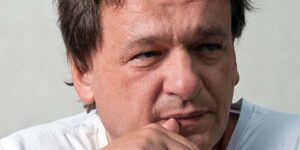 Teoretycznie nie powinno mieć żadnego znaczenia
ani gdzie się rodzimy ani gdzie się wychowujemy i potem gdzie żyjemy …
Teoretycznie wszyscy ludzie są podobni, może powinni być równi
w końcu nasze mózgi, wątroby, żołądki czy serca – aż tak mocno się od siebie
nie różnią – powiedziałoby wielu …
Niestety nawet niewielka różnica w zaprogramowanym mózgu
"czyni olbrzymią różnicę" jeśli chodzi o skutki …. w sposobie bycia
w nawykach myślowych, przekonaniach i w jakości indywidualnego życia.
Podobnie jest w genetyce :
Z Szympansem mamy prawie 99% wspólnych genów, z gorylem 98%,
z orangutanem 97%. Czyli w statystyce genetycznej nie powinno nas
nic wielkiego różnić od szympansów i goryli ….
Teoretycznie ludzie żyjący współcześnie nie różnią się też między sobą
o więcej niż 0.1%. Na poziomie molekularnym jednak pomiędzy płciami
widoczne są pewne odstępstwa. Kobiety i mężczyźni różnią się 78. genami,
występującymi na męskim chromosomie Y.
Człowiek i Szympans posiadają dokładnie 98,7 % wspólnych genów.
Oznacza to, że różnice pomiędzy kobietą i mężczyzną są mniej więcej takie same
jak pomiędzy człowiekiem a szympansem.
Jeśli zatem nie genetyka i nie kod DNA, nie predyspozycje to co takiego powoduje,
że jesteśmy tak znacząco inni od innych nacji, potrafiących się organizować,
współpracować, mających do siebie wzajemne zaufanie i życzliwość ?
Myślę, że ciągłość wyjątkowo złych procesów i wyjątkowo patologiczne nawyki
zbiorowe – podtrzymywane nieświadomie i bezwładnie.
Ciągnie za nami jak Behariowalno- Psychologiczny Smog – który zatruwa każde
nowe pokolenie …
Procesy te sprowadzają się do trzech Grup :
Skopane i Spieprzone Dzieciństwo – z powodu fatalnych wzorców i nawyków wychowawczych. A mieć spieprzone dzieciństwo – to mieć spieprzone życie …
Jeśli mamy jakieś głębokie kompleksy czy ułomności – to głównie dlatego, że zamiast dowartościowania i wsparcia – dostawaliśmy "słowiańską" szkołę życia, czyli głównie dostawaliśmy w łeb, względnie w dupę i poddawaliśmy się ciągłej ocenie i krytyce – potem nawykowo oceniając i krytykując innych na każdym kroku.
Badziewiasta i Patologiczna Edukacja – która promuje indywidualne metody przetrwania zamiast użytecznych w życiu rzeczy – a głównie brak komunikacji, pracy zespołowej oraz umiejętności budowania relacji – czyli w edukacji polskiej brakuje podstawowych składników skuteczności w życiu późniejszym.
Mam często wrażenie, że zadaniem polskich szkół jest wyłącznie przygotowywanie do niewolniczego życia albo korporacjuszy albo biurokratów
w państwowej administracji, którzy będą żyć zapieprzając w znienawidzonej pracy cały rok – a żyć tylko na przepustce czyli 2 tygodnie w czasie wakacji.
Fatalna Komunikacja nastawiona na jednostkę i jej potrzeby a nie na współpracę
nie na pracę zespołową czy budowanie pozytywnych relacji między sobą …
Dodatkowo przebywając w określonym otoczeniu, czyli w monolicie wypaczeń
i patologii wychowawczo- edukacyjno- komunikacyjnych utrwalamy z wiekiem
wszystkie fatalne wzorce, skazujące nas nie tylko na dość podłe i ponure życie,
ale przede wszystkim na brak skuteczności i na marazm życia codziennego w chamstwie, w niezrozumieniu oraz w programowanej przez media i polityków
nienawiści ….
Jest jednak pewna nadzieja.
Obserwacje Polaków przebywających poza granicami kraju, szczególnie w środowisku
obcokrajowców , pokazują – bardzo sprawną i szybką umiejętność dostosowania
i uczenia się Polaków.
Gorzej, jeśli z Polski trafiają w to samo grono rodaków …
Konkluzja :
Dzieciństwa własnego nie naprawimy ….
Na edukację od podstaw – za późno …
Możemy jednak całkowicie zmienić sposób komunikowania się, budowania relacji.
Możemy poznać najskuteczniejsze techniki wywierania wpływu z wsparciem
technik pracy zespołowej i dzięki temu nauczyć się budowania nowej społeczności
pełnej życzliwości i zaufania ….
I to jest sens Klubu Qplus ….
w którym udostępniam wszystkie moje autorskie metody, które wiele osób
doprowadziło do najwyższej skuteczności w biznesie czy w polityce.
Zapraszam … Wszystkich, którzy chcą wiele w swoim życiu zmienić,
zaczynając od siebie.
Timoore
( Piotr Tymochowicz )
NAJBLIŻSZE SPOTKANIA Z PIOTREM TYMOCHOWICZEM ODBĘDĄ SIĘ:
5.03.16 (SOBOTA) o godzinie 18.00 oraz 6.03.16 (NIEDZIELA) o godzinie 13.00 w
International Community of Sunderland (ICOS)
Arrow Business Centre
14 Foyle Street
Sunderland
Tyne and Wear
SR1 1LE